Taking Your First Steps with Your Step Counter
© Joan Price. May not be reprinted without permission.
Step counters (pedometers) are marvelously motivating fitness tools that measure the steps you take during exercise or over the course of a day. Clip this tiny (about 1-1/2 x 2 inches) tool to your belt or waistband in the morning, wear it all day, and see how many steps you accumulate, and, in some models, miles covered and calories burned.
How many steps are enough? The more the better, most experts say. If you're a fit individual, aim for 10,000 steps a day, which yields the most health benefits, according to Stanford University and the Cooper Institute for Aerobics Research. But this may be daunting and unrealistic for you personally if you're not used to so much exercise.
Relatively healthy middle-aged adults take 7,000 to 13,000 steps a day, according to the Canada's Active Living Coalition for Older Adults. Women take fewer steps than men, typically. Healthy older adults take 6,000 to 7,000 steps. Adults living with disabilities and chronic illnesses, such as diabetes and arthritis, take 3,500 to 5,500 steps a day. Inactive or medically challenged people may take fewer than 1,000 steps a day.
Wherever you're starting, here's how to create a personalized plan:
1. Wear your step counter for 5 days, tracking your total steps without trying to change anything.
2. Divide your total by 5 to figure out how many steps you take in one typical day. That's your baseline.
3. Wear your step counter every day, and add an extra 15 - 30 minutes of walking to your baseline most days of the week. This should add an extra 600 to 3,600 steps a day, depending on your speed. Keep the pace comfortable so that you are exerting yourself moderately, but you're not gasping, dizzy, or overheated.
4. Once you find you're accumulating 7,000 to 8,000 steps a day as a regular habit without superhuman effort, start pushing yourself to reach 10,000 steps a few days each week. See how you feel. If you feel great, go to step 5. If not, stay here or back off until you're exercising comfortably, feeling energetic, and enjoying how your body feels during and after exercise.
5. When you think you're done each day, add an extra 1,000 steps. You can take a walk outside, jog or dance around the living room, climb stairs, whatever you wish.
---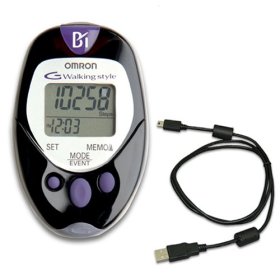 October 2007 update: After years of trying one pedometer after another, I've finally found my favorite: the Omron HJ-720ITC Pocket Pedometer with Advanced Omron Health Management Software, $33. I love that I can track both total steps and aerobic steps, and that I can upload the data to my computer where I track my progress for the week, month, and year – very motivating! Many step counters, I learned the hard way, skip steps that go backward or sideways and therefore aren't accurate for dancing, but the Omron seems to catch every step. Also, you can either clip it to your waistband or carry it in a pocket or purse – it doesn't have to line up just right over your hip like many do. If you don't care about the computer upload feature, you might choose the Omron HJ-112 Digital Premium Pedometer, $21. Try it – I think you'll enjoy it as much as I do.