Body Bars
Reviewed By Joan Price
If you're an intermediate or advanced exerciser and you want affordable, versatile weight equipment that you can use in a variety of ways and then shove under the bed for storage, the Body Bar will spice up your workout.
No, Body Bar isn't a euphemism for a Saturday night destination where you can get a drink and a date. Body Bars are weights in the shape of slim, 4-foot-long bars. Made of steel covered with rubber, they are comfortable to hold and very versatile. They are mainly used as training tools for strength and -- the latest exercise buzzword -- core conditioning.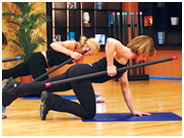 Core conditioning means strengthening your abdominals and back as you use your muscles in a functional way -- the way you use them in real life. That translates to lifting weights while standing up, and if the weights give us a balance challenge (as when we handle these long bars which throw us off balance if we don't concentrate on our postural muscles), so much the better. Using a Body Bar helps us strengthen our muscles while we're improving balance and posture, and holding in our abs. Big returns!
Intermediate and advanced exercisers will be happy to know that Body Bars -- the rage in many health clubs already -- are now available to the home exerciser. If you've never seen them, or if you want to order, check out http://www.bodybars.com. Prices vary, depending on weight, from $29.95 (9 pounds) to $64.95 (30 pounds), and 4-pound, 2-foot-long mini Body Bars at $24.95.
The Web site also offers a variety of 30- to 60-minute "Master Your Body" videos ($14.95 to $19.95 each), presenting innovative workouts using Body Bars: body sculpting, balance, kickboxing, step, sports moves, and much more. The videos are splendid workouts led by exceptional instructors. They not only demonstrate the range of using Body Bars, but they are also outstanding workouts with fine production quality. I personally do several of them regularly.
For example, the "Strong Step" video starts with 30 minutes of intermediate/advanced step choreography (without Body Bar). Sherry Catlin's instruction is superb, demonstrating creative choreography first in its simplest form, then embellished. Both easier modifications and super-advanced variations are demonstrated throughout. Next we get 30 minutes of innovative strength exercises using the Body Bar and the step to target every muscle group.
There are several different strength-training videos which I like to alternate, challenging myself with either 30 or 60 minutes of intense muscle-training each time. These include "The New body Bar Workout" and "Body Bar Challenge," both 60-minute videos taught by Keli Roberts; and "Basic Training" with Sherry Catlin and "Core Strength" with Lashaun Dale, both 30-minute videos. Get several -- you'll be amazed at the versatility of these tools and the innovation of the instructors. It isn't just lift and pump!