Dyna-Bands:
Strength training without weights!
What are Dyna-Bands?
Dyna-Bands are stretchy latex strips, 3' by 6", which you pull or push to strengthen your muscles. The muscles respond as if you were using weights, as long as you use a difficult enough band. Dyna-Bands are available in four different intensities: beginning (pink), intermediate (green), advanced (purple), and super-advanced (grey).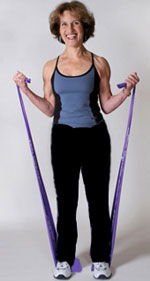 What are the advantages of Dyna-Bands over weights?
1. They're easy to use any place, any time.
2. They take almost no space to store.
3. They're light and easy to pack for traveling.
4. They're very inexpensive.
5. They don't break your toe if you drop one on your foot!
How many bands do I need?
Two pairs of two different intensities are recommended, because some exercises require two bands at the same time, and some of your muscles are much stronger than others. If you have two different intensities, you can work all your muscle groups at the right intensity to be effective.
How do I know which intensities to get?
Joan Price will help you figure that out if you phone in your order. Basically, if you have never worked out with weights and you don't do any difficult physical labor in your daily life, you should get beginning and intermediate bands. If you are moderately strong or work out with weights of 3 to 10 pounds, get intermediate and advanced. If you work out with heavier weights or do difficult physical labor, get advanced and super-advanced. If you are very tall, you might need an easier level to perform the standing exercises.
"What I first thought was some sort of wimpy gimmick turns out to be a challenging and vigorous workout tool. I bought a complete set of Dyna-Bands for just the price of one dinner out, and I can do all the weight work I could do at a health club, and in the privacy of my own home."
-- Robert Rice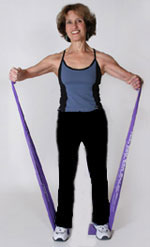 How do I know how to use them properly?
Each order of Dyna-Bands from Unconventional Moves comes with a chart illustrating eight different exercises for all your major muscle groups.
How do I order?
The bands come in a pack of four (two pairs of two intensities so that you can challenge your strongest muscles and strengthen your weaker muscles. Fill out the order form, indicating the band intensity you want. You'll receive your bands by priority mail. Satisfaction guaranteed, or your money returned.
Learn 300 instant exercises you can do whereever you are -- including 25 portable Dyna-Band exercises -- in Joan's book, The Anytime, Anywhere Exercise Book. Click here to order today!