FitDesk Review 2011
By Joan Price

What a great idea – a stationary bicycle with a laptop shelf! The FitDesk (http://fitdesk.net for info; available from Amazon.com) was designed to erase the excuse, "I have no time to exercise because I have to work at my computer." It's a lightweight, small-footprint, stationary bicycle with a shelf sitting on the handlebars where your laptop can sit, so you can pedal your way to a fitter you without taking time from your workday.
My doctor had recommended stationary cycling to ease the arthritis in my 68-year-old knees, which ache from the dancing and walking that I love to do. I thought stationary cycling would be the dullest kind of exercise, but if I could work at the same time... ?
I read the many rave reviews on Amazon. Several people commented that the FitDesk comes directly from the inventor, Steve Ferrusi, and he is remarkably responsive to emails and phone calls. I emailed Steve to ask if it would work with my height (4' 10"). He responded promptly on a Sunday morning: yes, it should fit me fine, but if I didn't find it workable, I could ship it back at his expense for a full refund. Now that's customer service. I had to try it.
The box arrived with everything snugly packed in Styrofoam. My challenge was that I would have to assemble it myself. I was impressed that the only two tools I would need were packed right in there. Even better, the bolts, screws and such were already in place where they would go – no bag of little bits to match to big bits. (You can tell by my language that assembling something that will hold my body weight is not my forte.)
I assembled it by myself by following the instructions. I suggest, instead of what I did, that you have another person with you, even if just to point out when you're doing something wrong. A child who can read will do, I think. As it was, I did have to undo some of my decisions but that's my fault, not the fault of the instructions.
Before long (though longer than it would have taken with an assistant), the FitDesk was assembled, secure, and ready for action! Now, could I adjust it for my height? Yes, and sort of.
I could adjust the seat-to-pedal length just fine. But not adjustable was the distance between the laptop shelf (which sits atop the handlebars) to the seat. The laptop sits too high for ergonomic perfection if the seat is the right height for my shortness. It's the perfect height for reading, but a few inches too high for ideal typing. It's doable, though, and now that I've been using the FitDesk for a couple of weeks, I'm used to it – but if I could lower the shelf, I would. For someone even three to five inches taller than my 4' 10", it would be perfect.
Obviously more adjustable parts would increase cost and decrease stability, so I'll hope instead that the FitDesk becomes so popular that Steve decides to make a few different frame sizes instead of one-size-fits-all. It would be easier and more comfortable if I could type with my elbows at right angles rather than my hands at almost shoulder height.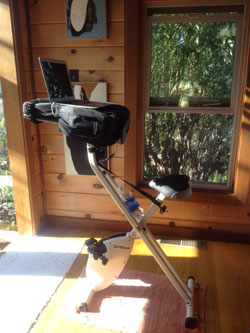 My first day, I pedaled and worked for 65 minutes. The next day, the same. Now I use it for at least an hour a day, every day, with great pleasure. Today it was two hours -- and I'm getting work done!
Can I concentrate as well when I cycle? Not quite – I've found several times that if my concentration gets super intense, I tend to pause my pedaling, and vice versa: if I'm pedaling hard, I get lost in the physicality. Reading works best, research and note taking second best, so that's how I choose the work for my pedaling time. Your mileage may vary.
Now here's what I really love. My arthritic knees feel better for much of the day after I lubricate the joints by cycling. I've reduced my arthritis meds, in fact. I really love this bike.
I don't love that the way to keep the laptop from sliding off the shelf is by anchoring it with a couple of FitDesk rubber bands. There's a lip at the lower end of the shelf, but it's not deep enough, and the fabric is slippery. The laptop could slide right off the shelf if I didn't have it anchored down with one rubber band, and the shelf anchored to the handlebars with the other. The rubber bands seem flimsy and are bound to break eventually, but I'm not sure what would work better. I suppose the laptop would stay on without anything anchoring it when I typed because my hands resting on the laptop would keep it steady, but I don't want to take any chances.
Some reviewers reported that the seat is uncomfortable. I understand that the FitDesk seat has been upgraded since its early days. It's now cushioned and pretty comfortable, though I think your personal comfort will depend on the size of padding of your own rear end. No bicycle seat feels like a sofa anyway. I didn't find the seat uncomfortable until I pedaled for more than 45 minutes, but that's the point - to keep pedaling. So I bought cycling shorts, and that solved the problem for me. If you've never used cycling shorts, they're made with padding that nestles and cushions the crotch, inner thighs, and butt where these tender parts rest on or rub against the seat. I recommend cycling shorts. My choice was the Canari Cyclewear Women's Micro Short Padded Cycling Short
Here's my routine now: I don my cycling shorts as soon as I get up, figure out on my desktop computer the work I want to do on my FitDesk, then set up my laptop and water bottle and go-go-go.
When I want to take a break from work but stay on the bike, I switch to reading. The FitDesk is ideal for pleasure reading. Who has time, right? But if you're already making time to exercise, why not make time to read a novel at the same time? Plus, if you can read hands-free, you get more of an abdominal and cardio workout by lightly swinging the arms instead of resting them on the shelf.
I seriously think that writers will love this, especially on deadline when taking a half hour or an hour for exercise is an impossible luxury. For non-exercisers using this to jumpstart a fitness program, I think the novelty will help make that happen. 
Bottom line: I love my FitDesk and I think you'll love yours.
Note: this review and all the notes for it were written while pedaling on my FitDesk.