Get Your 10,000 Steps: Step Counter Review
This is my favorite fitness tool! Exercise physiologist Alice Lockridge introduced me to the step counter, which measures the steps you take during exercise or over the course of a day. Clip this tiny (about 1-1/2 x 2 inches) tool to your belt or waistband in the morning, wear it all day, and see how many steps you accumulate, and, in some models, miles covered and calories burned.
You're aiming for at least 10,000 steps a day, which, according to Stanford University and the Cooper Institute for Aerobics Research, yields health benefits.
How does the step counter work? A movement mechanism measures vertical accelerations of the hip, a.k.a. footstrikes or steps.
Here's what I learned from wearing it for a week:
A normal workday spent mostly at the computer, including walking around my home office and walking a couple of errands in town, but not making a conscious effort to exercise, logged only 3,000 to 4,000 steps. (No wonder I gain weight during intense writing deadlines!) Taking a 45-minute walk with a friend in the afternoon and a 1-1/4 hour walk with another friend in the evening brought me to a whopping 18,000 steps that day.
I had accumulated only 4,000 on one of my write-all-day workdays. Then I went West Coast Swing dancing in the evening. 1-1/2 hours of enthusiastic dancing brought me up to 11,000 steps. My line dancing classes net 7,000 steps in two hours -- and everyone is having too much fun to realize they're exercising.
My best was a particularly active day which ended with 3 hours of two-stepping and line-dancing my way through a country/western dance: 21,300 steps. I was delighted at this proof that you don't have to spend your time on a treadmill to get plenty of exercise.
How do you get started using your pedometer if 10,000 steps seems like an impossible goal? Follow this easy plan.
Realize that a step counter won't count exercise that doesn't involve taking steps (weight training, rowing, abs, Pilates, yoga, etc.). But if your main exercise is running, walking, any form of dance, or working out on an elliptical trainer or stair stepper, this is a really cool tool. You'll find it makes you want to move more, because you know every step is counted. It's also a good get-off-your-tush motivator for a sedentary person who needs to see how each small step counts--literally!
---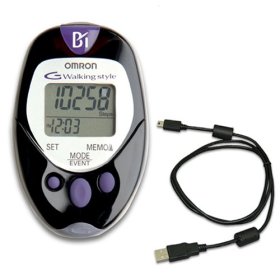 October 2007 update: After years of trying one pedometer after another, I've finally found my favorite: the Omron HJ-720ITC Pocket Pedometer with Advanced Omron Health Management Software, $33. I love that I can track both total steps and aerobic steps, and that I can upload the data to my computer where I track my progress for the week, month, and year – very motivating! Many step counters, I learned the hard way, skip steps that go backward or sideways and therefore aren't accurate for dancing, but the Omron seems to catch every step. Also, you can either clip it to your waistband or carry it in a pocket or purse – it doesn't have to line up just right over your hip like many do. If you don't care about the computer upload feature, you might choose the Omron HJ-112 Digital Premium Pedometer, $21. Try it – I think you'll enjoy it as much as I do.