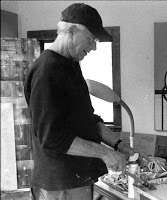 Thank you for continuing to post messages to me here. I feel warmed by your words. To learn more about Robert's life, read this article from the Santa Rosa Press Democrat:
You can also view his work at his website, www.robertriceart.com
I went to his studio yesterday for the first time since he died and found several paintings I didn't even know existed, including one from 1988! What a lovely gift that was.