Robert Rice's art at MeSH Gallery, Sebastopol, CA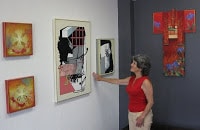 I'm thrilled that my dear Robert's art is still being viewed and appreciated. Robert Rice's paintings continue to move and inspire viewers, a year after he died of cancer at age 71. His art is currently on exhibit through September at MeSH Gallery, 6984 McKinley Ave., Sebastopol, CA, and can be viewed on Robert's website.
"Robert Rice's art is so diverse that he seemed to reinvent himself each time he painted," said Kevin Devine, MeSH Gallery owner, who was drawn to Robert's work from his first viewing. "I had the privilege of seeing some of Robert's art in his home," says Devine. "His wife Joan showed me around and gave me a unique perspective on him. The experience was moving as I was viewing the art almost exactly one year after his death. When Joan showed me one particular piece that Robert requested to view as he was dying, I was moved to tears."
Robert Rice spent almost three years living alone in a cabin deep in the woods in Mendocino County, living with nature and painting all day. "To me this shows an amazingly rare depth of character which gives insight into what a unique and wonderful man Robert must have been," says Devine. "I urge you to visit our gallery and think about Robert the man, who continues to inspire and move me and many others, even though he is no longer with us."
Robert Rice was a lifelong dancer as well as artist, starting tap dancing at the age of three and later dancing ballet, modern dance, and musical theatre, and getting a Master's degree in dance therapy. Robert and I met in my contemporary line dance class in 2000. "The first time he moved his hips, I was a goner," I wrote in my book about our romance, Better Than I Ever Expected: Straight Talk About Sex After Sixty.
MeSH Gallery is open 11 a.m. to 5 p.m. weekdays and by appointment by calling 707-823-1971. The public and press are invited to the opening Thursda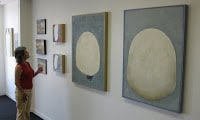 y, August 20, 2009, from 5:30 to 8 p.m. Please view more of Robert Rice's art at www.robertriceart.com.