Snow Bunny: my favorite rabbit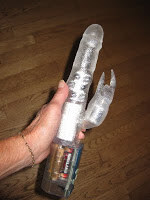 NO LONGER RECOMMENDED
u
ntil I get the final word on what this product is made of. It is advertised on different sites as containing different materials, and since it looks and acts like "jelly" — a toxic material — I can no longer recommend it, for your health. I'll update this again if I learn for sure what's in it. Until then, I apologize for recommending it when it might not be good for you.
Hurray, the Silicone Impulse Snow Bunny solves everything I thought was wrong with rabbit-style vibrators! I'd have thought the Impulse Snow Bunny people read my review of the Butterfly, logged my concerns, and whipped out this solution — except that I know this vibrator existed already, I just hadn't had the pleasure of experiencing it. Thank you, TabuToys adult toys for sending it to me and knowing that I'd love it.


My main problem with rabbit-style vibrators in the past was that the distance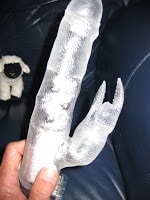 between the shaft and the "rabbit" (clitoral stimulator) wasn't right for me, and there was no way to adjust it. The Snow Bunny, though has a completely flexible section attaching the bunny to the shaft, so the bunny can be bent in closer without changing the angle of the shaft, just what I needed. Also, the little ears can be tucked in to localize their fluttering to just the right spot.


I also like that the vibrator is delightfully squishy, made of 100% hypoallergenic silicone, not hard plastic.


I appreciate that the pleasantly penile-shaped head of the shaft does not vibrate — no cervix battering! The vibrations start just below the head and are strongest at the beaded area which rolls around and vibrates at the entrance to the vagina, where you have the most pleasant nerve endings.


I couldn't get a clear close-up photo of the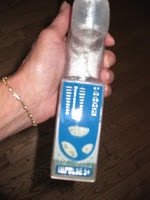 controls for you to see, but they're awesome. There are separate controls for the vibrating speed of the shaft and the bunny. This comes in handy if you want your clitoris a-flutter but a lighter touch internally. Another button controls the type of vibration: pulse, steady, rising, etc. The controls light up and you can see exactly where you are.


One problem with the controls, though — because of their location right under your thumb as you use the Snow Bunny, you can accidentally turn the vibrations up (not a problem) or down (a problem!).


The Snow Bunny takes four AA batteries, making it plenty strong.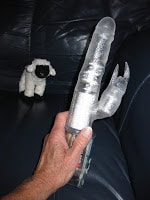 I'd love to hear whether you enjoy it as much as I do.