Autumn Romance: Stories and Portraits of Love after 50
Carol Denker had been a middle-class wife, mother and therapist, who lost herself in her forties, becoming addicted to tranquilizers, unemployed, and, finally, homeless. In her fifties she faced her demons and turned around her life: she got clean, worked as a reporter and then editor, and bought a home.
Then at 62, she met Warren, the love of her life. Now she celebrates elder love with her gorgeous book, Autumn Romance: Stories and Portraits of Love after 50.
Autumn Romance
was a labor of love for Carol, who traveled for three years interviewing and photographing 29 senior couples whose lives had been transformed by love, then writing their stories.
Some met when they were young, lost each other, and reunited. Most didn't meet until later life. Some were married to other people when they met, others had been alone for years. They met in all sorts of ways — speed dating, at work, volunteering, online dating, on an airplane, in a class, line dancing.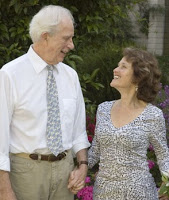 Yes, line dancing. Two couples met this way — Robert and I were one of those couples. I'd love this book just as much if Robert and I weren't in it, but seeing our photos and our quotes makes the book even more special.
Autumn Romance is a hardcover, coffee-table quality book that you'll be proud to leave on display. The photos by 16 photographers (including Robert's son, Mitch Rice, who took our photos) highlight the diversity and glowing love of elder couples. See some of them here. It would make a beautiful Valentine's Day gift for yourself, your lover/spouse/friends, and any older-age couples you know. Order here.
Thank you, Carol Denker, for bringing these entrancing and inspiring stories to us.
2/1/10 Update:
Autumn Love
: free shipping in February! Carol Denker writes to our readers, "I would love to send you a copy of Autumn Romance for Valentine's Day with no shipping or handling charges. And happy to send you the special link to buy a second book at half price, so you can say 'I love you' to someone else."