Elise & Form 2 & Jollie from Kama Sutra Closet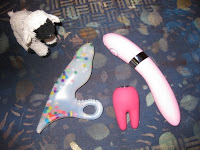 Thank you, Roylin at Kama Sutra Closet, for sending me three new toys to review: LELO Elise, Jimmyjane Form 2, and the polka dot Jollie Dildo.
Although I usually review each new toy in a separate review, it's getting close to Valentine's Day, and I have several toys still in the queue — what's a busy gal to do?
I don't want to make you wait to learn about one that might turn out to be your favorite, so I'm combining three here. That does not mean you're supposed to use them simultaneously!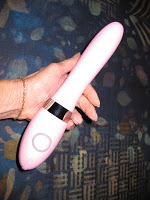 LELO ELISE: LELO makes extraordinary products — elegant, functional, sleek, quiet, high-quality materials and design, altogether fabulous. The Elise is amazing — already one of my favorite toys. It can be used either clitorally or vaginally, and the intensity is really strong — just what the doctor ordered.
The end vibrates separately from the stem, and you can adjust the vibrations to sync together, or operate differently. I liked that it was really strong (I know, I said that, but it bears repeating in my world!), easy to hold and operate, and oh, so nice to feel.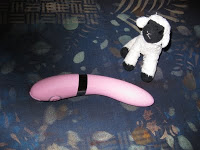 Like other LELO pleasure toys, the Elise charges while you're not using it, so it's cordless and batteryless while in use — very convenient. You can also lock it when you're not using it so it can't turn on accidentally. (I used to think this was a frivolous feature until I used another toy that kept turning itself on.)
This luxury toy is easily worth the investment — you'll want to use it regularly, I'd bet!
JIMMYJANE FORM 2: The Form 2 from luxury sex toy designer Jimmyjane is an odd looking creature, sort of a cross between a rabbit head and a tuning fork. It's a tiny thing, but oh so strong, vibrationally! It charges, then doesn't need cord or battery when in use, and it's — ta da! — waterproof for intimate moments in the tub.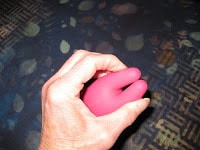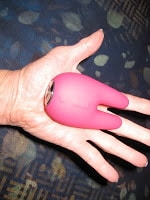 The two "ears" each have a motor in the tip that vibrates intensely, and depending on how you place them, you can get your clitoris or labia or everything vibrating madly.
I confess that I thought I'd like this more than I did.The ears are somewhat flexible, so supposedly you can squeeze them to cuddle the clitoris.
I say "supposedly," because in my experience, it was too difficult to hold the ears squeezed together. Left in the original position, they weren't the ideal distance apart for my dimensions. This toy is a great idea and could be perfect for you, though it's not my favorite.
Form 2 Update
: I love it when people
write me
and give me tips for enjoying my toys more! Many thanks to R, who said she absolutely loves the Form 2 and was surprised at my lukewarm reaction. "Have you tried using it sideways?" she asked me. "I personally found that I liked it sideways, with one "ear" on the clitoris and the other ear toward the vagina." Actually, that hadn't occurred to me. I had tried it every which way, I thought, but lying sideways was a new idea. I tried it, I liked it — especially circling it around in that side-lying position. Form 2 still hasn't made it up the ladder to the top of my favorites, but I enjoyed it
much
more using R's advice!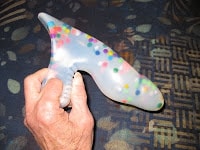 JOLLIE DILDO
: This polka dot sea creature is so cute you'll want to show your friends. It's a silicone dildo, not a vibrator (the movement is up to you). It's anatomically shaped, the manufacturer says, "from molds of actual women."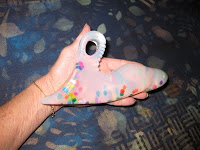 I'm sad to say that those women were able to accomodate toys larger than I can, so I can only review the first — thoroughly enjoyable — inch and a half of this dildo. Then it expands too much for me — to a 6-inch circumference, which is close to two inches in diameter.
If you're larger than I am — and I can only assume that most women are — and you like the feeling of a full vagina, this toy has everything you could want. For me, could they make a Jollie Junior, please?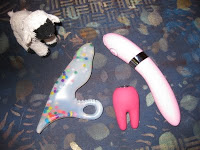 Thank you again,
Kama Sutra Closet
, for a delightfully sensuous diversion from writing my book on this rainy afternoon!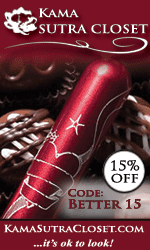 Newsflash!
Kama Sutra Closet
is offering my readers a 15% discount on all orders. Enter code
Better15
.