Mystic Wand: magic companion for trip to moon!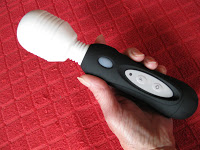 This send-me-to-the-moon vibrator has the power of a Hitachi Magic Wand (the former king of powerful vibrators), but it's lighter, more comfortable to hold, more versatile, cordless, and smaller for travel and storage. And it's waterproof!
When the lovely folks at
TabuToys
wrote that they were singing show tunes about this vibrator, I was skeptical. But I'm singing show tunes (right now: "Oh, What a Beautiful Morning!"), too. Here's what I love: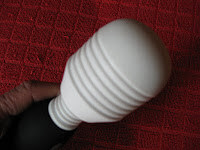 The head has a smooth surface at the top and a ridged surface around the sides. Position it perpendicular to your sweet spot for smooth, or rest it horizontally for ridged. Very nice.
The head is comfortable, has a little "give" like the Hitachi and unlike most big-headed vibrators.
There's a flexible connection between the head and the handle so you can make it easy on your wrist without compromising where it touches. The handle is smooth and contoured for a comfortable hand hold.

It doesn't need to be plugged in! Insert four AA batteries, and you're done.

It has six modes: pulse, morse code, roller coaster, and three intensities of steady: medium steady, strong steady, and oh-my-god-don't-stop steady.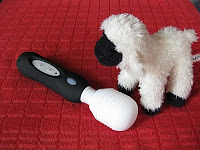 I've reviewed many toys, and this one jumps–or, more accurately, buzzes–its way into my top three all-time favorites. Kudos to Vibratex. You'd think they were thinking of seniors when they designed these power and comfort elements. Maybe they were!
Surely
TabuToys
thinks of seniors, because they always let me know when they have a new product that they're eager to have me test and review for you.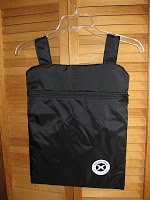 TabuToys sent me a bonus: a Sneaky Sack. This adult toy storage bag hangs on a hanger in the closet–or even inside a jacket hanging in the closet–hiding your toys from prying eyes in case a grandkid, housecleaner, carpenter, or new lover is snooping around. This sack has three large compartments: Interior of main compartment is 17.25″H x 12.5″W, front pocket is 12″H x 12″W, and back pocket is 13″H x 12.25″W. You can store lots of toys, lube, jewelry, erotica–whatever you want to keep out of sight.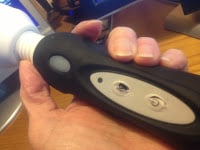 3/28/13 update: I was horrified to discover that my Mystic Wand is broken, and because of a stupid defect. The controls developed holes, and now I can't turn it on. Hey, sex toy manufacturers — make your toys last if you want them to appeal to us seniors! We have a lot of life left in us, and we don't want our vibrators to die on us, especially not after less than three years. Harrummph.