This blog is #10 of the Top 100!
Oh wow, not only is this blog on the
Top 100 Sex Bloggers
list again this year, it's #10! (It was #29 last year.)
#10 out of 200 nominees! Blogs were judged on site design, frequency of posting, quality of posts, readership interaction, and more. Excuse me while I do a little dance. As far as I know, I'm the only "elder blogger" on the list.
Most of the other winners are erotic blogs, rather than educational blogs as this one is. So I'm even more honored that an blog aimed at providing solid information about senior/elder sex was voted worthy of being in the top 10 of all sex blogs!
For new visitors to my blog: I am the author of Better Than I Ever Expected: Straight Talk About Sex After Sixty
and the upcoming Naked at Our Age: Talking Out Loud about Senior Sex. I started this blog after Better Than I Ever Expected was published in 2006 because I wanted to connect with my readers and continue the discussion about sex and aging.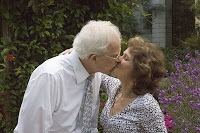 This blog is all about senior/elder sexuality and related topics, including tips for improving sex at our age, reviews of sex toys from a senior perspective, books and films that look at senior sex, expert interviews, senior sex in the news, dating, and my personal love story. Because sex/love at our age does often involve loss, you'll find posts about grief as well.
Read this blog via either http://betterthanieverexpected.blogspot.com/ and the easier to remember http://www.nakedatourage.com/. I hope you'll visit often. I love comments, so please share your thoughts.
See all the Best Sex Bloggers 2010 winners. (Warning: extremely explicit content on most of these blogs. If that's enticing, I hope you'll explore many of the top 100.)
I'm so jazzed about being #10! Many thanks to Rori and her BetweenMySheets blog, and all the judges.
– Joan Price