Did you tell your story in Naked at Our Age?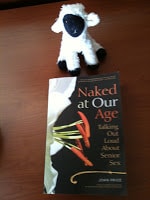 I've emailed all of you whose stories appear in Naked at Our Age and all our experts about receiving a copy of the book. Several emails to my interviewees came back as undeliverable. If you should have received an email from me but didn't, please email me now with your updated address. I hope you see this!
If you aren't in the book but you sure want to read it, yes, it's available now! Read about it on my website here and in previous blog posts here.
Order an autographed copy directly from me — be sure to let me know to whom to autograph it — by clicking the PayPal button below…

Or order from Amazon here.
I am thrilled by the compelling reader stories and the immediately helpful advice and action tips from our experts. I know you will learn plenty and enjoy it thoroughly!