Mini-Wahl – only one speed: ferocious!
I had a Wahl as my first vibrator in my thirties. I bought it at Macys in the "personal care" department — it was a (wink-wink) massager for tight muscles and for giving the face a rosy glow. It did that, all right! I loved it and named it Wally.
Over the decades, I discovered the Hitachi and other wonders of the world, but Wally really taught me about my sexuality in my youth, when sex was easy, available, yet confusing. I was sad to discard my Wahl at about age 50 when all the plastic attachments had cracked and crumbled and it ran dangerously hot.
When EdenFantasys announced the arrival of the new Mini-Wahl, I couldn't wait to see how it had been reinvented! This model is lightweight in ounces but not in vibrational intensity — it's a strong vibrator!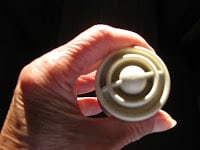 It comes with a bunch of pop-on massage attachments for scalp and sore muscles (seriously), and although I tried every one for my — ahem! – purposes, the only one I liked was this maze-like, round shape that targeted the clitoris and sort of radiated out to a larger area. I found all the attachments rather hard, not the soft rubbery feel that might be more appealing.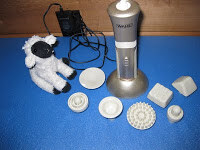 The Mini-Wahl recharges by plugging it in and sitting it in its base (if you want — you don't have to use the base) for a while. Then you don't have to deal with wires or batteries. It's quite unattractive, but maybe that's okay, because it looks so much like an ugly old muscle massager that you don't have to hide it.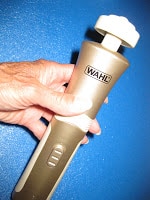 It's shaped for ease of holding. The neck of the holder looks like it should bend, but it's actually not very flexible. The Mini-Wahl is really noisy, and if you try to make it bend, it gets noisier.
I've tested many vibrators that have multiple speeds and modes and I just turn the thing all the way up, so it didn't bother me that this vibrator has only one speed: ferocious. If you like a more gradual build-up, you might want to use one of your other toys first until you're close to blast-off.
If you've encountered vibrators that are too strong for you, this one probably wouldn't please you. In fact, some women complain that it's too strong and even "numbing." But if you are among those of us who require extra intensity, the strength is a good thing.
I recommend the Mini-Wahl if you want a strong vibrator that you don't have to hide, and especially if you want to massage sore muscles in addition to playing with it sexually.
Compared to other vibrators I've used and love, though–click here for my other reviews (keep scrolling to "older posts" — I've reviewed dozens of them!) — it rates maybe 3 stars out of 5. It does the intended job efficiently, but others do the same job while being prettier, quieter, and more comfortable. It's less than half the price of some of my favorites, though, so do consider it if price is a consideration!