Bsoft Massager: vibrator review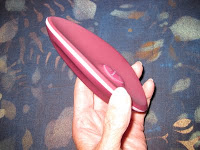 What an odd shape — that was my first thought when I received my
Bsoft
clitoral
vibrator
from
Eden Fantasys sex toys
. After 67 years, I thought I knew my female anatomy, and this didn't look like it would match anything that I knew.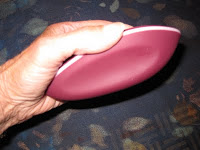 One side is mildly concave, the other is ridged. One end is pointier than the other. The whole thing vibrates!
I wasn't sure how to hold it — which side was "up"? Nothing seemed sized or shaped the way I was.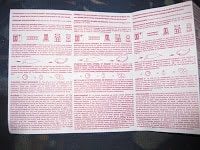 The manual didn't help–it's for various products and in many languages, with no specifics about using it, and in such small type that no one can read it anyway.
So I decided to experiment and see what I liked. I'm sure that the reason for the lack of direction is to encourage us to do just that, since there's no wrong way to use it. It was fun to experiment, but ultimately unsatisfying.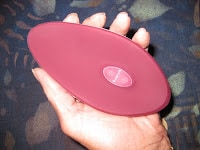 The name "Bsoft" led me to believe that this toy would be softer — more cushiony or flexible — than it is. It's hard. There's nothing soft about it, and as I explored different positions and pressures, I got mad at its misnomer.
I found more to dislike than to like, even if I were to be forgiving about the name. If I pressed with the end where I was feeling the strongest vibrations, it sort of pinched delicate tissue. The concave position was too light for sensation, and the ridge was more irritating than stimulating.
Usually if I don't like a toy personally, I try to figure out who would like it. If it's too light for me, would it be good for a first timer? Not with this complicated, non-intuitive shape. If it didn't fit my physiology, would it fit someone else's? Darned if I know. (Let me know if you found it just right for you.)

I ended up turning it off and reaching for my dependable Hitachi Magic Wand. What's a woman to do?
Even though I couldn't find much to like about using the Bsoft, it does have its attributes: rechargeable, waterproof, easy-to-use controls, easy to clean. very lightweight for travel.
Thank you, Eden Fantasys for sending me the Bsoft — sorry I didn't like it better!