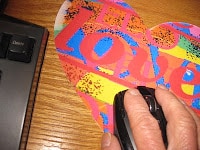 I've been pondering the topics I'll cover in my new workshop — "How the Heck Do I Date at This Age?" — which I'll debut in Milwaukee and Madison, Wisconsin on Oct. 1 and 2, 2011. (See my events page for details.)
Can I get you involved? If you're newly dating again, or if you've been single and dating for a long time, what questions and/or tips do you have for the rest of us?
For example, people who attend my book signings and speeches have asked me these questions about online dating and dating in general:
Is it okay to lie about my age? If I don't, no one will date me.
When I'm ready to have sex with a new person, how do I know if he's "safe"?
Why do men pursue me like crazy and then suddenly disappear and I never hear from them again?
After I meet someone, how do I say I don't want to see him/her again without hurting his/her feelings?
Why do women show photos of their pets and grandchildren on their profiles? I don't want to date their pets or grandchildren.
Why do men wear sunglasses in their profile photos? It looks like they're shifty and hiding.
Is there a nice way to ask women to send a full-body photo? Not nude or revealing, just showing their body type.
Why do men think that 30-50 pounds overweight is "average" build?
(From a man:) I posted my profile and got so many responses that I couldn't possibly answer them all. Are men so outnumbered?
(From a woman:) I posted my profile — why didn't I get any responses?
You can bet I have answers for all of these, but I want to know your opinion first and get our community talking. Here's how you can participate with your comments:
1. Choose any of the above questions, and take a stab at the answer.
2. Add questions of your own.
3. Add tips to help seniors navigate dating at our age.
4. What else should we know?
After I get an array of comments, I'll write an update with my views. Your turn first!
Check out more "seniors dating" posts here.