Naked at Our Age Facebook Page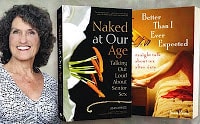 If you wish I'd post more frequently, here's how to get your senior sex information fix daily, or even several times a day: My
Naked At Our Age Facebook page
is a resource for all sorts of news, views, and tidbits that relate to senior sex and sometimes to sexuality in general.
Here are some recent topics from the past few days:
The Great Wall of Vagina: a video about an art project presenting casts of vulvas, so we can see that we're all unique and beautiful, and our vulvas don't need surgical fixing.
Vibrators and Airports Don't Mix: When a sex educator traveling in China with her LELO Mia was questioned by non-English-speaking security, how did she communicate what this item was?
Do Christians have the largest penis? An 80-year-old blogger blames feminism, homosexuality, and Mexicans for the shrinkage of the average penis from 6.5″ to 5.25″. Or is it all a spoof?
I hope I've stimulated your curiosity! Visit http://www.facebook.com/JoanPriceAuthor, "like" the page so you can comment, and enjoy!