More about Submitting to the Senior Erotica Anthology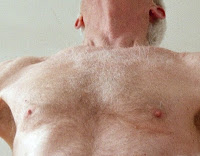 Please read my original Call for Submissions before reading this post.
What a response I've received since I posted my Call for Submissions on September 21! Several dozen writers sent me their contact info and author bios to let me know they're planning to submit by the Feb. 1 deadline. Quite a number of these have already emailed me their stories.
As I read through the early submissions, some are indeed steamy and celebrate senior sensuality while acknowledging the realities that are very different from the way sex (and life!) used to be when we were 20, 30, even 45. The best of these stories are provocative, innovative, and beautifully crafted as well as sexy.
But far too many of the stories I've received strike me as youthful erotica with an older chronological age slapped on. No, let's do something truly different here!
Those of you who are over 50, 60, 70 (and I specifically asked for writers over 50) know that our changed and changing bodies, responses, and need for stimulation are not mirrors of our youth. The dynamics of our relationships are different. The contexts of our lives are different. What we find sexy is different. What takes us over the top is different.
I'm looking for erotica that faces and embraces these changes — erotica that makes us older folks shiver and tingle. Erotica of high literary quality. Erotica unlike what turns on younger readers.
That's what we don't find in the bookstore yet. That's what we want to read! That's why I proposed this project.
If you've already submitted your story and realize now — reading this — that you need to craft it further, please email me to withdraw your submission for now, and re-submit it when it's ready.
If you're younger than 50 and won't be turning 50 by Spring 2013, realize that I'll give preference to older writers, because one of the aims of this collection is to give older writers a voice.
And if you already did everything I'm asking for, thank you! I'll be in touch.