Zini Ran: A favorite already!
I confess that although I delight in reviewing new sex toys, the more the merrier, I have favorites that I keep returning to when I'm indulging my own pleasure and not blogging about it. The Zini Ran, I'm happy to tell you, became an immediate favorite! Thank you, EdenFantasys sex toys, for sending it to me for review.
I like the size, the shape, the function, the materials, and the ergonomic design of this lovely pleasure tool. The Zini Ran is designed to be used as either a clitoral vibrator or a vaginal/G-spot stimulator, and it works well for both. The controls are easy to see and use — they even light up when you press them! — and you can hold it comfortably even with wrist arthritis. Just be careful to keep your slippery fingers (I assume you're using lube) away from the controls when it's in action, or you could accidentally — shudder! — turn it off or change intensity or pattern.
Used clitorally, you can either hold it perpendicular to your body and position the tip on your clitoris, or, as I prefer, hold it against your vulva so that it wraps and cradles the clitoris and surrounding areas. Though I didn't try it this way, the shape would likely work well between partners without getting in the way.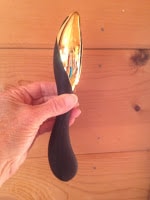 Used internally, it's a joy. It's tapered and slim, and once inserted, you get a feeling of fullness from the bulb-like section (1-3/8″ at the widest part) while the slimmest part — about half an inch in diameter — sits comfortably at the entrance to your vagina. Women who like penetration but don't find girth comfortable will appreciate the shape and size of this lovely creature.
The vibrations can be mild or strong, not super turbo strong like the Hitachi Magic Wand, but for most, it's impressively strong, especially for a rechargeable vibrator this size. The vibrations feel deep and rumbly rather than buzzy. It's surprisingly quiet — just a soft, whirring sound, more like the sound of the refrigerator that you barely hear. Internally, it's barely audible.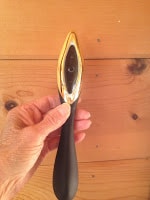 The materials are top grade silicone and plastic. The silicone is so velvety smooth that you may just want to stroke it for a while. It has a bit of a "drag" (friction is good!) which I found very enjoyable. If it's too much for you, just add more water-based lube.
Zini Ran has plenty of cool features — patterns which light up in different colors, rechargeable, comes in a pretty box with a nice pouch. I like it a lot and think you will, too!
I love to hear from you and welcome your comments about any sex toys I review, because our experiences are all different, and your experience will help readers as much as mine. (However, if you're a sex toy retailer, I don't permit links that compete with the retailers I endorse, so don't even try — spammy, highjacking comments and links won't see the light of day.)


Please see my other vibrator reviews by clicking here. Keep scrolling down — there are many!