Infinit Massager: Bouquet of Vibrators?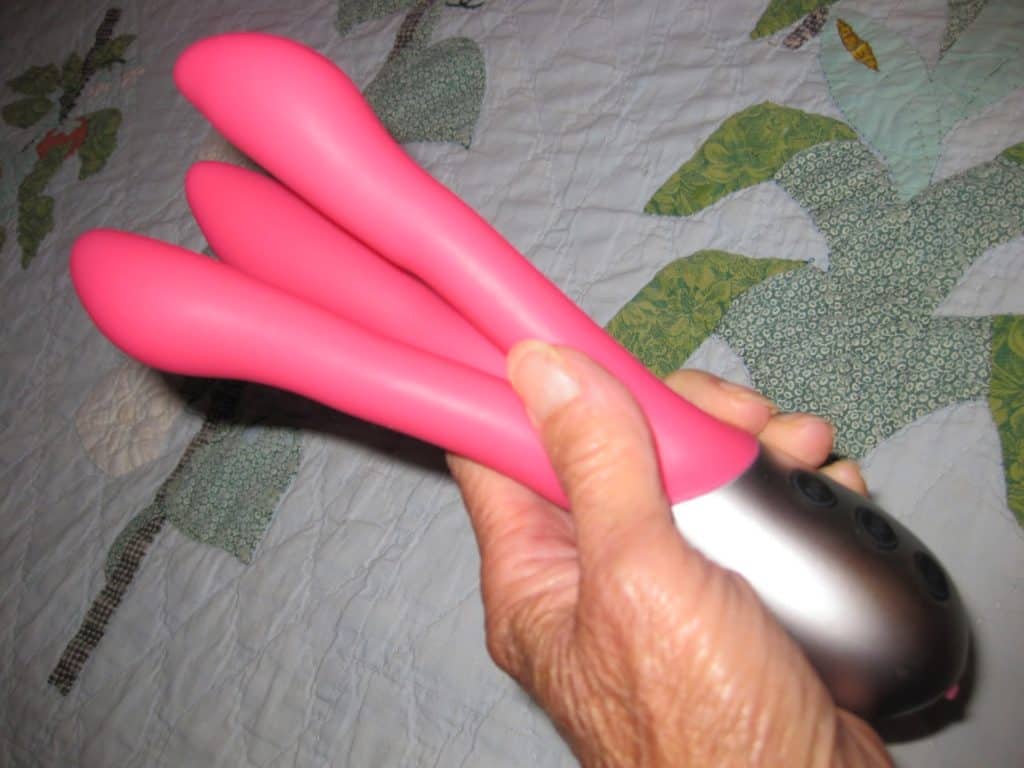 "Oooh, a bouquet of vibrators!" I exclaimed after unwrapping my Infinit Massager. The Infinit has not one, but three silicone vibrators growing out of an aluminum base.
Each vibrator has its own control button for increasing intensity or changing vibrational pattern. And each is flexible (well, sort of flexible — more about that in a minute), so it can be bent into different angles and positions.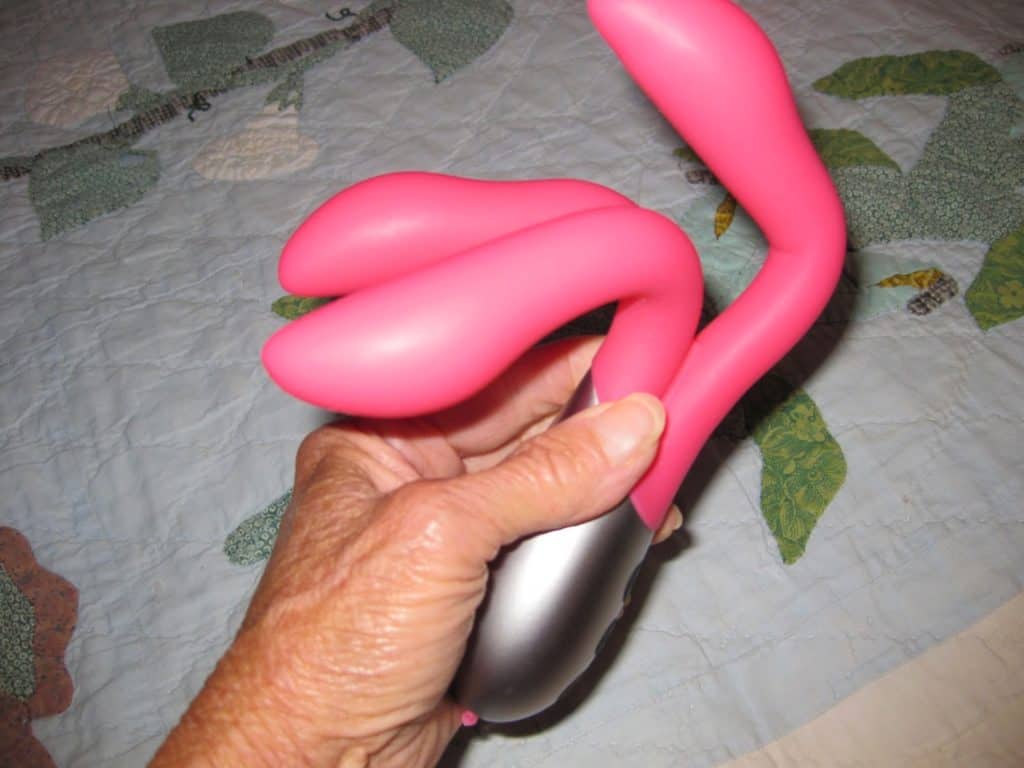 The idea — an interesting idea indeed! — is that the array of vibrators lets you stimulate several areas at once. You can use one prong for vaginal stimulation, one for anal stimulation, and bend one to press against the clitoris for clitoral stimulation — all at once, using one hand and one product!
Or, if you like more fullness vaginally, put two in the vagina, one against the clitoris. Or — whatever you want to try.
That's the idea. Now here's the reality from a senior perspective:
You can't simply turn on the vibrators and easily bend them into place. You have to figure out how to get the arms bent the way you want them ahead of time because they're difficult to bend into the position you want. The arms aren't flexible like pipe cleaners — they only bend in two places.
Even with effort and concentration, I couldn't manage to wrestle an arm (or two) into a position for clitoral stimulation that worked for me while one arm was inserted vaginally. If the clitoral arm(s) were placed right, the vaginal arm was barely inserted. It worked best using all three arms for external stimulation, surprisingly.
Each button controls one vibrator independently, but they're not marked in any way, so you don't know which button controls which arm except by trial and error. It's best to get them all at the right setting before you start. It would have been easy to color code the buttons to correspond with a little marking on the arms, eh?
The Infinit isn't comfortable to hold for the amount of time we older women need, especially if we have arthritis or weakness in the wrist. Although the vibrations are concentrated in the ends of the prongs, the whole base is vibrating enough to become annoying with long use, especially when the slipperiness of lubricant-coated fingers on aluminum requires a hard grip.
It's way too easy to accidentally press one of the control buttons and turn the vibrator off or change pattern when we don't want to.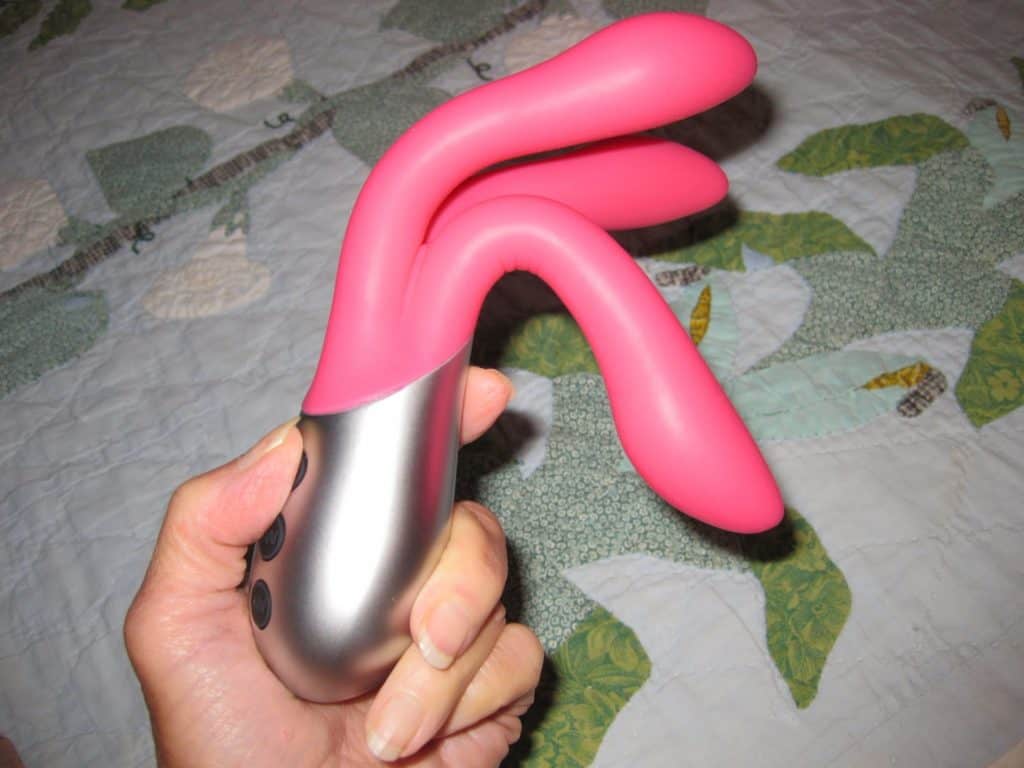 Of course, your experience may be different. If you'd like a playful experience with lots of possibilities, the Infinit Massagerwill entertain you. And it would probably work better with a partner to help you experiment — certainly there can be plenty of sensation in a three-pronged vibrator.
The Infinit charges via either wall socket or USB port, very convenient, so it's cord-free while you're using it.
It's fully waterproof and can be fun in the tub. It's quite heavy, so hold on tight if you take it into the shower. I say that because I dropped it on my toe in the shower. It didn't break either the toe or the Infinit, but it hurt.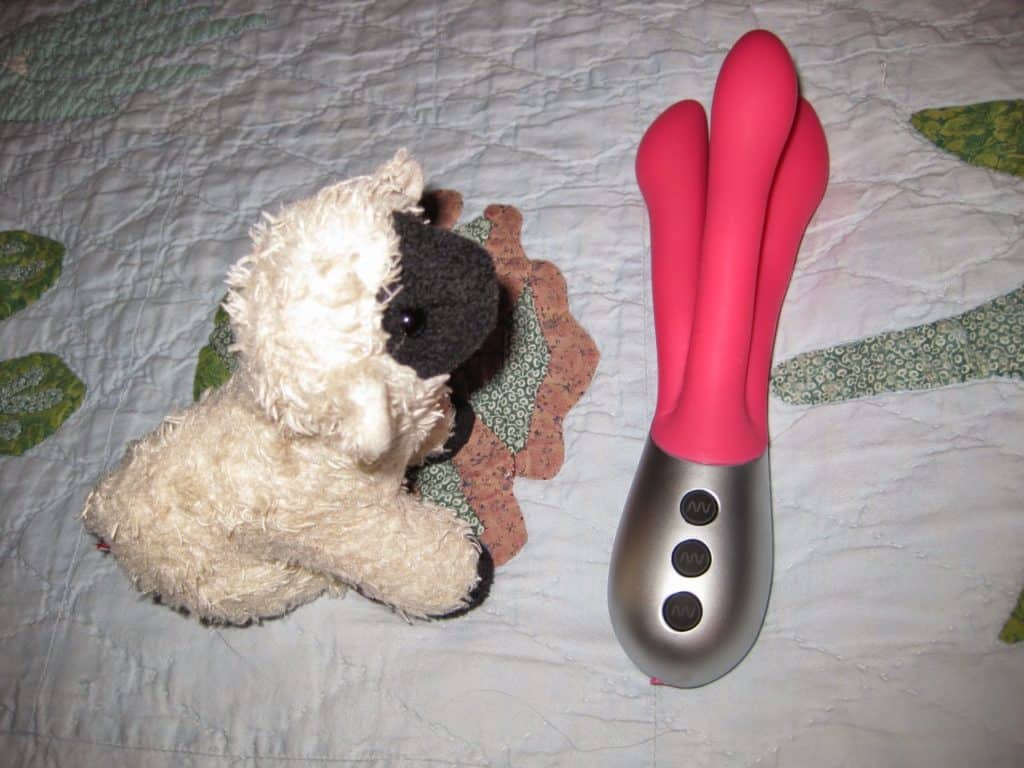 I think male bodies would find the Infinit Massagerfun. Would you like me to ask a buddy with a penis to test it? Say the word and I'll get on it, so to speak.
–> Want a discount on this product or any other? Click this link: Sextoyfun.com and use the coupon code SENIORSEX for a 10% discount on any order over $100. No expiration date.
Thank you, Sextoy.com, for providing this product in return for an honest review.