Prism V: Gorgeous G-Spot Vibrator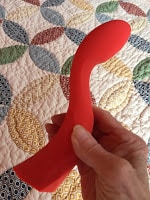 There's a lot to love about the
L'amourose Prism V
. It is a curvaceous work of art that happens to be a deep, strong, and rumbly g-spot vibrator. It's smooth and ergonomically designed, and made out of body-safe silicone and ABS plastic. As powerful as the vibrations are, the Prism V is reasonably quiet. And it's completely waterproof!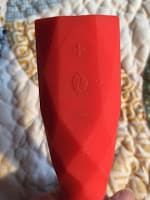 The shape and faceted design are lovely, and it's easy to hold. Although you'll feel some vibrations in the handle, they're muted and not likely to aggravate arthritic wrists. The powerful vibrations stay where they belong — in the bulb that rests against your G-spot and in slender part of the stem. You can hold it still and let the 5 patterns and 12 speeds do their magic, or you can rock, wiggle, or twist it, whatever you enjoy.
Good luck trying to see the controls without your reading classes or find them by touch, though. My trick: Make sure I have it set to the pattern and intensity that I want before inserting it. Otherwise, I'd never find them, especially with lubed fingers. See what I mean in the enlarged photo here? The "+" is at the top, the pattern selector is in the middle, and the "-" (almost invisible in the photo) is at the bottom.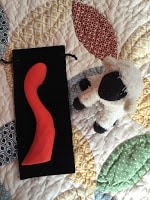 For some older vaginas experiencing penetrative discomfort, the bulb may be too abruptly plump for comfortable insertion. At its widest, it's just under 1.5″ in diameter. You be the judge of what's comfortable going in. Once the bulb is inserted, the stem part is very slim. Of course you'll want to use plenty of water-based lubricant.
The insertable length is 5 inches, but you'll only need to go deep enough to press the bulb against your G-spot, which for most of us resides only about 2-3 inches inside the vagina.
If you wish, you can even use the Prism V externally for clitoral stimulation. It's so comfortably ergonomic to hold that you'll enjoy experimenting with different ways to use it.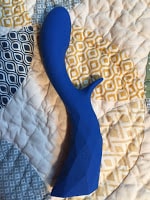 L'Amourose makes another similar model — the Prism VII — which is a dual-stimulation vibrator: its motor sends vibrations to the vagina and the clitoris via a little protruding arm. The Prism VII can also be used for anal insertion and prostate massage.
My experience with the Prism VII was underwhelming. I liked the slightly different shape of the insertable part — it's more tapered than the Prism V, and slightly narrower. However, the clitoral arm just didn't deliver enough oomph, with the strongest, rumbly vibrations in the insertable part, and weaker, buzzier vibrations in the external part.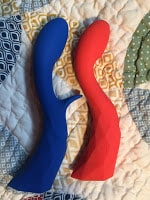 Besides that, the external arm is so small that it was difficult to get it positioned so that it even contacted the clitoris. Other reviewers have reported this, too. That's a problem with dual-stimulation (aka "rabbit") vibrators: we're all different shapes and dimensions, and I rarely find one that works for my body. My recommendation if you have this experience, too: use two different vibrators at the same time, one internally and the other externally. (That's why we were created with two hands!)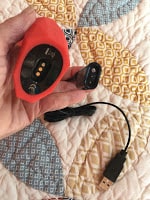 Both models are rechargeable with a magnetic connection to a USB cord, included. Easy peasy. They come with a storage pouch.
Thank you, Smitten Kitten, for sending me the L'amourose Prism V and L'amourose Prism VII in return for an honest review. Thank you also for making it your mission to provide access to accurate sexuality education and body-safe, ethically produced products. I encourage my readers to read Smitten Kitten's "About Us" to learn why I love this store and the people who work there. They also support my work — they've hired me to speak at their store multiple times, and as advertisers, they help to keep this blog running.