We-Vibe Discover Gift Box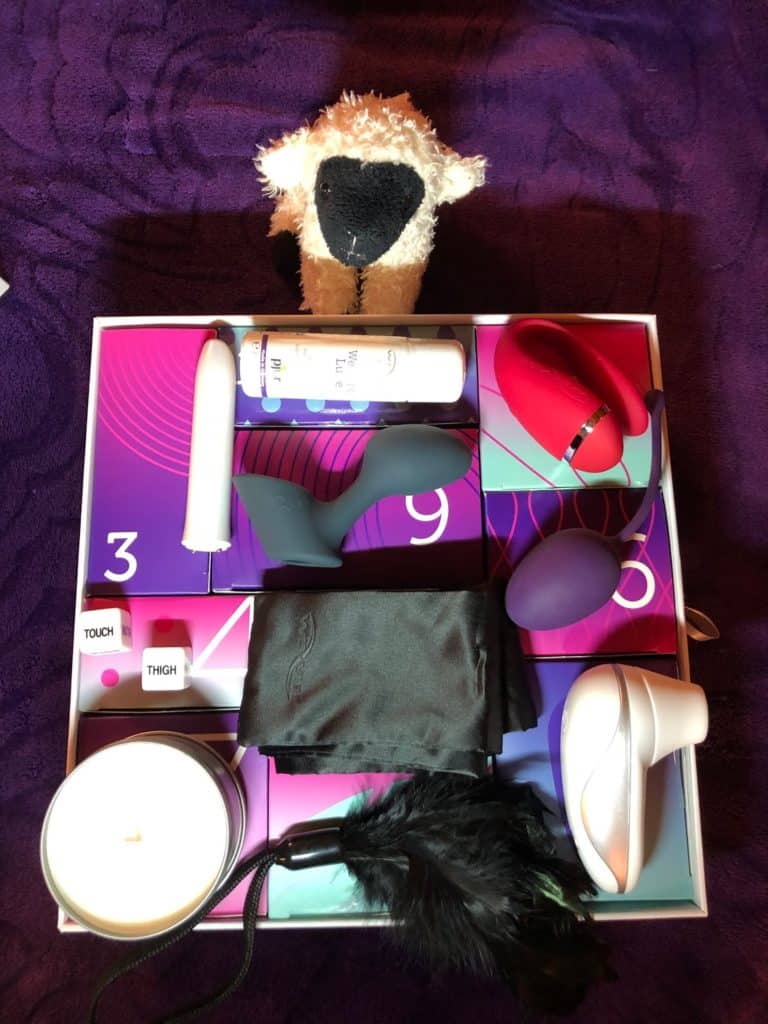 The We-Vibe Discover Gift Box is a holiday gift, and much more. It's easily months of sexy giving and receiving. This curated gift box contains these 10 items for your sexual pleasure:
We-Vibe Lube made by pjur: Water-based, safe for use with silicone pleasure toys.
Tickler: A "feather duster" for your tickly bits or all over your body.
Tango by We-Vibe: External mini-vibe, with 8 levels and modes of stimulation. Use the flat side, the tip, or the edges, and take it in the shower or tub if you wish — it's waterproof and rechargeable. It's made of hard plastic and transmits the vibrations very well.
Sexy Dice: Sexy instructions and the body parts to use them on. Roll the dice and play.
We-Vibe Couple's Vibrator: AAA battery-powered, budget-friendly version of We-Vibe's signature silicone couple's vibrator. Designed for one "arm"  worn in the vagina and the other over the clitoris during partner intercourse, it's also dandy for unpartnered self-pleasure if the fit feels right. This version isn't as strong as the rechargeable models. (Hint: If you have trouble removing the paper from the battery compartment, as I did, use tweezers.)
Kegel Ball: You don't have to go to the gym to strengthen your pelvic floor muscles. Insert the silicone ball in the vagina and slow squeeze – slow release for pelvic floor tone and, potentially, stronger orgasms. Silicone.
Massage Candle: Sweet vanilla-scented candle, which releases massage oil. Of course you'll extinguish the fire and test the heat before you pour it over your partner, right?
Womanizer Starlet: Small, travel-sized, rechargeable version of the Womanizer, which uses a delightful "pressurized air pulses" technology. Use it on the clitoris and/or any-gendered nipples. (See my reviews of my favorite Womanizers here and my half-hearted review of the Starlet here. Although it's not my favorite Womanizer, it will help you know whether you like the feeling enough to invest in a stronger model.)
Dusk by We-Vibe: Silicone anal plug, marketed as a "beginner's butt plug" because it's smaller than most and tapered for easy insertion. It doesn't vibrate on its own, but the base is tube-


Dusk + Tango

shaped so you can pair it with the Tango to add vibrations. You'll feel mild vibrations internally and stronger vibrations on the perineum, which the Tango will touch.

Silky Sash: Use it as a blindfold or a restraint, or come up with your own idea!
Each item is individually wrapped within its own gift box and comes with a card describing the item and how to use it. You might choose to play with these individually, or try them in combination. With such a large collection of possibilities, you'll easily find some favorites. Enjoy experimenting!The We-Vibe Discover Gift Box is listed at $350 (ouch!), but it's selling now for $249 from We-Vibe. Still pricey, I know, but if it's within your budget for a special treat that keeps on giving, you'll find much to enjoy!
Thank you, We-Vibe, for gifting me the Discover Gift Box!