My hair is now officially natural. I stopped coloring it about six months ago (see some photos here of my "transition") and now my short hair is naturally tri-colored: about 60 percent gray (let's call it silver), with a determined back layer of brown, and a couple of little pops of almost-white. I had never seen my natural hair color since I started coloring it more than 15 years ago. I had no idea what might be happening at the root of things. I like the change.
In between trips to the mirror, I read
Going Gray: What I Learned about Beauty, Sex, Work, Motherhood, Authenticity, and Everything Else That Really Matters
by
Anne Kreamer
. Kreamer decided to stop coloring her hair at age 49, after coloring it since age 25. The book is a personal exploration of her journey to gray, but even more interesting, a social, historical, and psychological commentary on how hair color, age, and self-image mesh — or don't.
In one of the most fascinating chapters, "Dating — My Three-City Match.com Road Test," Kreamer posts an online dating profile to test whether men seeking date matches respond differently to gray hair. She posts identical photos on identical Match.com profiles in three different cities, except that she posts first as a brunette for a few weeks, removes the profile, and then a few months later, posts a gray-haired photo. I would love to tell you how that came out, but it's such a marvelous part of the book (including the reactions of her husband as she trolled for dates!) that I'm going to encourage you to read it for yourself.
What about you? Did you meet someone after you had settled into your silver hair when romance had eluded you as a blonde? Did responses to your online dating profile go up or down after you posted a new, natural-color photo? Did you go gray and then return, screaming, to your colorist to camouflage your tresses? Did you discover that your face and skin match better now that you're no longer ebony-haired?
Tell me your story and win a book! When Hachette Book Group, the publisher of Going Gray, learned that I would be blogging about this book, they offered me five (5!) copies to give away in a contest! Interested? Here's what you do:
Email me your 2-3 paragraph story about how deciding to go gray changed your dating life, self-image, and/or sex life — for better or worse. Include your real name, age, and address, plus a first name of your choice which will be used to identify you if I publish your story or an excerpt on my blog. Yep, you have to agree to go public using your code name and age. No other ID will be published unless you request it (if you're a writer, performer, or other person in the public eye and you want your story told with your name). Please put "Going Gray contest" in the subject line of your email. If your story is among the first five that I love (I reserve the right to be totally subjective), you'll receive a free copy of Going Gray directly from the publisher. What a deal!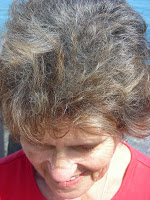 It's time for me to let my gray (silver?) hair grow out, I decided last November. My hair stylist, Troy of Troy Michael Salons in Sebastopol, CA, has been helping me "transition" since then, letting my gray/silver emerge while the brown/blonde recedes. At my last appointment, he cut off most of the still-colored hair, revealing me as a 65-year-old, mostly gray/silver-haired woman. (Thank you, Dan Goldes, for the photos.)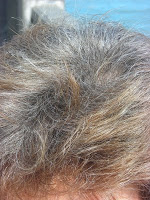 I'd wondered for years what color my hair would be if I stopped coloring it. Shimmering silver?All gray? Salt and pepper? Old looking?
When I wondered aloud to Robert, he examined my roots with an artist's eye and said, "I don't think you'd like it — you'd look ten years older." He wouldn't mind the ten-years-older part, but he was sure I would, being in the public eye and representing zesty sexuality after sixty.
Then after Robert died, everything that mattered before no longer mattered. As I grieved, I found myself re-evaluating every decision, big and little, from whether I could say no to writing deadlines for a year (yes, I could) to whether I should continue coloring my hair.
Bottom line: we don't have the option to stay young. We can either get old, or we can die first. I wish Robert had been able to get old rather than die at 71. That brought it home for me that we only have these two options, which make looking younger than I am seem sort of silly. The point is that we can grow old with vigor, pride, and sensuality — we don't have to pretend to be young.
I've always valued authenticity. My hair isn't brown with blonde highlights. It's … I don't know yet, some combination of gray and brown, or maybe all gray. I always insist on telling the truth, so shouldn't I be showing the truth, too? I see women who look beautiful and radiant in their sixties, seventies, eighties, with snow white hair, or silver streaked, or any combination of their natural colors.
You could argue that authenticity doesn't hinge on hair color, any more than it hinges on whether we wear "shaper" bras or let our sagginess show, or whether we bother to get dressed or wear pajamas to the supermarket if we feel like it. We do put effort into looking good because it reveals how we feel about ourselves as well as how we want the public to see us.
And, truth be told, I don't feel brown-haired-with-blonde-highlights any more. I'm looking forward to shining silver.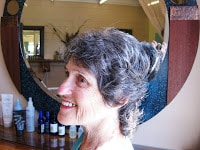 August 2009 update: Here's my hair now:
Speaking of gray hair, see my review of Going Gray by Anne Kreamer. It's an interesting read if you're wondering what to do (or not do) about your hair color, looking at the social, psychological, aesthetic, even political implications.
I find it fascinating that the original, hardcover edition of Going Gray was subtitled, "What I Learned about Beauty, Sex, Work, Motherhood, Authenticity, and Everything Else That Really Matters," and the paperback reprint edition is subtitled, "How to Embrace Your Authentic Self with Grace and Style." I prefer the first subtitle. Which do you prefer?