Posts Tagged 'Joan Price events'
I was speaking at
Copperfield's Books
in Sebastopol, CA, to a roomful of eager listeners, mostly our age. My favorite part is always the Q&A segment, which this time ran until the staffer announced that we had to stop because the store was closing.
Many of the questions were from singles about dating. For example:
"Is it OK to lie about my age on the online dating sites?" a beautiful, vibrant woman of 70+ asked. "If I tell the truth, no one will date me." I got on my soapbox about telling the truth, changing society's view of older people as unsexy and undesirable by showing that yes, we're 72 or 67 or 78 and still sexy. Coincidentally, Helen Mirren at 66 was just voted "Body of the Year" against plenty of 20-30-year-old celebrities. (I know we're not Helen Mirren, but my point stands.)
"Are condoms really necessary at our age?" Yes! Most of group was flabbergasted when I told them that fastest growing population for new HIV infections was the 50+ age group. "Should I repeat that?" I asked. People nodded. I repeated it. "People with SDSs don't tell you the truth — sometimes they don't even know they're infected, and sometimes they lie!" I explained why I felt it was important to have a whole chapter in Naked at Our Age about safe sex, and I gave tidbits from that chapter about having the "condom conversation" and about eroticizing condom use.
After the audience disbanded, several people, mostly unpartnered, came up to me to ask more questions. But the store was closing, and we had to stop.
Afterwards, I realized I had missed a great opportunity. I should have invited the singles to join me at a restaurant next door for dessert and conversation. I should have organized a "Senior Singles Mixer."
So that's what I did at Book Passage in Corte Madera, CA, the following Saturday. It turned out to be more a discussion group than a "see if there's someone here you want to date" event. We talked candidly about our personal dating experiences, hopes, apprehensions. We listened to each other with interest and compassion, and left understanding more about each other and ourselves.
I'm motivated now to announce a "Senior Singles Mixer/ Discussion" at the end of all my talks from now on, as long as the organizers agree. My next one is at the Center for Sex and Culture in San Francisco on August 18. (See more info about this and all my upcoming events here.)
Join me?
If you're not nearby, what would you like to discuss in a Single Seniors Mixer/ Discussion group? You can bring up topics right here.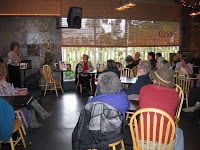 When I give a talk about senior sex, my favorite part is answering your questions. I feel both proud and humble that you trust me (and the audience) enough to voice your concerns.
I've been traveling to tell people about my new book, Naked at Our Age: Talking Out Loud About Senior Sex and talking at bookstores, sexuality shops, a senior center, a restaurant, and my 50th high school reunion (!) about the myths and realities of older age sexuality. Here are some of the most frequent questions and topics you've been sharing:
The #1 question from partnered seniors is how to revive a dull, infrequent, or nonexistent sex life. I talk about scheduling sex and understanding that at our age, desire often follows physiological arousal rather than the other way around. In other words, getting started with touching and kissing will get you in the mood after your body starts responding — don't wait to be in the mood.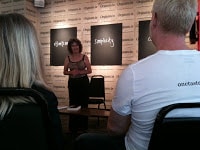 Single seniors ask about the importance of safe sex, hoping (from the wording of your questions and the looks on your faces) that I'll tell you we probably don't need condoms at our age. I tell you the opposite of that — yes, we need to use condoms, and we should do so whether someone tells us his or her health history or not. The fastest growing population for new HIV infections is the over 50 age group.
 Women whose partners experience erectile difficulties often don't understand what's going on ("Is it because I don't attract him any more?") or what to do to keep the sensuality going in the relationship ("Isn't it cruel teasing if I want to touch and be touched?").
Both men and women scoff at the idea of sex toys until I tell them why a well-placed vibrator can mean the difference between orgasm or not.
Is it any surprise that that one place people were reluctant to ask questions was my high school reunion? It's understandable — we were with people we hadn't seen since we were 17 and our main sex problem was how to hide our activities from our parents! When I saw that my classmates were uneasy about asking questions, I said, "If you'd rather talk to me privately, I'll be giving consultations in the corner."
For the rest of the weekend, people came up to me to request their "consultation in the corner"!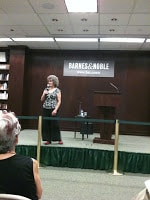 Your comments are welcome. If you were in my audience, what question do you hope I'd answer? If you're brave, include the answer you think I'd give!
If you want to be in my audience for real, click here to see my upcoming events. I'd love to meet you!