Media Responses to Joan Price and
Better Than I Ever Expected:
Straight Talk About Sex After Sixty
The media jumped on senior sex as a new trend as my Better Than I Ever Expected: Straight Talk about Sex after Sixty and Gail Sheehy's Sex and the Seasoned Woman were released at the same time in 2006, following on the (round) heels of Jane Juska's A Round-Heeled Woman : My Late-Life Adventures in Sex and Romance. Media attention to the book catapulted me into the role of "senior sexpert." I have been asked for commentary on everything from senior dating / sexual health (ABC Nightline) to pole dancing among suburban boomers (The New York Times).
Here are excerpts from selected media reviews and interviews.
Television: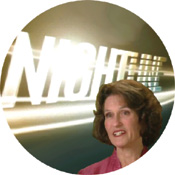 ABC Nightline, Friday, Dec. 1, 2006 (DVD of clip from show available on request)
From ABC's online synopsis of the show:
… "Sex Is Life-Long" [says Dr. Hilda Hutcherson]… That surprises many older people, who've been led to believe that their sex drive lessens or dies out later in life. It surprised Joan Price so much when she fell in love at age 57 that she was moved to write a book. It's titled -- tellingly -- "Better Than I Ever Expected: Straight Talk About Sex After 60."
The book has gone to a second printing, so high is the demand for information from people in her generation. It's also led to a blog, in which middle-age and older men and women write in for some straight talk about sex -- everything from when is too soon to become intimate with a new man after a spouse dies, to reclaiming sexuality after cancer.
Now 63, Joan is a newlywed. She met her husband Robert when he took her line dancing class. The sex? She's happy to report that it's never been better. "I had expected, as a young person, that old people a) didn't have sex, or b) if they did, they didn't enjoy it, because it was something that young people did," she says. "And then, when I fell in love at age 57, I was amazed at how wonderful it was, not only being in love, but also our sex life."
Talk Sex with Sue Johanson, Oxygen TV, April 15, 2007
Sexual activity changes as we age, but that does signal the death of pleasure. BETTER THAN I EVER EXPECTED by Joan Price is a fabulous book about sex after 60 that is aimed primarily at females. If you have been brain-washed into thinking sex is only for the young, this is the book for you. Get
Print and Online:
The New York Times, Dinitia Smith, Jan. 13, 2006: "Post-Salad-Days Women Agree: They Want 'What She's Having'"
…Also arriving this month, from Seal Press, will be "Better Than I Expected: Straight Talk About Sex After Sixty," by Joan Price, who spices the book up with her own experiences. ("I rub moisturizing lotion gently into Robert's skin," she writes. "I love seeing him standing naked before me.")
... By and large, the books carry an optimistic message -- that despite age, menopause and wrinkles, women can continue to enjoy sex. "We are having hot, fabulous sex after sixty," Ms. Price writes. "Society's view of aging women as sexless is wrong, wrong, wrong." Her book includes advice
Kirkus Reports: Health & Fitness, Dec. 2, 2005
Better Than I Ever Expected: Straight Talk about Sex after Sixty
By: Joan Price Publisher: Seal Press Pub Date: January 2006
Price wants to bring sexual pleasure and freedom back to the Boomers. "We're the Love Generation," she says proudly. "We practically invented sex!" A long-time fitness guru, Price brings an exercise instructor's upbeat tempo and infectious energy to this empowering and straightforward guide to sex for the older woman. Covering everything from sex after menopause to "how to spice up a long-term relationship," she celebrates the pleasures of sex, but also confronts age-specific sexual issues head-on. Written for both married and single women, there are lots of practical tips for sparking intimacy inside and outside the bedroom. But it's not all instructional, and the inclusion of real-life experiences is what makes this a fun and engaging read. The author's deeply personal memoir as well as the smattering of candid stories she's collected from "sexually seasoned" women will help the 60+ set re-conceptualize themselves as more sexual beings. Chapters on body-image and fitness play a supporting role by helping teach how to feel more comfortable and confident in their skins. Any older woman who knows sex isn't just for the young will appreciate this fun and frank guide from the self-described "advocate for ageless "
Library Journal, Martha Cornog, Feb. 1, 2006: "The Go-Go Golden Libido"
…Senior sexpert, health writer Joan Price focuses on a smaller number of women of the 1960s "love generation" who are still having happy and wonderful sex. Drawing on data from emailed questionnaires and telephone interviews, the author shares personal stories and a wealth of insightful information about having good sex; dating; staying sexy; coping with hormonal, physical, and medical problems (including vaginal atrophy); and keeping erotic warmth alive in a long-term marriage. Many of these women have been adventurous and continue to be—their stories are not for the monogamy-at-all-costs crowd. Yet this is the book's strength: reassuring senior-aged women who feel abandoned by the numerous "coupled through life" books (and perhaps distanced from "vanilla" friends) that they are not freakish or alone. One quibble: it could've been more inclusive about safe(r) sex, though there's an excellent reading
Village Voice, Tristan Taormino, May 22, 2007: "Knockin' Vintage Boots: Golden girls get their groove on past 60"
... "At what age do you plan to retire your genitals?" That's what Joan Price asks those who consider sexy seniors "icky." Price, author of Better Than I Ever Expected: Straight Talk About Sex After Sixty, says, "The main misconception is that seniors are either asexual, pathetic, or ludicrous because they're still interested in sex." She was so frustrated with the lack of positive images and information, she wrote a book about what she calls "ageless sexuality." Price tackles a myriad of subjects from serious issues like dealing with painful intercourse to spicy stories of threesomes. Price's book and accompanying blog, [Betty] Dodson's work, and [Deirdre] Fishel's documentary have all kick-started a much needed dialogue. They not only prove that seniors do in fact have fulfilling sex lives, they can also empower older folks
MSN.com, Jeremy Egner, May 2007: "Beyond Sags and Bags"
… "We have wrinkles, sags and bags. If having perfect faces and unlined bodies was a prerequisite for sexiness, we'd be out of the story already," says Joan Price, 63, who wrote about evolving sexuality in her book, Better Than I Ever Expected: Straight Talk About Sex After Sixty. "We yearn for the same touch and intimacy but we have to first internalize the changed idea of what sexy is. We have to see ourselves as sexy."
Price recalls asking her 70-year-old husband Robert, whom she married last May, to explain exactly how he could consider her to be as beautiful as he claimed when she could plainly see all her lines and physical imperfections whenever she looked into a mirror. (So don't expect those sorts of questions to go away anytime soon, guys.)
"He told me, 'If I am to know myself and accept my own aging process, how could I want anything less from you?'" Price says. "I tell that story sometimes when I'm asked to speak somewhere and women always ask, 'Does Robert have a brother?'"
"When two people who really accept themselves come together, that's where good sex happens," she adds. "The most powerful sex organ is the brain."
Best Life magazine, Colin McEnroe, April 2007: "She Hunts by Night"
... Joan Price told me she wrote [Better Than I Ever Expected: Straight Talk about Sex After Sixty] partly because she couldn't find any books for people like her. Price is a fitness instructor from Northern California who found herself "in a new relationship and having the best sex of my life, but not without challenges." She went looking for information and found "doom and gloom…you're gonna wither and dry up…give it up…sex is for the young." Price wrote a book that is solution oriented. By that, I mean there's information about actual solutions you can rub on parts of you that aren't as damp as they used to be, and there's a chapter about sex toys, because Price believes that female orgasm, post-50, is "much more subtle and takes longer to get there … a lot of kissing and touching and maybe a sex toy."
... "What we want from men is not what they think we want," agrees Price. "Men think we want a raging erection and the Energizer bunny. We have always wanted foreplay. Now we want even more, so much that we don't even want to call it foreplay. I actually recommend that older couples schedule lovemaking. Schedule it at a time of day when you both have a lot of energy, which is usually not when you're falling asleep at night. There's a reason they call it 'afternoon delight.' And schedule at least two hours."
North Bay Bohemian, March 2007, "Best of the North Bay 2007" award: "Best and Mightiest Aphrodite"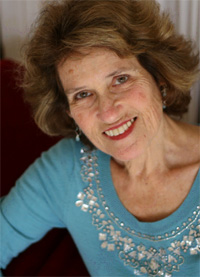 If gaining entrance to the love-ins of the '60s was contingent upon being mortal, Aphrodite would likely have traded in her spot on Mt. Olympus for a ticket. Some 40-odd years later, would this goddess-turned-mortal still be sexy? Somewhere after menopause, she'd probably have traded in her Botticelli curls for a Diane Sawyer coif. Popping Viagra, suitors would still come knocking to woo this now mature and wrinkly sex kitten.
Wrinkly sex kitten? Yeah, why not. Enter the world of Joan Price, who at 63 is pshawing the way that pop culture ridicules older people who still have sex. The Sebastopol resident has written Better Than I Ever Expected: Straight Talk About Sex After Sixty, which has become something of a bible for sextua-, septua- and octogenarians wanting to restore their sex lives. She's packed the book with exercises to keep love muscles tuned up, testimonials by older women doing it and her own story about falling for the love of her
This author-cheerleader has been touring throughout the country, giving workshops to women--and sometimes men--who are 50-plus and want to keep their sex drive alive. "When I do a workshop," she says giggling, "it's sort of an ice breaker the first time I say 'lubricant' or 'vaginal tissue' or "
To Price, mature desire is not an oxymoron. In fact, she and her husband don't see any reason why wisdom shouldn't be sexy. "[My husband] sees wrinkles as sexy," she says. "He sees an aging body and face, certainly, as extremely attractive, because they reflect what a woman has experienced and learned and given to the world and brought back to herself. Someone "
Price also has a popular blog, www.NakedAtOurAge.com, where she and her readers discuss issues surrounding aging. In one recent post, Price brainstorms about different terms to describe older people: senior, elderly, mature, etc. She was prompted to write this post after reading a newspaper article that referred to a political conference attendee as a "little old lady." Although the article wasn't talking about her, per se, she took it as an affront to her demographic as a whole. On her blog, she quipped, "Don't call me a little old lady ... Call me Joan." Whatever you call her, she's our mighty, middle-aged Aphrodite.
RebeccasReads.com, Alma Bond, January 29, 2006: "Straight Talk about Sex after Sixty"
Better Than I Ever Expected is an original book that needed to be written ... Joan Price demonstrates the kind of courage rarely shown
Joan circulated the following: "Wanted: Interviews with sassy, sexy women, age 60+, who are willing to share feelings and experiences openly and anonymously in a candid, woman-to-woman book." To her surprise, women responded abundantly, & were hungry to share their experiences & reveal the most intimate details of their bodies, fantasies, & relationships. Price uses quotes from these women's responses to illustrate her findings throughout the book.
The book is also helpful in giving advice about certain problems of aging, such as hot flashes, the generation's HRT dispute, painful intercourse, exercises to strengthen muscles to enhance sexual pleasure, preparations to establish intimacy before having sex, the use of sex toys, & solo sex. ... [H]ighly recommended for young people on the verge of discovering the paradise of sexuality, for older couples who have been brain-washed into thinking sex is only for the young, & for those happy lovers of all ages who wish to believe that the bliss of lovemaking will continue as long as they live.
Cox News Service, Anne Rodgers, May 06, 2006: Reviews of five books on midlife sex
I found this book both uplifting and horrifying. Uplifting because of author Joan Price's frank optimism and practicality; horrifying because of the challenges to successful coupling that most of us are apparently going to face. In addition to the normal aches and pains associated with aging, Joan covers loss of libido, catastrophic illness, impotence, painful intercourse and the post-menopausal issues of vaginal dryness and thinning of the vaginal walls (which can result in tearing). Yikes! While the glimpse into the future was daunting, I was again and again heartened by Joan's grace and courage as she delved into the particulars of traditionally awkward subjects, addressing each with the comforting light of acceptance and education. Her observations are interspersed with comments from women she interviewed on topics such as using sex toys, the challenge of finding a partner, spicing up a long-term relationship, solo sex and more. Of the six books, this is the most specific, the most upbeat and perhaps the most helpful.
North Bay Bohemian, Brett Ascarelli, Feb. 14, 2007: "Birds, Bees, and Oldsters Do It"
…Last fall, ABC Nightline sent a crew to Sebastopol to interview author Joan Price about seniors, sex and dating. Price, a former high school teacher turned fitness author and guru, fell in love a few years ago, drawing media attention when she claimed that she was having the best sex of her life. In 2006, she released Better Than I Ever Expected: Straight Talk About Sex After Sixty (Seal Press; $15.95), already in its second printing. The book features interviews with "sexually seasoned women," experts' advice about keeping the nethers in shape and Price's own musings on the challenges of being a sexy senior. The book's popularity spawned a related blog, in which Price moderates discussions about sex for the mature set.
One recent afternoon at her Sebastopol house, the 4'11" Price is wearing a rhinestone-covered blouse and Mary Janes. No wonder she's getting some; at 63, she's super-fit, thanks to a frequent work-out regimen and what must still be damn good metabolism, given the chocolate cookies she's munching.
... Price is a poster-adult for the cause and now fields sex-related questions from mature adults at workshops across the country. "I call myself an advocate for ageless sexuality," Price laughs, "but maybe I'm trying to do more than that: I'm trying to change society one mind at a time, I guess."
CTW Features, Mark L. Fuerst, November 2006 (appeared widely in print and online newspapers): "Autumn of Love: Birds do it, bees to it, even educated older couples can, too."
Society's view of aging women as sexless is wrong. "Many of us are having the best sex of our lives. We are having hot, fabulous sex after 60," says Joan Price, author of "Better Than I Ever Expected: Straight Talk about Sex After Sixty" (Seal Press, 2006).
Some 70 percent of sexually active women over 60 reported being as satisfied or more satisfied with their sexual lives than they were in their 40s, according to a 1998 survey of nearly 1,300 Americans aged 60 or older, conducted by the National Council on Aging, Washington, D.C.
"My experience certainly supports that," says Price, who also is a dance instructor, fitness professional, speaker and health writer. "In my 40s, I was unnerved by the realization that my sex life was being affected by undeniable signs and feelings of aging. Now I've grown past wanting to hold onto to youth in the bedroom, and as a result I feel truly present with my lover and capable of intense satisfaction."
Changes after menopause make sexual enjoyment challenging, but "we're using our creativity, our personal power, the joy and intimacy of our relationships, and useful tools of all sorts — from sex toys to a sense of humor — to tackle those challenges," Price says.
The book is mainly about her intensely up-front-and-personal story of hot sex with her 68-year-old lover, Robert, whom she married earlier this year, along with snippets of interviews with other sexually seasoned women about their experiences.
"Sexual response is in our brains. I'm in love with the man I've been looking for my whole life, whom I met when I was 57 and he was 64," says Price, age 61 when she wrote the book. "We're as turned on by each other as a couple of teenagers, but with the juicy addition of decades of life experience, self-knowledge, communication skills and a sense of humor. We're also willing to experiment and stretch our boundaries."
Price adds that "we overcome the physical challenges by being inventive and resourceful. We take advantage of the lessened urgency by slowing things down, taking more time."
Unfortunately, society has not become more accepting of older-age sexuality.
"One day I watched some television talk shows about the sexiness of older women. They dressed sexy, pole-danced, and taught the audience how to strip. But these so-called 'older' women were probably in their 40s! I'd like to see women who admit and look like they're over 60 on these talk shows, rousing other older women to assert their sexuality. We need to accept that women can and do stay sexy through the decades, and it doesn't stop when we no longer can hide the wrinkles or saggy skin."
… One of Price's major messages is that boomers are redefining aging and sexuality. "We're the Love Generation; we practically invented sex," she says. "We're not about to shut the gates now!"
North Bay Bohemian, Patricia Lynn Henley, October 18, 2006: "Local Lit"
Old age doesn't have to be dull, at least not according to 'Better Than I Ever Expected: Straight Talk About Sex After Sixty' (Seal Press; $15.95), the lighthearted, titillating and informative new book by Sebastopol fitness professional, dance instructor and health writer Joan Price.
This isn't a stodgy or academically oriented self-help book; it's a bright, witty, let's-get-the-gals-together-and-just-gab look at keeping the home fires burning when some of the parts have shifted or sagged. It's inspiring. It's a bit arousing. And it's definitely worth reading, either by women who refuse to believe their senior years have to be asexual, or by men who want to understand what's happening in an older woman's mind and body, as well as what excites and satisfies her.
Price shares her personal experiences along with thoughts and anecdotes from a wide range of older women who revel in their sexuality. The book covers the challenges of post-menopausal love-making together with creative and loving solutions.
"There's nothing hotter than sex between people who know their own bodies, are crazy about each other, relish taking lots of time and honor sex as extremely spiritual and physical," writes Price. "I just don't think people can get there without a whole lot of life experience and a hefty dose of relationship mistakes along the way!"
Sonoma County Press Democrat, Sara Peyton,: "Female authors offer advice on sex later in life: 'Straight talk' about intimacy from Freestone fitness guru"
In recent years, Freestone's Joan Price made her mark as a fitness guru. She talked about the value of exercise, wrote about it, and taught it. Now, at 62, she wants her contemporaries to learn more about a slightly more intimate physical activity. In her latest book, "Better Than I Ever Expected: Straight Talk about Sex After Sixty" (Seal Press; $15.95) Price suggests aging boomers can enjoy even more terrific sex, despite our real-time or botoxed wrinkles and sagging skin. No. This isn't a pipe dream. Price stumbled into her new role as sexpert a few years back when she fell in love with Sebastopol abstract painter Robert Rice.
"I had met the man of my dreams and the love of my life at age 57 when he was 64," said Price. "Not only did we enjoy a wonderful, romantic relationship but also really hot sex. I considered it the best sex of my life, physically fulfilling and emotionally high. We were bringing to the relationship wisdom and knew what we wanted to communicate - all in one sexy package.
"But we're living in hormonally deprived bodies, thinning tissues, and very little if any natural lubrication," added Price. "And that makes sex challenging."
Price wanted more information. She hunted for more information about other older people's sexual experiences. Sure, she found the doom-and-gloom books and magazine tales but nothing fun. So she set out to write the book she wanted to read, exploring her personal sexual history and interviewing other women about theirs.
"I shared every part of my life, from my early sex education right through the wild times in the 60s and 70s to the desert of my 50s and the dessert of my 60s," she said about writing her sixth book.
her sexual tome for the soon-to-be-retired set arrives in bookstores just as a new wave of publications spotlighting boomer women's sexual proclivities are landing on book shelves. All designed for the much ballyhooed generation of passionate, liberated female boomers, women who have refused to conform to stereotypical roles at any age. In a recent New York Times article exploring sex and the aging woman, Price's book was discussed. So was Gail Sheehy's latest about female passages, "Sex and the Seasoned Woman."
Price, who teaches contemporary line dancing at Coaches Corner in Sebastopol and country and western line dancing at Monroe Hall in Santa Rosa, admits staying in shape has not only helped her enjoy sex but kept her feeling good about her body. "Body image is a big part of sexuality after 60. But no matter what age you are, at a certain point you just have to say, this is the youngest I'm ever going to be at this moment, so I might as well enjoy my body now."
Just consider the irony, Price adds. "We went through our youth wishing men would give us more foreplay and now they're doing it. Sex is no longer a rush to the finish line."
Pacific Sun, Jill Kramer, February 2006: "Joan Price's Tips for Older Lovers"
I think later-life love is the best. We come to each other with decades of adult life experience, including many relationships that may have helped us grow to the next stage when that person doesn't fit any more -- so then we're ready for someone who can match us at that next level of growth. So I think it's natural for us to grow into and grow out of relationships until we get to the point where we really know who we are and what we're looking for and what we have to give.
It's harder when you're older to find the right person. And it's hard to hold out for someone who's got everything you're looking for. So sometimes people get into relationships that are only partially fulfilling because they figure, "Well, I'm not going to do any better." Yeah, you are! Don't settle! Do the things you love to do and look around at who else is doing them. Be yourself, don't put on any kind of an act. Be the person you hope to find.
Healthy Life, Jennifer Margulis, May 10, 2006: "A Celebration of Sex"
… Fitness writer and former high school English teacher Joan Price has finally found her calling. At 62, Price now identifies herself an "ageless sexuality advocate." What's that? A spokesperson for the sex life of aging Baby Boomers. Her advocacy has come in the form of a 269-page book, just released from Seal Press, "Better Than I Ever Expected: Straight Talk About Sex After Sixty." The book is divided into 15 chapters—everything from "Plug In, Turn On: The Quick Version of Everything You Need to Know about Sex Toys" to "When You or Your Partner Can't." Price also includes advice for spicing up long-term relationships, reentering the dating scene, fitness over 60, and other topics. The book is a celebration of sex by a woman who writes frankly about her own sexual awakening over the years... "Juicy is an attitude," Price writes in a chapter entitled, "It Ain't Easy After Menopause," "… based not on the flow of our vaginal secretions but on physical well-being, emotional state, mental attitude, and love of sex. Here's to post-menopausal zest—and understanding lovers!"
The idea for the book came out of the relationship she was having with an understanding lover.... "I went looking for good sex books, both fiction and nonfiction, specifically aimed at my age group. I was surprised - and turned off! - by how few of these books existed, and how dry and unsexy most of them were," she says. "Some were much too academic to bring into the bedroom, many were outdated, and some were supposed to be titillating but weren't—at least to us."
So Price decided to write the book she wanted to read.... And her book—which is full of exclamation points and positive affirmations about ageless sex—reads like it was written by a woman on a mission.
Price's mission is to celebrate, enhance, and affirm the sex lives of women (and men) over 60. ... Of course, sex after 60 isn't always easy, as Price is the first to admit. In Better Than I Ever Expected Price includes a chapter about when one partner or the other is not able to be sexually intimate. She also talks honestly about the changes wrought on women by menopause and on men by aging, gravity, and prostate dysfunction.
... "Our hormonally deprived bodies challenge us with less lubrication; thinner, less resilient vaginal tissues; and often less physical sensation," she admits. "Our bodies are slower to respond, and we may have more trouble reaching orgasm."
Some of Price's solutions to our body's changes? Lubricants, vibrators, a sense of humor, and a very patient, loving partner. "Sexual response is in our brains more than our genitals," Price insists. "My lover and I are as turned on by each other as a couple of teenagers, but with the juicy addition of decades of life experience, self-knowledge, communication skills, and a sense of humor."
She says sex over 60 has made her both adventurous and accepting: "We're willing to experiment and stretch our boundaries. Men will be relieved to learn how accepting most women are about men's changes and how to have great sex even when some parts aren't cooperating."
Throughout the book Price includes quotes from women who took her survey—women in their 60s who are having great sex. It's a pre-selected group, which Price herself points out. When she sent out a call for interviewees she stated she was looking for "sassy, sexy women, age 60+ to share feelings and experiences openly and anonymously" so any women who didn't fit that description would not have responded.
...If you're looking for great sex over 60 but not yet having it, this book might make you feel rather alienated and depressed (wow, all those folks out there getting their groove on, where's mine?). But maybe, just maybe, it'll get you into your first sex shop purchasing your first sex toy. After all, it's never too late to start.