Sex After Grief
: Navigating Your Sexuality After Losing Your Beloved
by Joan Price (Mango Publishing, 2019)
Sex is complicated enough when it's easy—but when we're in grief, it's especially mysterious and confusing. How do we nurture ourselves as sexual beings when we're grieving the death of a partner? Why does taking care of ourselves sexually even matter at a time when we'd rather hide under the covers and wail? What do we do with those sexual feelings that arise despite our misery? How do we know when it's time to open ourselves to a new sexual relationship, whether it's a friend with benefits or a new love connection? And how do we do it?
There are many books about grief, but they almost never mention sex, and if they do, it's cursory. Sex After Grief is the first book to address sex and grief together and treat sex as a normal, positive, life-affirming part of emerging from grief.
In Sex after Grief, the top expert on senior sex, Joan Price, describes her own experiences as a widow since 2008, when she lost the love of her life to cancer. She shares her own raw grief journey, her sexual reawakening (and the many stumbles along the way), her attempts to dip back into the dating pool, along with excellent advice on how to handle each step.
Joan Price's revelatory approach to sex after loss includes excerpts from many other grievers' personal stories. These narratives from folks of all genders and orientations who have grieved have much in common, yet also much that's different. Some jumped into sex quickly. Some took years. Some withdrew from sexual possibility. Some shared their bodies but not their hearts. As these people open their private lives and thoughts, you'll come away realizing that no one is wrong, and no choice is defective or shameful.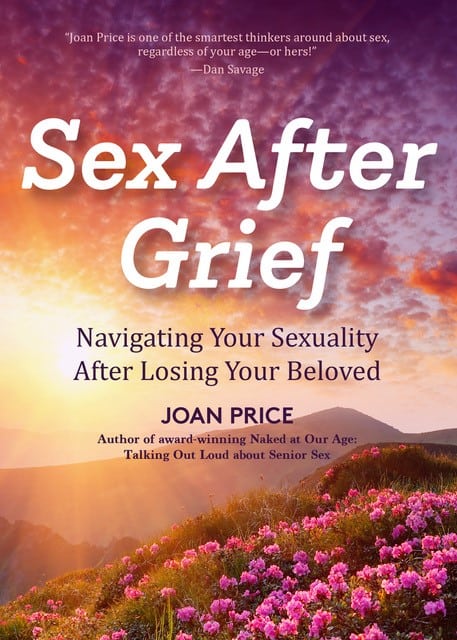 Sex After Grief: Navigating Your Sexuality After Losing Your Beloved by Joan Price  is available now! Order your autographed copy:
For International Sales, visit Book Depository
There's no right or wrong method or timeline for bringing your sexuality back to into your life, whether it's with your own hands, a hook-up, a new companion, or any combination. You'll learn many options, and, thanks to the self-help take-aways at the end of each chapter, you will feel better ready to choose for yourself.
With warmth and wisdom, Sex After Grief offers you:
Inspiring tales of how different people brought sex back into their lives after the loss of their spouse or partner

Guidelines for dating again and getting sexual with a new person

Reasons that solo sex is healthy and can be the path to feeling sexual again

Descriptions of non-traditional sexual relationships, such as the "Pilot Light Lover" and friends with benefits.

Advice from therapists, grief counselors, and sex coaches

Self-help takeaways for creating your own action plan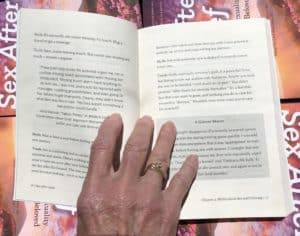 A small book -- 5" x 7" -- 170 pages packed with information: my story, excerpts from your stories, helpful quotes, and tips from me and other sex educators who know grief intimately. Each chapter has a self-help "take-away" at the end to help you formulate your own plan. Whether you've lost your beloved or you know someone who has, this book shows grievers the steps towards reclaiming sexual pleasure in their own time, in their own way.
I am thrilled to tell you that Sex after Grief: Navigating Your Sexuality after Losing Your Beloved won the 2020 service/self-help Book Award from ASJA: American Society of Journalists and Authors!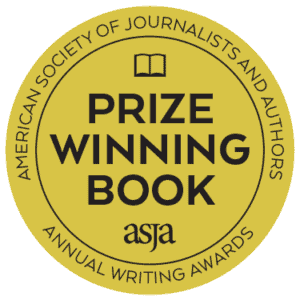 ---
Therapist Sarah Kelleher and I have a long and deep conversation about Sex after Grief on her Psych and the City podcast, especially relevant to therapists as well as people in grief and people who want to date them.
Hear Joan Price read from Sex after Grief
Praise for
Sex After Grief
"I came to your book Sex After Grief, the long way. I had already begun exploring my sexuality, about eight months after the passing of my husband of 30 years. It was while looking for information on safe sex that I found your webinar about safe sex for seniors. I was so impressed with your straightforward, no nonsense approach to what is an important topic. At some point during the presentation, you mentioned your book, Sex After Grief. My ears shot open and my fingers flew to the keyboard. Not only did your book help me understand why I was feeling the way I was feeling, but it helped me know that it was normal, and that it was OK. In my mind I understood that already, and yet I needed to have somebody tell it to me. Let's face it, it's not really the kind of thing that you bring up over dinner. I am now exploring my sexuality as a 60 year old widow. My husband was my first lover, but not anymore!  I am now reading Better Than I Ever Expected and Naked At Our Age. Both are helping me understand how sex is different not only for me, but for some of the men that I am encountering. Both of these books have been so helpful, and I'm not even done with them yet! I will continue my education and hope that one day, I too will find another great love."
Sex After Grief reader
"In your important book you pioneer a topic too long ignored, namely, ways to resume a happy, healthy life of sexual pleasure after one's beloved dies. Kudos for treating this subject with just the right mix of sensitivity and humor."
Sex After Grief reader
"I don't write fan letters, but I owe you a note of thanks for all your help. In 2019, I lost the love of my life after 58 years together. After 9 months as a widower, I decided I didn't want to be alone for the rest of my life. I had no idea what not being alone was going to look like, nor who might possibly fill the void. I came across an author unknown to me, who'd written a book which really got my attention: "Sex After Grief: Navigating Your Sexuality After Losing Your Beloved."  I am a recovering alcoholic, and active in Alcoholics Anonymous. When an alcoholic talks to another person about their drinking problem, their personal knowledge lends truth and believability to the conversation. In the exact same manner, your well-written book speaks with the knowledge available only to those who've experienced the loss of a mate. Thank you so much for sharing so honestly and frankly. Your writing spoke to me deeply, honestly, and was greatly helpful. In fact, I'm now with a widow and we're a loving couple."
Sex After Grief reader
Joan Price provides a much needed book striking at the heart of grief and sexuality and their intersection… No sexuality stone is left unturned. None. Price mythbusts common misconceptions, discusses masturbation, and normalizes people who want friends-with-benefits arrangements, "pilot-light lovers", and those entering the dating scene seeking love before having sex again…Price wants to normalize grievers jumping into their sexuality at their own pace (quick or slow or maybe-at-some-point-but-not-yet) with their own moral compass so long as the sexuality is legal, ethical, and consensual. Price includes vignettes from real grievers throughout the book on these many topics, most with those who are well past the early stages of grief and can look back with perspective through their healing journey. (Read the full review at https://thecouplessyllabus.com/grief/.)
Jen Schlau, MLIS, TCS Creator and Reviewer
"I'm not a widower, but have dated a lot of widows. No one lady has the same reactions to dating again after her husband's death. What I enjoyed most about the book was that it covered the wide range of responses I've experienced when dating widows. Any lady will find comforting words from other widows who have sallied forth into the dating world. Same for widowers. The point to me seemed that there's no 'right' way to do it, but each muddles through in their own way – usually receiving great rewards for the effort."
Reader, age 75
"Joan Price is a magnanimous and generous human being who, as Oprah might say, uses her life to enhance and improve the lives of everyone around her. Her mission, in my opinion, is to be a purveyor of self-love. Her book Sex After Grief is about so much more than sex and grief. It is a tool for healing and moving forward after devastating loss. Twice widowed, once at twenty-three and again at fifty-nine, I wish I had found Joan's work sooner. Her compassion and warmth, infused through all her work, gave me the sense that I had a friend on my side. I hope you will explore her books, blog, and website for a boost to your inner self. I would also encourage everyone to view Joan's video: Safer Sex for Seniors. The title is a misnomer since in these days of renewed free love, the advice offered is invaluable for anyone at any age. The more intrepid may even use it as a sort of foreplay."
Widowed Twice
"A new friend gave me a copy of your book Sex After Grief. I almost finished the entire book in less than a day. I felt the need to reach out to you personally to tell you what an absolute difference this book made for me. I lost my husband almost three months ago and became a widow at 35 years old. Reading your book was like finding water in the desert. I felt so much shame about my sexual thoughts and feelings so soon after his passing. I was going crazy with the weight of my guilt and at the same time lust was crushing me. Thank you for writing this book, I feel less alone in my struggles."
Reader, age 35
"Joan Price is so smart. She puts her mind to a subject and gets right to the point. If she weren't so compassionate and loving she might be too to the point, but the overall impression when you get finished is that somebody who knows what she's talking about and has the strength to live an honest life has your back…She gives enough examples of the unique way that each individual manages grief that this reader felt permission to grieve however the hell she wants. Or he — men get equal treatment in her books. She backs up the anecdotal evidence with the observations of psychologists and researchers who have studied grief. No stone is left unturned. For all its heavy subject matter, it is a quick and engrossing read. Lots of honey makes the knowledge go down, and every griever should sit down with it one afternoon. You'll feel much better after reading it."
Ann Anderson Evans
"Thank you for writing Sex After Grief. Your book is a gem and much needed. I hope to have a life and love again, including having a great sex life. I am joyfully sharing your book with a few girlfriends who lost their loved ones, too. I will reread the book again and again."
A Reader
"I read your book on Sex After Grief in one sitting. Right now, I have so many family and friends who are recent widows or widowers. I know of death. I know of loss. I know of grief. There are no rules. I want to thank you for writing about sex. I especially want to thank you for writing about sex after grief."
Reader, age 73
"The principal issues in this journey involve feelings of shame or guilt about the body's or the mind's desires. Some grievers think that physical intimacy with someone new is disloyal, that you need to wait until you are no longer grieving or to wait at least a year before having sex with a new partner, and then to be sure that the new partner is a potential next mate. The reality is that there is no specific moment when grieving is over; caring for oneself is not disloyal, and the physical acts and responses may well be an outlet for powerful needs."
George Szasz, CM, MD, BC Medical Journal
"There are so many things I absolutely loved about this book. Some include:
'A Griever Shares' sections interspersed through all the chapters where real people are quoted to illustrate different topics.
The inclusion of a wide range of sexualities including queer, heterosexual, and polyamorous relationships.
The raw, honest, and vulnerable excerpts from the author's grief and memory journals and her own insights in her struggles and journey working through grief.
A myriad of resources throughout the text—I wrote down four more books about grief I want to read!
"Overall this book covers so many aspects of grief and sexuality while nurturing a shame-free philosophy. The author emphasizes that grief (and sex) is personal and unique to every individual, deserving respect and exploration.
"I am so happy this book exists in the world. I think it is a solid resource written in a way that is inviting and not overwhelming. I hope libraries add it to their collections and grievers can find and be helped by this book."
Leandra Vane, The Unlaced Librarian
Sex After Grief is another jewel in Joan Price's crown. Throughout this book Ms. Price combines her personal experience of loss, her wisdom, expertise in matters of senior sexuality, and the experiences of others who have lost a loved one. She also brings in viewpoints of noted experts. It's the back-and-forth storytelling that draws you in and holds you. Despite the subject matter this is a book that is easy to read. When finished I think that you'll find yourself comforted and reassured.  While most who read this may be of an older demographic, this book also touches upon those who've also lost their beloved at a relatively young age. There is so much to learn from this book no matter what your age, situation, sexual orientation, and gender. I was drawn to the previous works of Joan Price because of her extraordinary gift of common sense and sound judgement. Reading this book continued to reinforce these conclusions for me.
Randy Austin-Cardona, M.Ed
"This is a terrific road map for the newly widowed/widower. From the first page to the last, I couldn't put this book down. It's like there has been a fly on the wall of my life these last seven years, so much of what Joan has written is what I've been going through. My husband and I had been together for 33 years, before he left this plane of existence.  I know he's on this journey with me as I have explored FWB, solo sex, my (New) First Time, The Pilot Light Lover and more. This book validates everything I've been going though, including my hesitancy of possibly creating a new relationship. I highly recommend reading this book, and reading it more than once. After all it's a map to find your direction ❤️👍❤️"
Barda Allen
"I'm reading your book, Sex After Grief, and it's wonderful. Even though it's been so long since I lost my husband, it still resonates. Congratulations. And thank you for including my thoughts and feelings."
Lynn Brown Rosenberg, author, My Sexual Awakening at 70
"Joan Price is one of the nation's most prominent experts on sex and aging."
Psychology Today
"The many voices in this book are smart, well-spoken and insightful…White-knuckle grief, 'skin hunger,' guilt, disloyalty, loneliness and isolation, and even loving memories clog the path forward…Every loss is unique, every person is unique and, therefore, every journey is unique. Price's chapters about myths, grief counselors, dating and "pilot light lovers" (those who ignite dormant passions) are all especially meaningful in that they explore experiences, sexual orientation and concerns."
Please read the rest of this beautiful review here.
Rae Padilla Francoeur
"I just finished Sex After Grief last week. I laughed and cried, and enjoyed every page! Thank you for giving me the opportunity to see sexuality through a perspective I haven't experienced ❤️"
Katarina Swaringen
This week the slutty scholars are joined by author, speaker, and ageless sexuality advocate Joan Price (AKA a conversation about all things sexy for seniors). Obviously, this episode is helpful for older adults, but it is invaluable and wise because we ALL get old! Also included: sex after grief and losing your beloved, what makes an ergonomic sex toy, the problems with desexualizing older folks, and how to have an orgasm without an erection!
Sluts & Scholars podcast
"Sex After Grief was incredibly insightful and enlightening. Your writing is comfortable for anyone right in the middle of grief. It is great to receive permission to enjoy sex and love again. Very sad in our society that those of us of a certain age still need permission. I can see myself giving your book to people in the future.  You revealed yourself and did what you encouraged your readers to do, and you came through a true inspiration to all of us. Thank you."
Linda Williams