Naked at Our Age:
Talking Out Loud About Senior Sex
By Joan Price (Seal Press 2011)
Joan Price is talking out loud about a subject that is often ignored or ridiculed in our society: later-life sexuality. Naked at Our Age: Talking Out Loud about Senior Sex is a candid, straight-talking book addressing senior sexuality in all its colors—the changes, the challenges, the disappointments, and the surprises, as well as the delights and the love stories. Naked at Our Age gives real-life people over fifty a voice to tell stories of their past and present sex lives, ask questions, and get straightforward advice and information from experts. No topic related to elder sexuality is off-limits.
In Naked at Our Age, women and men - coupled and single, straight and gay - talk candidly about how their sex lives and relationships have changed with age, and about how they see themselves, their partners, or their single life. Many of them are having unsatisfying sex, or no sex at all, and are seeking advice. Price presents their personal stories, and follows up with tips from sex therapists, health professionals, counselors, sex educators, and other knowledgeable experts. Naked at Our Age is an entertaining and indispensable guide to handling and understanding the issues of senior sex and relationships.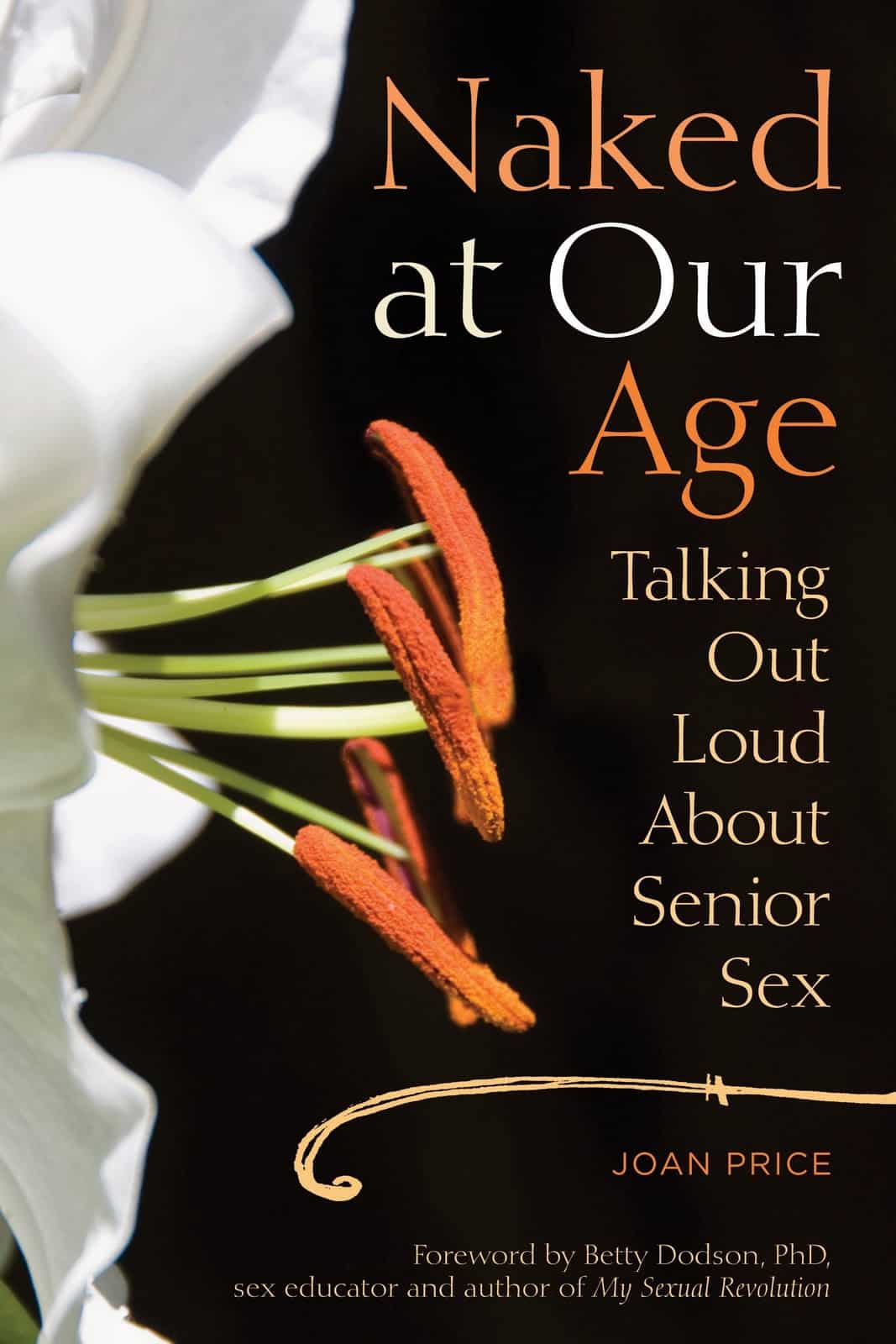 Praise for Naked at Our Age
"I've had a big interest in sex during my whole life, and I've read countless amounts of books about it and Joan's book "Better Than I Expected – sex after sixty" is the most interesting, gripping and straightforward one I have ever read. It's relevant for everyone over sixty, no matter if you think you already have a great sex life, if you aren't interested in sex or if you think you are too old: this book will change that mindset completely. Start with her blog, it contains tons of good advice as well and is a true gem." / Greta, 64
"It's easy to panic when you realize that you no longer can have sex the way you want because of your body getting older. I got recommended to read "Naked at Our Age" and after I finished it I knew that I wanted to read more of what Jean had to say! So I started following her blog and it's by far one of the best things I've done for myself in the last 20 years. Thanks to her advice and ideas, my husband and I have more passionate and intense sex than we had when we were in our 20's. I could never have imagined that I was capable of having such wonderful sex at this age, but I am very thankful that Joan let me know that I am." / Charlotta, 61
"First of all: if you are in your 60's or older, you must read Joan's books. I can ensure that they will completely change the way you look at intimacy and the way you have sex, and you will probably wish that you would have known about the advice she is giving sooner in your life! Secondly: her blog is so inspirational and should be read by anyone who feels like their aging body stops them from having the sex they want to have, or by everyone that thinks you have your best sex when you're young and the best years of intimacy, love and romance are in the past." / Bengt, 60
"Joan makes what some people find taboo to sound like the most natural thing in the world. For many people, her way of talking about sex will change their whole view on intimacy forever." / Elisabeth, 67
"A person like Joan is just what I need in my life. She writes so straightforwardly and is not afraid of giving her heart out to really help people. Not many have the courage to speak out loud of sex in such a natural way, and I really admire her for that. I've been reading her blog for four years now and have two of her books as well, and the quality of the content she's writing is always world class." / Hans, 73
"Joan is a wise lady with lots of experience which I'm glad she shares with all of us who need a little help with our sex life when age comes knocking on the door. Her blog is a true life saver and I have recommended all of my girlfriends to read her. Some have done, and they have thanked me afterwards. Considering how many of my girlfriends have changed their sex life for the better after they started reading Joan, it seems like she is a natural talent when it comes to teaching about intimacy and sex." / Lisa, 67
Read more at Passionerad Sweden.
Passionerad Sweden readers
"I'm a fan. I've read your book Naked at Our Age and seen you lecture at several sex ed conferences over the years. I love what you've created in the world. Your no-BS honest writing about sex and relationships has been a game-changer for my clients who've read your work in tandem with my coaching. You've busted through the taboo of talking about and having sex as a senior. Thank you so much for your work. You have so much wisdom and expertise to share with women who want to stop struggling in their sex lives from a lack of information or damaging myths and feel truly alive and confident in their bodies."
Eva Blake, Sophisticated Sex Ed and Intimacy Coaching
"As seniors, my wife and I were struggling with how aging and our sex lives were intersecting. Joan saved our sex lives and brought fun and adventure back into our marriage."
Sam, age 64
"I bought Naked at Our Age, and it was an eye opener for me, 7 years divorced. It helped give me the confidence for online dating, where I met a wonderful man. I wasn't sure Sex after Grief was going to be relevant to my situation, but how wrong I was. My boyfriend is 3 years past a sudden loss of a long-term relationship. I can see from Sex after Grief that perhaps I'll be the one to lead the touching, and slow is good. Your book is just a treasure trove of ideas of how to proceed. Thank you so much for writing this book that I thought I didn't need."
"Emma" age 72
At last the void is filled. Hang on, because Naked at Our Age breaks all the barriers and goes where ordinary books on this subject dare not. Some readers may be shocked and challenged, and others delighted by this bold, direct, honest and completely uncensored approach. An eye opening challenge for anyone who dares to think that sex ends at 60. The message is clear – as far as sex in the senior years, the best is yet to come. While this groundbreaking book will have some of you blushing, you won't put it down."
Dean Edell MD
Emmy Award-winning host of the Dr. Dean Edell Program, and author of the best-selling book, Eat, Drink and Be Merry
"Told through the voices of real people interspersed with great advice from smart professionals, Naked at Our Age is an important resource for anyone who wants to keep pleasure and sensuality in their lives as they move in to their later years. I especially like Joan Price's warm and supportive tone and her ability to get people to share their stories, from which we learn a lot!"
Candida Royalle
Pioneer of woman-friendly erotica and author of How to Tell a Naked Man What to Do
"Joan Price tells it like it is, "The Old Ways Don't Do It Anymore!" Then, with irresistible enthusiasm, she tackles all the outdated expectations and promotes a plethora of new ways to celebrate sexuality throughout the later years. Poignant quotations from seniors aged 50 to 90 illustrate the distress caused by the common sexual problems of aging. Succinct responses by professionals describe a rich variety of alternatives. "Talking Out Loud About Senior Sex" is exactly what we do in my course, "Older, Wiser, Sexually Smarter," so Naked At Our Age will be the perfect text."
Peggy Brick, M.ED, CSE
President, Sexuality and Aging Consortium at Widener University; co-author, Older, Wiser, Sexually Smarter: 30 Sex Ed Lessons for Adults Only
"One of the best things about Naked at Our Age is that in addition to Joan's thoughtful and compassionate perspective, the book is full of excellent advice and suggestions from sex educators, therapists, and medical professionals. It's like getting to talk with a panel of experts, which gives the reader much more to work with."
Charlie Glickman, PhD
PHD, Education Program Manager, Good Vibrations, www.goodvibes.com
"Naked at our Age is a terrific book for adults of any age– but especially written for Baby Boomers and beyond. I loved the mix of voices- personal stories, various expert's advice – and no sugar coating anywhere – just facts, feelings, and how to have fun. There is plenty of advice – from dating to safer sex – but most importantly, the impact of the book is as much inspirational as it is educational. Reading this book will help women and their partners understand their sexuality better, negotiate what they want more successfully, and make it more likely that sex will be a comfort and thrill their whole life long."
Pepper Schwartz, PhD
Past President of the Society for the Scientific Study of Sexuality, author, Prime: Adventures and Advice about Sex, Love and the Sensual Years