Better Than I Ever Expected:
Straight Talk about Sex After Sixty
by Joan Price (Seal Press, 2006)
Boomer women aren't going to roll over and play asexual after sixty. We're the Love Generation--surely we can't be expected to shut the gates once we enter the Golden Age!
Better Than I Ever Expected: Straight Talk about Sex After Sixty by Joan Price (Seal Press, 2006) is an upbeat, frank, woman-to-woman friendly book that acknowledges the challenges and celebrates the delights of older-life sexuality.
Yes, there are challenges to sex after sixty, but there are also creative solutions. There's nothing hotter than sex between people who know their own bodies, are crazy about each other, relish taking lots of time, and honor both the physicality and the spirituality of sex. "I just don't think people can get there without a whole lot of life experience," writes Joan Price. "We're redefining this aging stuff."
There are plenty of books and magazine articles filled with doom and gloom about midlife and older sexuality, how our tissues wither along with our libidos, and we might as well give it up. That isn't this book. Here older women reveal--in their own words--how they successfully use their personal power, the joy and intimacy of their relationships, and useful tools of all sorts--from sex toys to humor--to experience terrific and satisfying sex.
Better Than I Ever Expected: Straight Talk about Sex After Sixty combines memoir with candid comments and tales from lively, earthy women who aren't afraid to tell, along with helpful tips from experts for staying sexy through the decades.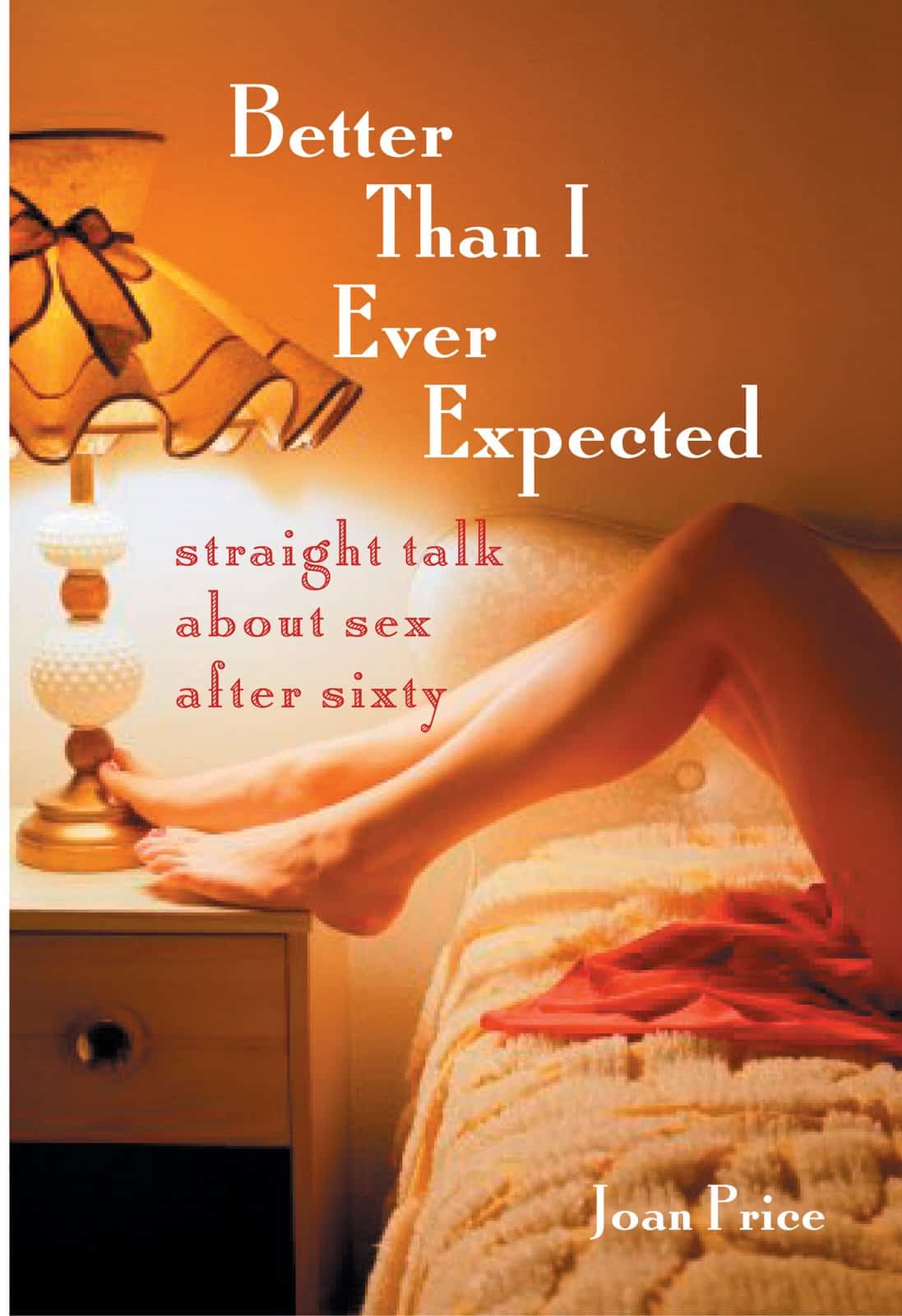 The media jumped on senior sex as a new trend as my Better Than I Ever Expected: Straight Talk about Sex after Sixty and Gail Sheehy's Sex and the Seasoned Woman were released at the same time in 2006, following on the (round) heels of Jane Juska's A Round-Heeled Woman : My Late-Life Adventures in Sex and Romance. Media attention to the book catapulted me into the role of "senior sexpert." I have been asked for commentary on everything from senior dating / sexual health (ABC Nightline) to pole dancing among suburban boomers (The New York Times).
Check out more Media Responses to Better Than I Ever Expected
Praise for
Better than I Ever Expected
"I've had a big interest in sex during my whole life, and I've read countless amounts of books about it and Joan's book "Better Than I Expected – sex after sixty" is the most interesting, gripping and straightforward one I have ever read. It's relevant for everyone over sixty, no matter if you think you already have a great sex life, if you aren't interested in sex or if you think you are too old: this book will change that mindset completely. Start with her blog, it contains tons of good advice as well and is a true gem." / Greta, 64
"It's easy to panic when you realize that you no longer can have sex the way you want because of your body getting older. I got recommended to read "Naked at Our Age" and after I finished it I knew that I wanted to read more of what Jean had to say! So I started following her blog and it's by far one of the best things I've done for myself in the last 20 years. Thanks to her advice and ideas, my husband and I have more passionate and intense sex than we had when we were in our 20's. I could never have imagined that I was capable of having such wonderful sex at this age, but I am very thankful that Joan let me know that I am." / Charlotta, 61
"First of all: if you are in your 60's or older, you must read Joan's books. I can ensure that they will completely change the way you look at intimacy and the way you have sex, and you will probably wish that you would have known about the advice she is giving sooner in your life! Secondly: her blog is so inspirational and should be read by anyone who feels like their aging body stops them from having the sex they want to have, or by everyone that thinks you have your best sex when you're young and the best years of intimacy, love and romance are in the past." / Bengt, 60
"Joan makes what some people find taboo to sound like the most natural thing in the world. For many people, her way of talking about sex will change their whole view on intimacy forever." / Elisabeth, 67
"A person like Joan is just what I need in my life. She writes so straightforwardly and is not afraid of giving her heart out to really help people. Not many have the courage to speak out loud of sex in such a natural way, and I really admire her for that. I've been reading her blog for four years now and have two of her books as well, and the quality of the content she's writing is always world class." / Hans, 73
"Joan is a wise lady with lots of experience which I'm glad she shares with all of us who need a little help with our sex life when age comes knocking on the door. Her blog is a true life saver and I have recommended all of my girlfriends to read her. Some have done, and they have thanked me afterwards. Considering how many of my girlfriends have changed their sex life for the better after they started reading Joan, it seems like she is a natural talent when it comes to teaching about intimacy and sex." / Lisa, 67
Read more at Passionerad Sweden.
Passionerad Sweden readers
"Price's "Sexually Seasoned Women" walk, talk and share that sex absolutely is "better than they ever expected after 60, and what role models they are! These women broke open sexual doors in their 20s in 1960 and they are doing it again. They deliver that 'oh so juicy' and candid guidance of an older sister…you know, the one who has always liked sex. Any woman approaching sex after 60, 50 or 40 will laugh out loud and learn what to expect, how to break her own sexual mold, and how to have Better Sex Than She Ever Expected."
Lou Paget
best-selling author of How to Be a Great Lover and How to Give Her Absolute Pleasure
"Better Than I Ever Expected boldly addresses a topic that deserves much more attention in our culture than it gets. Price offers a voice to women who, until now, kept their rich and satisfying sex lives to themselves."
Marianne Brandon, PhD
co-author of Reclaiming Desire: 4 Keys to Finding Your Lost Libido
"Joan Price's candid description of her own exploration of mature sexuality is a useful and validating self-help guide for her sixty-something peers and their partners."
Sheryl A. Kingsberg, Ph.D.
Clinical psychologist and associate professor at Case Western Reserve School of Medicine
"Hot sex is definitely not just for the young. With wit, wisdom, and encouragement, Better Than I Ever Expected proves that sex over sixty can be just that. This book will warm your heart, add spring to your step, and light a fire between your sheets."
Michael Castleman
author of Great Sex: A Man's Guide to the Secrets of Total-Body Sensuality
"At a time when forty is the new thirty and fifty is the new forty, Better Than I Ever Expected gleefully shows us that for today's woman the real fun doesn't start until sixty."
Ian Kerner
sex therapist and best-selling author of She Comes First: The Thinking Man's Guide to Pleasuring a Woman