Edited by Joan Price
Seal Press, 2013
What would it look like if talented writers over age fifty wrote erotica featuring steamy, sexy characters who were also over fifty? Now we know. Ageless Erotica is a ground-breaking anthology of erotic short stories and memoir essays presenting women and men, couples and singles, straight and gay, who are over fifty, sixty, seventy, and beyond – all enjoying and sharing their erotic moments.
This is not your usual erotica with a few wrinkles slapped on -- these are stories that show how hot sex can be at our age. This collection embraces the agelessness of sexuality while still realistically acknowledging the changes that accompany aging.
Ageless Erotica is a stimulating celebration of the many pleasures of "well-seasoned" sex. In this anthology, age is accepted, celebrated, and sensually enjoyed. Some selections are tender and loving, while others are edgy and kinky. Characters may be having spicy sex with partners they have loved for decades; or with new loves, old loves reunited, or forbidden partners; or solo with fantasies. Ageless Erotica has it all, portraying older-age sexuality as healthy, lusty, and glorious.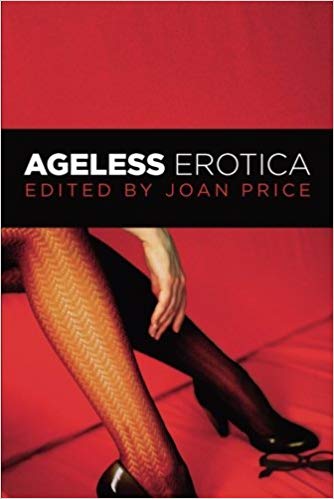 INTRODUCTION by Joan Price
TO BED by Erobintica
SOMETHING BORROWED, SOMETHING BLUE by Nancy Weber
DOLORES PARK by Dale Chase
INVITATION TO LUNCH by Donna George Storey
OTHER PEOPLE'S STUFF by Susan St. Aubin
LADY BELLA by I.G. Frederick
HAND JOBS by Kate Dominic
SMOOTH AND SLIPPERY by Doug Harrison
TONY TEMPO by Tsaurah Litzky
BETTER THAN VIBRATORS by Cheri Crystal
AFTER TWENTY-EIGHT YEARS by Dorothy Freed
MY NEW VAGINA by Audrienne Roberts Womack
TRAIN RIDE by Harris Tweed
AT THE WANE OF THE MOON by Bill Noble
PEAS IN A POD by Maryn Blackburn
ENDLESS PRAISE, TIMELESS LOVE by Linda Poelzl
THE HOTEL LOUNGE by Skyler Karadan
COMING FULL CIRCLE by Cela Winter
GEORGE by Lorna Lee
IN THE MEANTIME by Miriam Kura
MR. SMITH, MS. JONES WILL SEE YOU NOW by D.L. King
JAGUAR DREAMS by Evvy Lynn
TOAST FOR BREAKFAST by Cheyenne Blue
BY THE BOOK by Rae Padilla Francoeur
BLIND, NOT DEAD by Johnny Dragona
AFTER DINNER EUPHORIA by Peter Baltensperger
THE WACKY IRAQI, THE SHAMAN LOVER, AND ME by Erica Manfred
BEYOND THE DOUBLE DOORS by Sue Katz
MORNING by Belle Burroughs Shepherd
Praise for
Ageless Erotica
"My lover and I enjoy reading Ageless Erotica to each other, particularly whilst driving. Makes a trip pass quickly especially on the way to a nudist camp. Great stories."
A Reader
Today I teared up in the store when I found Ageless Erotica on the shelf and opened its pages and began to read your introduction. I can't tell you how grateful I am for the fact of this book's existence. Thank you, thank you. I went looking for smut today as I re-engage with my own sexuality after the end (and the betrayals and the hurts) of a long-term relationship. As a result of things that happened in the relationship, plus menopause and a changed body, plus the way women become invisible at a certain age, I have a lot of very complicated feelings about aging and sex. This anthology makes me happy. It's sweet, and it's validating, and I will sleep with it under my pillow.
Anna