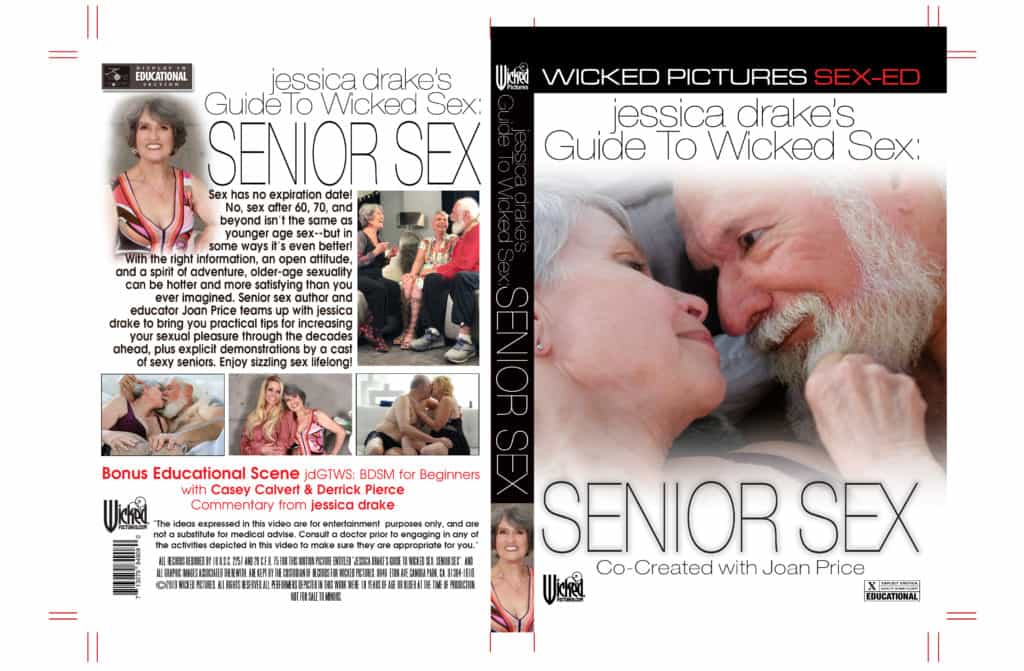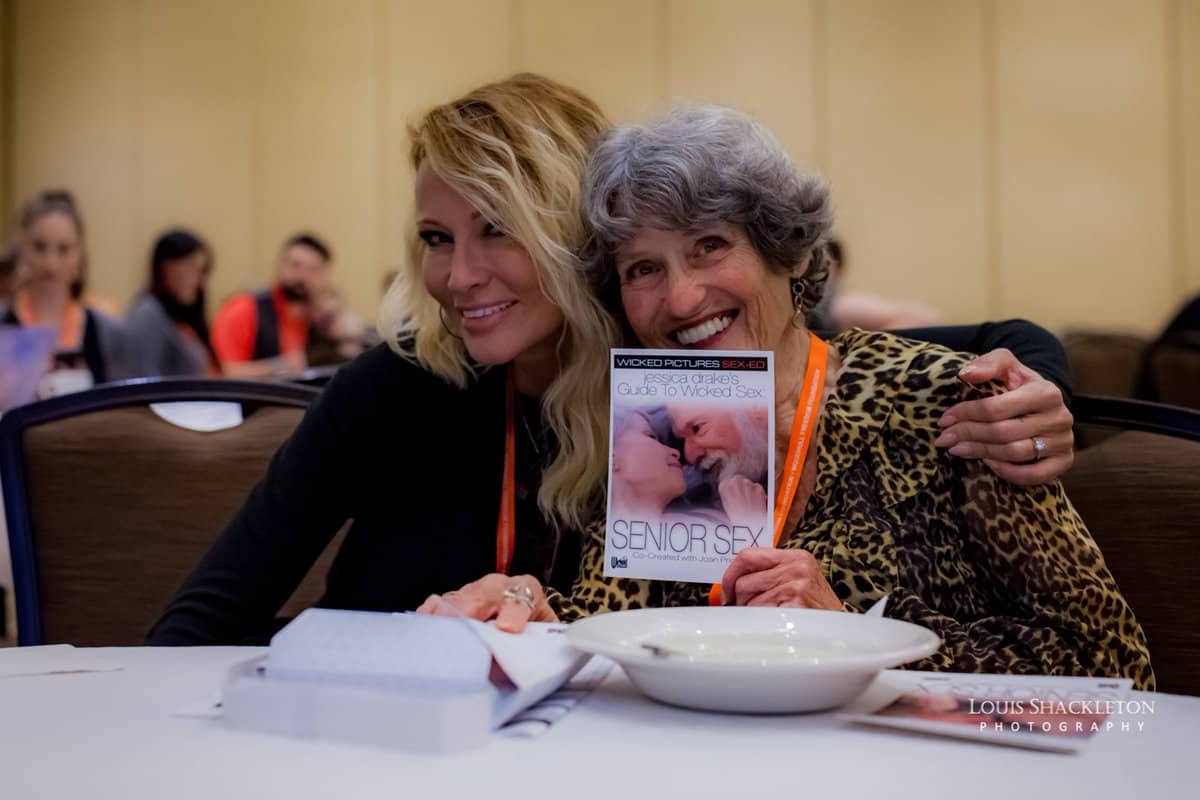 This DVD is temporarily out of stock. Please contact Joan if you would like to be notified when it becomes available again.
Joan Price Joins Sex Educator jessica drake in 'Guide to Wicked Sex: Senior Sex'
Sex has no expiration date! No, sex after 60, 70, and beyond isn't the same as younger age sex -- but in some ways it's even better. With the right information, an open attitude, and a spirit of adventure, older-age sexuality can be hotter and more satisfying than you ever imagined. Senior sex author and educator Joan Price teams up with jessica drake to bring you practical tips for increasing your sexual pleasure through the decades ahead, plus explicit demonstrations by a cast of sexy seniors. Enjoy sizzling sex lifelong!
In "jessica drake's Guide to Wicked Sex: Senior Sex, Co-Created with Joan Price," you'll see Joan giving information and tips to help you understand:
How aging affects your responses;
How to communicate your needs and desires with a partner;
Tips for enriching your sexual pleasure, partnered or solo.
The film is educational and explicit -- there is nudity and sexual expression. The information you learn is enhanced by watching two senior couples as they explore and pleasure each other.  
For streaming click here.
DVD is Temporarily Out of Stock.
AVN Award Winner 2020!
I am thrilled to tell you that our film won Best Niche Production at The AVN Awards 2020! I couldn't be happier! My gratitude to our brave and wonderful cast, the super crew, Wicked Pictures, and especially the brilliant jessica drake. This team helped us show the passion and beauty of senior sex, and the award feels like an enormous validation, acceptance,  and celebration of lifelong sexual pleasure.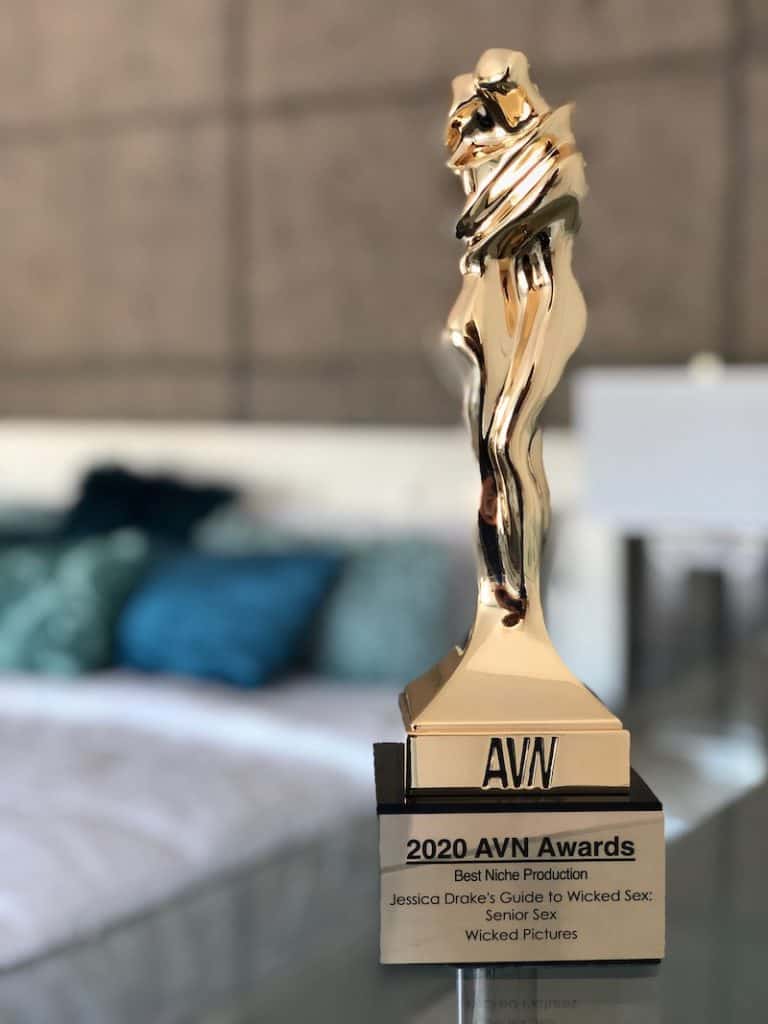 AASECT Award Winner 2019!
Many thanks to AASECT, the American Association of Sexuality Educators, Counselors, and Therapists, for the honor of selecting "jessica drake's Guide to Wicked Sex: Senior Sex, Co-Created with Joan Price" for the 2020 Audiovisual Award. "This award is for the producer(s) of a film, video, or DVD that makes a significant contribution to AASECT's vision of sexual health and to the clinical and educational standards of the field."
---
"When I first met Joan, I was instantly drawn to her personality and charisma. I knew years ago I wanted to collaborate with her on a project, and I'm so glad that things have finally come together. Co-creating jessica drake's Guide to Wicked Sex "Senior Sex" with her was a dream come true. From the pre-planning stages, into casting and production, all the way to the finished product, her enthusiasm, creativity and heart made this project even better than I could have ever imagined. There aren't enough words to express my gratitude and devotion. Joan is an amazing woman, co-creator, and most importantly, a friend."
-- jesssica drake
"My wife and I watched your Wicked Guide to Senior Sex together. We got a lot out of it. The main takeaway for both of us is that you shouldn't go into sex with expectations. I used to think that unless I gave my wife an orgasm, I had failed. Unfortunately, she had very few of them, and I felt like a failure. When we watched the video, we watched the couples (the first one in particular) having fun, relaxed sex without any expectations, and that made quite the impression on us. After the video, we decided to put what we saw into action. We immediately got undressed, and had the best sex we've had in a long time. Your video went a long way in enhancing our sex life, and we intend to continue using the advice you gave us. My wife and I thank you for your excellent video and advice."
Happy Married Couple
"I'm writing to thank you for the DVD my partner and I purchased and watched about sex for older people. We had also purchased a vibrator and other things to try. We found you after reading the New York Times magazine article. I'm 69 and a prostate cancer survivor (in remission) who totally lost my libido after cyber knife radiation therapy in 2019. I was unable to have an erection. I was fortunate that my treatment worked but ALL of my doctors just shrugged and opined that they hoped my sex drive would return. With lubrication and patience we were actually able to be intimate again last weekend. We're now exploring the toys we purchased. Thanks for your candor and being on the planet."
Reader, age 69
It's refreshing to see a film that has both accurate sexual information and sexually explicit images of older people.  "Jessica Drakes's Guide to Wicked Sex: Senior Sex featuring Joan Price" has the rare combination of being both soundly educational and very entertaining! It makes a great contribution to senior sexuality education.  Thanks for making it happen.
Mark Schoen, PhD
"jessica drake's Guide to Wicked Sex: Senior Sex explores the different ways aging can affect sexuality, both with a partner as well as solo. Its steamy scenes feature explicit demonstrations of sexy seniors who aren't afraid of having passionate sex in front of the camera…The titillating scenes, which feature real seniors, will likely prompt many couples over 60 to discover the pleasures of intimacy again, without having to confront themselves with images of younger performers with unattainable bodies."
Sex for Every Body
"Senior Sex Expert Joan Price and Jessica Drake Break Taboos with Adult Film on Sex and Aging"
"In collaboration with Joan Price, and with the joyful participation of two older couples, jessica drake's Guide to Wicked Sex: Senior Sex is a one-of-a-kind video. The film presents an informative and erotic look at sex for those who are generally rendered sexually invisible in the United States. If we are to protect our right to sexual freedom as we age, we desperately need resources like this one."
Elizabeth Anne Wood, PhD, Writer | Sociologist | Coach
"Just watched your DVD.  It was realistic seeing real people who were making each other happy. Where was this 60 years ago when I was 20? Many early marriages blew up because no one knew what the heck they were supposed to do."
Tom, an elder guy
"We got the Senior Sex DVD last week, and my husband and I watched it together. What a treasure – and what a turn-on! We had to shut it off 2/3 of the way through so we could have some very hot sex ourselves. I'll just mention that while I am 71, he is a mere babe of 46."
Slow Loris
[the film]: "Making 'Guide To Wicked Sex: Senior Sex' with jessica drake, our sexy seniors, the professional crew, and Wicked Pictures, was the experience of a lifetime. I'm grateful and proud of the work we did together and the superb product that resulted."
[Sex After Grief:] "When we're in grief, we shut down in many ways. Coming back into our bodies is an important part of our learning to feel alive again. When I was reading other grief books in preparation for writing this one, I couldn't believe how rarely sex was mentioned at all, and if it was, it was usually a warning. I'm very proud of this book. It's much needed by grievers and the people who want to understand them."
Hot Octopuss
"Interview with Joan Price On Her 'Completely Real and Unscripted' Film, 'Guide To Wicked Sex: Senior Sex and her new book, Sex After Grief," Aug. 23, 2019
"In between scenes Ms. Price talks … about the myths, the how to's, the whys and wherefores in regards to senior sex and how it can be better. We get to see Bonnie and Joel engaging in sexual play and how they go about pleasuring one another in very unrehearsed graphic style. It is a joy watching two seniors totally into each other and the roles that sex plays in their lives. Again we hear from Ms. Price throughout with plenty of great information, suggestions and answers to questions you may have. She touches on just about everything you could imagine when it comes to sex, our bodies as we age and so much more.You also get to [see how] the other couple Galen and Marlene…sexually interact as well. This is an excellent DVD that answers a lot of questions and puts to rest some of the negativity regarding seniors and sex…There is much to learn and enjoy in this DVD."
Art Koch
"Review – jessica drake's Guide to Wicked Sex – Senior Sex," All Adult Network.com, Aug. 28, 2019
"The advice that Price gives is broadly applicable to all people: communicate your desires with your partner; let go of expectations of what you are supposed to be doing sexually and embrace what actually feels good to you; be open to your own changing body and desires (and that of your partner's); and take the sexuality of all people, regardless of age, seriously. The film, and Price's work more broadly, are beautiful representations of all of these lessons."
Jessie Sage
"Joan Price on normalizing senior sex and the strategies for enjoying it,"  Pittsburgh City Paper, Aug. 28, 2019
"'We're often thought of in our society as having aged out of sex,' says Price, a petite 75-year-old wearing low-heeled lace-up black shoes stamped with bright-red lipstick kisses. 'We're old, we're wrinkly, who'd want us? We internalize the idea that as older people we're not sexual anymore…What they don't understand is that [sex] can, in many ways, be better than ever.'"
Tracy Clark-Flory
"Porn That Takes Senior Sex Seriously," Jezebel, May 7, 2019
"Jessica Drake reviewed the shot list with noted sexpert and guest host, Joan Price…Price, 75, had never been on an adult set before. The unlikely collaborators met five years ago at Los Angeles' CatalystCon and became fast friends before embarking on their first joint endeavor. Price, a specialist in senior sexuality and authorial personality behind the Naked at Our Age blog, joined the Wicked team to give her voice to the 'Senior Sex' edition of the studio's long-running educational series."
Zoe Tamara
"On the Set: Jessica Drake's 'Guide to Wicked Sex: Senior Sex'," XBIZ, May 8, 2019.