Here's What Clients Say About
Joan Price's Speeches and Workshops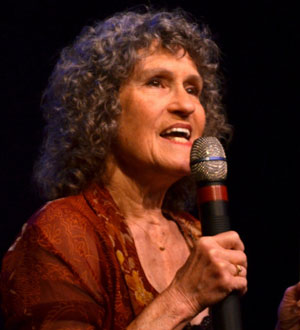 "Thank you for being our keynote speaker for our inaugural Let's Talk About Sex, Relationships and Intimacy as We Age conference in Melbourne, Australia in September 2015. The feedback we had about your session was excellent. Delegates were inspired by the level of experience you brought, your compassion, and the work you have done in this area. Conference delegates included health professionals, Policy makers, residential aged care providers, carers, people living with dementia and seniors in our community. You managed to speak in a way that captivated all groups and left them inspired to make a difference in their work places and community. It was such a pleasure to work with you, Joan! We were grateful for your willingness to step in for an additional session when another speaker was unwell and your willingness to do media were greatly appreciated. Thank you for your expertise, compassion and generosity."
(Maree McCabe, CEO Alzheimer's Australia Vic, Melbourne, Australia)
Bringing Joan Price to our 2016 conference for healthcare providers was a dream come true. Our conference organizer had heard Joan speak a few years prior and was so impressed. When we needed a speaker to address a group of medical professionals about senior sexuality, there was really only one person on our short list: Joan Price. From start to finish, Joan was professional, adaptable and easy to work with. The depth and breadth of her knowledge can only be topped by the sensitivity she brings to her subject. We were fortunate enough to book her for an additional event while she was in town. At the second event, she worked with seniors who were looking for solid information about remaining sexually happy into their golden years. All participants from both events were delighted with the knowledge Joan shared. I would happily host Joan again in Milwaukee (or anywhere, really). She is an asset to the sexuality education community.
(Lucky Tomaszek, Education Coordinator, Tool Shed Toys)
"Working with Joan is a dream. After having worked alongside her, it's no surprise that people feel so comfortable opening up to her about their most intimate concerns. Joan is incredibly attentive, welcoming, shrewd, hilarious, caring, and altruistic. The world is a sexually healthier place because of her."
(Francisco Ramirez, MPH)
"I knew how awesome Joan was before she came to St. Louis, but her audiences were new to her mission, topic, and presentation style. It was so rewarding watching her knock their socks off! The audience was rapt, enlightened, and curious! Her positive energy and confidence made a great impression. I attended all three of her talks, and learned something new each time. She definitely changed lives for the better in my town. I am so grateful we were able to make her visit a reality!"
(Kendra Holliday, Sex Positive St. Louis)
Praise from the staff at The Smitten Kitten, Minneapolis, MN:
"I can't believe how much knowledge I drew from the few days she was training at our store. I help people that fall on a spectrum of ages, and through her books and trainings, I feel so much better equipped to help these people. Can't talk highly enough about her."


"I am such a fan of Joan and her work. Watching her teach a workshop is a delightful experience! Her passion for sex positive education is obvious, and it also doesn't hurt that she's a wonderfully witty speaker and smart as a whip. But what really blew me away about Joan is her professionalism and pedagogical skills. Joan strides determinedly into the difficult conversations with her audiences, bringing a natural optimism, sensitivity and open-heartedness that is truly moving. The sex positive community is so lucky to have an educator, writer and progressive thinker like Joan."


"The knowledge and experience Joan brings to the table is pretty astounding; she is incredibly passionate, open, intelligent, and well spoken. Her training for our staff was perfectly customized to what we wanted and needed to know to better serve our senior clientele, with a great mix of both practical tips and education on how the body changes as we age. Joan was so approachable and friendly, which made for a really fun training experience and allowed our staff to ask any question and get thorough, honest answers."


"Joan is a dynamic educator who weaves humor, theater, physicality and true knowledge into not only her workshops, but everything she does. If you are interested in ageless sexuality, Joan is your person. Read her books, check out her blog and fly her to your neck of the woods. You will not be sorry."
"Joan Price's presentation on ageless sexuality for the psychiatry department at Kaiser Permanente Santa Rosa was both eye-opening and informative. Her comfort level with the topic of sex combined with her expertise make her an excellent resource. Joan's books should be required reading for all medical professionals working with people over the age of 50."
(Remi Newman, www.healthysexforlife.com, sex educator and instructor of Sex & Sensibility, a workshop for women at Kaiser Permanente Santa Rosa.)
"Sex and aging is a topic that is not so easy for many people to talk about, but you did it with openness and feeling. Your humor did a lot to get people relaxed. From the number and quality of the questions that were asked, it was clear the audience was with you. Thank you for sharing your expertise with us."
(Philip Wigen, Oakmont Sunday Symposium, Santa Rosa, CA)
"I loved your workshop and I appreciated the insight you were able to provide. The staff was really energized by the topic and they all gushed to me about how much they enjoyed you. It's my plan to have you as much a part of our regular workshop rotation as much as I can."
(Brandon Bartling, manager, The Pleasure Chest, New York, NY.)
"Event Planners: If you want to wow your audience, have them on their feet laughing, clapping and leaving with a sparkle in their eye and spring in their step, you'll want to have Joan Price in your speaker lineup! Joan's humor, candid insights into human nature, and her ability to inspire and engage an audience will be just the ingredient you need for a successful event. I can't wait to have Joan on After Dark Radio Show again and look forward to working with her on other projects where I need an audience pleasing experience."
(Ande Lyons, After Dark Radio Show. Hear Joan's interview starting at 30:50 here.)
"Just wanted to let you know how much I enjoyed the dating workshop. Loved the opportunity to be able to talk to other singles and hear their experiences. You provided a safe and fun atmosphere for that to happen." "It was such a great get together and very informative." "I was so warmed by everything that was said and that we are all looking for the same thing - connection! I'm grateful for the work you do. Your demeanor was lovely & supportive of everyone!"
(Attendees at Joan's workshop, "How the Heck Do I Date at This Age?")
"Thank you, Joan, for being our Sex Geek and teaching us so much, listening to all of our concerns, and being that special sex educator/teacher to continue to guide us." "Thank you for your comprehensive and thoughtful workshop on sex and aging. I'm married for the 2nd time and learning so much about our changing world." "I'm 75 and I'm blown away by this whole new world of openness and information about sexuality for people my age. Sex really is as normal a part of life as eating and breathing, and your workshop showed me that that talking about sex is no more dangerous than talking about the last restaurant I enjoyed." "In your workshop I learned a great deal more about what men's needs are as they have seemed to change considerably. Men are just as much in need of touch, cuddling, and kissing as women are. It was great to listen to the guys talk about their needs for intimacy and love."
(Attendees at Joan's workshop, "Ask Me, I'll Tell You: Women and Men Talk Out Loud about Sex and Aging.")
"REFRESHING, ENERGIZING AND MOTIVATING are just some of the words that come to mind when referring to your presentation, Fitness on the Road, during the 2008 NADA Lifestyle Center recently held in San Francisco. Your enthusiasm for your topic shines through your presentation and I am sure the audience will be practicing your techniques and exercises not only at home, but the next time they are 'on the road.' The 2008 NADA Lifestyle Center was a great success and your participation helped make that happen."
(Christine M. Marshall, Convention Program Manager, National Automobile Dealers of America)
"Joan is absolutely charming, totally honest in her self-disclosure in the service of teaching us. I would recommend this to any older woman experiencing difficulty or disinterest." "I liked your warmth and down to earth manner, your sincerity." "Very straight talk -- that was great! Joan was very approachable."
(Participants, Straight Talk about Sex after Sixty workshop at Good Vibrations, Berkeley, CA)
"You were frank and blunt -- endearingly so." "I liked that you let conversation take place, and that we were able to disclose and relate, regardless of age." "I think your book and workshop would be great for people of all ages, especially, but not limited to, those who have gone through accidents, trauma, cancer/disease, chronic fatigue, depression, physical disability, and childbirth." "This was a wonderful workshop, very inspiring. Lots to look forward to!"
(Participants, Straight Talk about Sex after Sixty workshop at Venus Envy, Ottawa, Canada)
E-mail Joan today to discuss how Joan can enhance your next event!