Sex After Grief
: Navigating Your Sexuality After Losing Your Beloved
by Joan Price (Mango Publishing, 2019)
Sex is complicated enough when it's easy—but when we're in grief, it's especially mysterious and confusing. How do we nurture ourselves as sexual beings when we're grieving the death of a partner? Why does taking care of ourselves sexually even matter at a time when we'd rather hide under the covers and wail? What do we do with those sexual feelings that arise despite our misery? How do we know when it's time to open ourselves to a new sexual relationship, whether it's a friend with benefits or a new love connection? And how do we do it?
There are many books about grief, but they almost never mention sex, and if they do, it's cursory. Sex After Grief is the first book to address sex and grief together and treat sex as a normal, positive, life-affirming part of emerging from grief.
In Sex after Grief, the top expert on senior sex, Joan Price, describes her own experiences as a widow since 2008, when she lost the love of her life to cancer. She shares her own raw grief journey, her sexual reawakening (and the many stumbles along the way), her attempts to dip back into the dating pool, along with excellent advice on how to handle each step.
Joan Price's revelatory approach to sex after loss includes excerpts from many other grievers' personal stories. These narratives from folks of all genders and orientations who have grieved have much in common, yet also much that's different. Some jumped into sex quickly. Some took years. Some withdrew from sexual possibility. Some shared their bodies but not their hearts. As these people open their private lives and thoughts, you'll come away realizing that no one is wrong, and no choice is defective or shameful.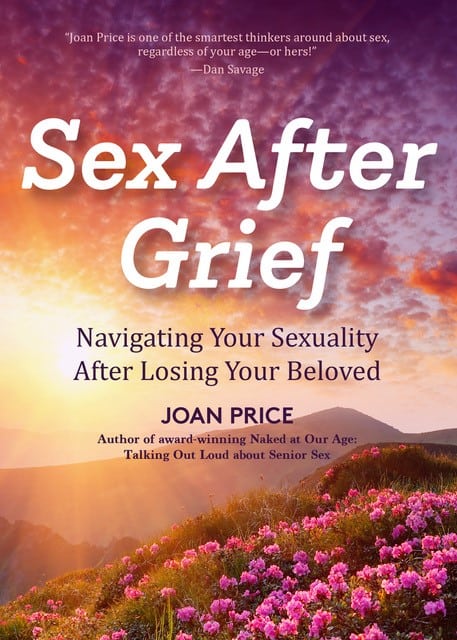 Sex After Grief: Navigating Your Sexuality After Losing Your Beloved by Joan Price  is available now! Order your autographed copy:
For International Sales, visit Book Depository
There's no right or wrong method or timeline for bringing your sexuality back to into your life, whether it's with your own hands, a hook-up, a new companion, or any combination. You'll learn many options, and, thanks to the self-help take-aways at the end of each chapter, you will feel better ready to choose for yourself.
With warmth and wisdom, Sex After Grief offers you:
Inspiring tales of how different people brought sex back into their lives after the loss of their spouse or partner

Guidelines for dating again and getting sexual with a new person

Reasons that solo sex is healthy and can be the path to feeling sexual again

Descriptions of non-traditional sexual relationships, such as the "Pilot Light Lover" and friends with benefits.

Advice from therapists, grief counselors, and sex coaches

Self-help takeaways for creating your own action plan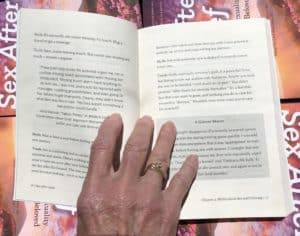 A small book -- 5" x 7" -- 170 pages packed with information: my story, excerpts from your stories, helpful quotes, and tips from me and other sex educators who know grief intimately. Each chapter has a self-help "take-away" at the end to help you formulate your own plan. Whether you've lost your beloved or you know someone who has, this book shows grievers the steps towards reclaiming sexual pleasure in their own time, in their own way.
I am thrilled to tell you that Sex after Grief: Navigating Your Sexuality after Losing Your Beloved won the 2020 service/self-help Book Award from ASJA: American Society of Journalists and Authors!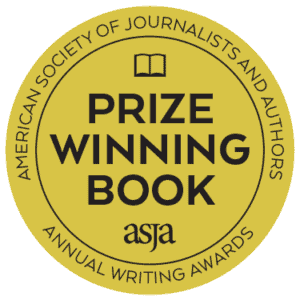 ---
Therapist Sarah Kelleher and I have a long and deep conversation about Sex after Grief on her Psych and the City podcast, especially relevant to therapists as well as people in grief and people who want to date them.
Hear Joan Price read from Sex after Grief
Praise for
Sex After Grief
"Practical and poignant, Joan Price's Sex After Grief is a rare book. Full of stories and quotes from other grievers, published authors, and Joan's own journal, the book touches on many subtopics like 'Myths about Sex and Grieving,' 'Dating Again,' 'Solo Sex,' and 'For Non-Grievers Who Want to Date Us.' The book isn't very long, but it is comprehensive and covers a lot of ground. Actually, it's a masterpiece of brevity. The shared stories and quotes from other grievers show the reader that we are not alone, and that many others are experiencing what we are in the grieving process. I highly recommend this inspirational and comforting book."
Barbara Aldridge
[the film]: "Making 'Guide To Wicked Sex: Senior Sex' with jessica drake, our sexy seniors, the professional crew, and Wicked Pictures, was the experience of a lifetime. I'm grateful and proud of the work we did together and the superb product that resulted."
[Sex After Grief:] "When we're in grief, we shut down in many ways. Coming back into our bodies is an important part of our learning to feel alive again. When I was reading other grief books in preparation for writing this one, I couldn't believe how rarely sex was mentioned at all, and if it was, it was usually a warning. I'm very proud of this book. It's much needed by grievers and the people who want to understand them."
Hot Octopuss
"Interview with Joan Price On Her 'Completely Real and Unscripted' Film, 'Guide To Wicked Sex: Senior Sex and her new book, Sex After Grief," Aug. 23, 2019
"Reading this marvelous little book is like having your hand held followed by a warm hug as you learn myriad ways to cope with the loss of your beloved. The writing is clear, accessible, compassionate, and lively. Joan Price presents much helpful information and many useful suggestions that aid us grievers in reclaiming our sexuality. Her book fills a notable void and provides much-needed advice and assistance to seniors and younger adults who lose a partner. Sex After Grief is a wonderful addition to the literature. I recommend it most highly."
Keith Marshall
"I predict that Sex After Grief  will be one of the most important books published about death and dying. Joan's words are delivered with kindness and her advice is true to the heart. There are two things in life that can change you: the books you read and the people you meet. Do yourself a favour, grab a copy of Sex After Grief. This book is relevant to anyone who has experienced loss of a partner, not just from death, but also after the end of a relationship."
Susan Jarvis, The Maven, The Spicy Boudoir, Australia
"I bought Naked at Our Age, and it was an eye opener for me, 7 years divorced. It helped give me the confidence for online dating, where I met a wonderful man. I wasn't sure Sex after Grief was going to be relevant to my situation, but how wrong I was. My boyfriend is 3 years past a sudden loss of a long-term relationship. I can see from Sex after Grief that perhaps I'll be the one to lead the touching, and slow is good. Your book is just a treasure trove of ideas of how to proceed. Thank you so much for writing this book that I thought I didn't need."
"Emma" age 72
"I always love Joan's books because they are real, honest, inspirational, and audacious. Sex After Grief will advise and surprise you, whatever your age, gender, or orientation."
Betty Dodson
PhD, author, artist, sexologist, orgasm educator since the early 1970s
"Deeply, honestly sourced in her own experience but aware that other people's mileage may vary, this wise, compassionate, moving, sex-positive, and so necessary book breaks silence and lucidly tackles an all-too-common source of pain and shame. Author Joan Price has stitched 'patches of [her] grief quilt' together with other bereaved lovers' insights and experiences woven throughout. It will prove a source of comfort for those who are grieving, and advice and support for those who are ready to open back up to sex, pleasure and love."
Carol Queen PhD
Good Vibrations sexologist, co-founder of Center for Sex & Culture, San Francisco
"Sex and aging has been considered a taboo topic for far too long. Fortunately, Joan Price is shattering barriers and starting difficult conversations on the subject. It's a heavy subject, to be sure, but it addresses a question that almost no one talks about, yet many of us will grapple with at some point: what happens to your sex life after the death of a partner? How do you move on and open yourself to new sexual connections? It's an essential read for anyone grieving the loss of a partner and anyone trying to help a grieving friend or loved one. Price's latest book begins a much-needed conversation and offers valuable advice and guidance in an accessible writing style that brims with passion and compassion."
Justin Lehmiller, PhD, author of the blog Sex and Psychology and the book Tell Me What You Want: The Science of Sexual Desire and How It Can Help You Improve Your Sex Life
"With her characteristic clarity and insight, senior sexpert Joan Price zeros in on an experience that many people navigate but very few discuss: the experience of reclaiming sex after the death of a beloved. Sex After Grief is a profoundly compassionate, deeply personal, and exceptionally practical guidebook for moving forward after loss with both purpose and joy."
Lynn Comella, PhD, author of Vibrator Nation: How Feminist Sex-Toy Stores Changed the Business of Pleasure
"Joan Price has crossed taboo boundaries again―this time about the impact on sex of loss and grieving. All of us who cope with rebirthing sex after facing loss of a beloved wish we had a roadmap to follow. This book lights a path that sets us on the journey to recovery, with content that is relevant, necessary and inspiring for grievers and the helping professionals that serve them. It is truly a gift to humankind!"

Patti Britton, PhD
co-founder of SexCoachU.com, known worldwide as the Mother of Sex Coaching
"The topic of loss is one Price has tackled for a long time–at least since her book Naked at Our Age was published in 2011. Sometimes partners die; other times, their memory and personalities alter with conditions like Alzheimer's Disease. People with Alzheimer's can lose their sex drive, or in rare cases they become hypersexual, talking about and desiring sex constantly."
Mark Wilson
Fast Company, "Meet the woman leading a sex revolution for seniors