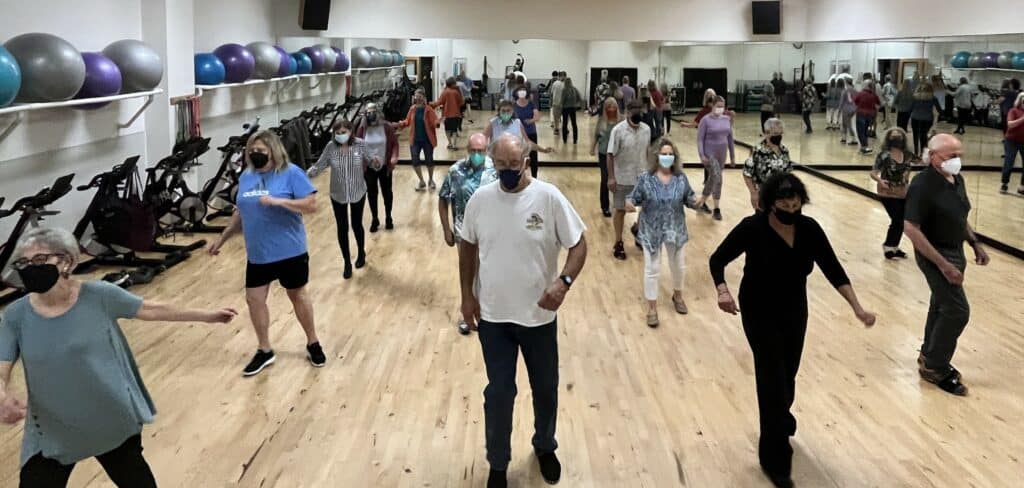 Contemporary Line Dancing isn't just country/western any more! It's the modern take on line dancing. We dance to all kinds of music: contemporary pop, oldies, swing syncopations, flowing waltz and nightclub rhythms, and Latin flavor. We still dance choreography in lines — but with the look and feel of ensemble dancing.
Classes are taught by Joan Price and Brenda Shatto, popular Sonoma County line dance instructors.
Line dancing is fun, great exercise, and it will free the dancer in you! Here's why we love it:
Great combination of physical exercise, mental exercise (you get to memorize choreography!), and social interaction.
No partners needed - perfect for singles!
Learn contemporary line dances in a comfortable, welcoming, fun-filled class!
Beginners welcome!
Teens and seniors welcome!
Two left feet welcome
What is line dancing?
Picture rows of people dancing a set choreography as an ensemble. The dance might be slow or fast, and it might have the look of country-western, Latin, swing, or Broadway. As they dance, they turn to face a different direction, and the choreography begins again. There are thousands of different line dances, ranging from super simple to extraordinarily complex , featuring innovative choreography.
Line dancing originated in country-western bars, but it isn't just fancy footwork to country-western tunes any more. Line dancing has evolved to offer a rich blend of urban sophistication with stylistic expressions influenced by musical theater, Latin rhythms and jazz dance. Line dancing is enjoyed internationally -- England, for example, boasts one million regular line dancers.
Since you dance on your own in an ensemble, line dancing is ideal for singles and for partners of non-dancers. It's also wonderful for people who want a social activity that doesn't involve dating or partnering.
Need one more good reason to line dance?
A long-term study indicates that leading a mentally stimulating and physically active life can postpone memory problems. Sedentary living and lack of mental challenge have been linked to higher risk of dementia. In fact a 21-year study done by Albert Einstein College of Medicine in New York City found that the only physical activity to offer protection against dementia was frequent dancing, which reduces risk by a whopping 76 percent! We're integrating mental, emotional, social, and physical activity; memorizing choreography; and making quick decisions. We knew line dancing was fun and felt good -- now we know it keeps our brains fit as well as our bodies!
And line dancing burns 200 to 375 calories an hour, depending on how fast you dance and how much you travel the floor!
No experience necessary! Success and fun guaranteed!
Questions? Need directions? E-mail Joan.
Can't come to class? Bring Joan to your next social function, employee party, or special event! Joan will entertain your clients, staff, or guests at your next business or social event by teaching an easy, energetic line dance. Camaraderie, success and laughter guaranteed! Email Joan.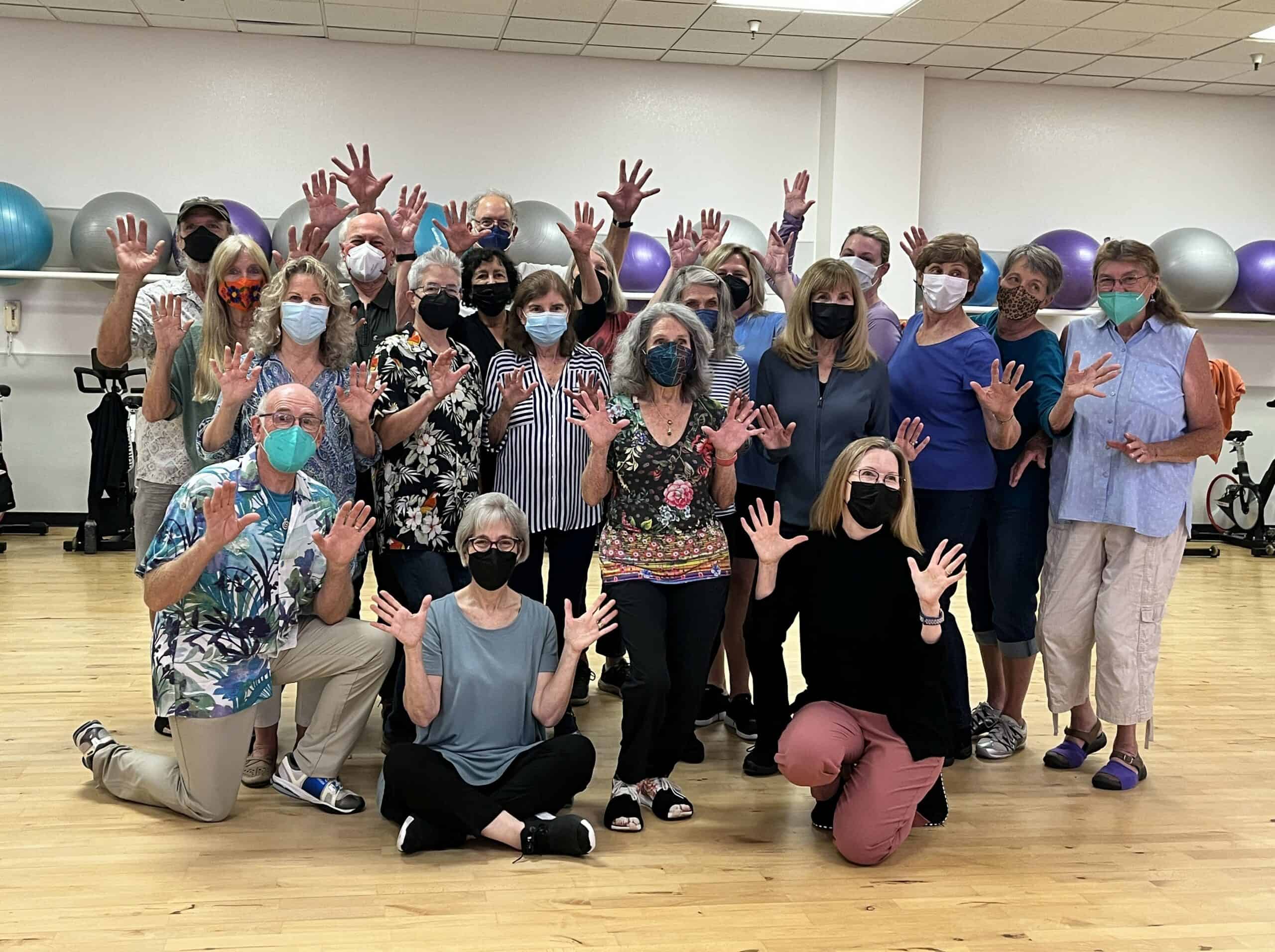 Come dance with us in Sebastopol, CA at Coaches' Corner!
Although Coaches' Corner no longer requires masks, our class remains fully masked to protect our health and yours.
Be vaccinated, boosted, and masked, please.
See you on the dance floor!
7-7:30 pm beginning level (easy to high beginner)
7:30-8 pm improver/mid level (easy improver to low intermediate)
8-9 pm intermediate/advanced level

6-6:30 pm beginning level (easy to high beginner)
6:30-7:15 pm improver/mid level (easy improver to low intermediate)
7:15-8:30 pm intermediate/advanced level

Coaches' Corner
420 Morris St.
Sebastopol, CA
Non-members:
$15 ($13 seniors 60+) 
Members free
Line Dancing!
The most fun you can have with both feet on the floor!
Line Dancing Testimonials
"I started line dance classes with Joan Price at Coaches' Corner in April 2019 and enjoyed the classes very much. After a year, our in-person classes halted during Covid quarantine. I was so happy when classes resumed in person mid 2021, and I eagerly resumed dance instruction. Joan has been an excellent and inspirational dance instructor. She teaches her classes with energy, patience and humor. Her classes are always fun to attend."
Kathy Leone
"Line dancing is expressive, freeing, delightful, and satisfying to all who experience  it. Line dancing has moved way beyond the 'Boot Scootin' Boogie' and 'Electric Slide" days. Now it embraces  many genres of music and dance steps. Some benefits include the joys of camaraderie and burning calories without even trying — while enjoying every minute!"
J. T. B.
"If line dancing is my life, then Joan is one of the lights of my life. Her vivaciousness, wit, and charm combine with her love of teaching and fitness to create space for 'the most fun you can have with both feet on the floor' multiple times a week! What more could you ask for? I know! You could also ask for camaraderie, laughter, and mental and physical exercise, and you would receive all you requested in Joan's class. We have the best time every time we step onto the dance floor. We get to learn everything from basic line dance language to how to dance in the most protective manner so we can enjoy the sport for years to come. I never want to be away from class and always look forward to sharing the love of dance with all the people who attend. YOU should be in attendance! Come join us!"
Sheba Thone
"I was 73 when Joan Price encouraged me to take up line dancing. I hadn't danced in any fashion since college days, and it was with some trepidation that I accepted the challenge. I am so very glad that I did! Joan's enthusiastic, patient, clear, and supportive teaching helped me through a slow learning process as I progressed from Absolute Beginner to High Beginner. I've now "graduated" to Improver level, and have also begun to learn some of the more complex Intermediate dances. Line dancing provides a superb fitness combination for a 'senior citizen' like me. It requires a combination of mental acuity (memorizing choreography) and physical mastery of various new steps. Mind and body. Now in my sixth year of line dancing, I eagerly anticipate each week's lively classes and the fun social interaction with my fellow dancers."
Mac Marshall
"Joan is such an enthusiastic and talented teacher. I love her classes! Line dancing with Joan in her classes has been such a pleasure. I used to feel too tired to venture out in the evening, but since I discovered line dancing, you can't keep me at home. I look forward to every class, enjoying the participation, the mental challenge of memorizing, the physical exercise, and the companionship of other dancers. Sometimes I feel as if I am flying across the floor. What a joy Joan has brought to so many!"
Marsha Diane Arnold
"I have enjoyed line dancing with Joan so much! Her style of teaching makes it easy to put the steps together. We're always laughing while learning, which adds to the fun! I've seen how Joan makes everyone feel welcome and included. From beginners to those with lots of experience, she seems to be able to balance her teaching style so that everyone has a great time!"
Barbara Tobin
"I took my first class with Joan on New Year's Eve afternoon in 2003 and never looked back. I found myself looking forward to every Monday and Friday night so I could go to dance class, and freeing up my schedule on those night so I wouldn't miss a class! I love all the different types of music we get to dance to, and the wonderful, friendly people to dance with. Joan's instruction helps everyone to understand the steps, and build their skills to progress to the next level of dance. Whether you are an absolute beginner or a practiced dancer, you will be dancing and enjoying yourself in no time."
Brenda Shatto