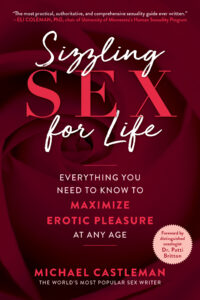 Sizzling Sex for Life by Michael Castleman
reviewed by Mac Marshall
Are you a man who wishes that sex was more pleasurable? Do you feel furtive about masturbating? Do you have erectile problems? Do you feel guilty watching porn? Do you believe that your penis is too small? Do you desire sex more than your spouse/partner does? Sizzling Sex for Life: Everything You Need to Know to Maximize Erotic Pleasure at Any Age by Michael Castleman offers sex-positive answers to questions like these and many others, based upon the best available current knowledge.
This book largely addresses the sexual issues facing cisgendered heterosexuals—nine out of ten people…While I write for men, I've also striven to be sensitive to women, to inform men of the many research breakthroughs of the past few decades…that have shined new light on how women experience erotic pleasure…[I have] also endeavored to inform women about men's experience of sexuality.
Castleman's book is a 432-page encyclopedic compendium covering a host of different sex topics. His 52 chapters are organized into six major parts:
I.    The Ten Ingredients of Sizzling Sex. (10 chapters; 66 pages)
II.   From Infancy to Old Age: Sexual Issues Throughout the Lifespan. (20 chapters; 155 pages)
III.  A Guide to Resolving Men's Sex Problems. (4 chapters; 38 pages)
IV.  The Man's Guide to Women's Sexuality. (5 chapters; 35 pages)
V.   Other Ways to Play. (6 chapters; 43 pages)
VI.  What Everyone Should Know About Pornography. (7 chapters; 54 pages)
Castleman's recipe for "sizzling sex" is summarized in Part I. In a mantra repeated over and again throughout the book he argues, "For sizzling sex, your default position should always be slow, tender, mutual massage that eventually—after twenty minutes or so—extends to gentle, playful genital caresses."
Other recommended ingredients for sizzling sex include:
Coaching your partner. "Everyone is sexually unique…No one can read anyone's erotic mind. No one can possibly know what you like and dislike unless you reveal it. For sizzling sex you must speak up."
Obtaining affirmative consent. "Women have become fed up with the problems inherent in no means no and have promoted a new standard, yes means yes—clear, unambiguous consent for every sexual escalation—'affirmative consent'."
Using lubricants. "Currently, an estimated fifty million Americans use lubricant regularly. Most consider it a quick, easy, inexpensive, erotic enhancement."
Introducing novelty. "To make sex hotter, include something new: a different time or place, new moves, new lingerie, a new sex toy—anything."
Indulging sexual fantasies. "An active erotic imagination contributes to sizzling sex by boosting libido, aiding arousal, and enhancing pleasure."
Masturbating. "Masturbation is the foundation of satisfying sex and the world's most widely practiced type of lovemaking…If you feel ambivalent about making
love with yourself, it's difficult to have great sex with anyone else."
Engaging in outercourse, including oral sex. "Many people rank oral sex, fellatio, and cunnilingus, among their top erotic pleasures…Gentlemen, if you want your partner to feel sexually satisfied and sing your praises, what hangs between your legs is usually less important than how creatively you use your tongue."
Focusing on pleasure. "All genders' top three reasons [for engaging in sex] focus on attraction and pleasure…Having children was one of the fifty least cited reasons for partner lovemaking…The goal of sex is not orgasm but mutual pleasure."
Scheduling lovemaking. "In established relationships, sex therapists are virtually unanimous in the opinion that scheduled sex offers couples the best chance for long-term erotic happiness."
Many chapters stand alone for those who seek answers to certain questions. For example, Chapter 12 offers "A Parents' Guide to Toddlers' and Preschoolers' Natural Sexual Curiosity," and Chapter 20 provides suggestions on "How to Prevent Sexual Assault and Harassment." Chapter 36 discusses "A Man's Guide to Women's Bodies." This makes the book particularly useful to sex counselors and therapists who may direct clients to specific chapters relating to their clinical discussions.
Overall, the book is splendid, but I had a few issues:
It's problematic that Castleman's discussion of sex toys leaves the impression that they're all for women or for men to use on women. He fails to mention the numerous penis toys that have come on the market over the past decade that enhance sexual pleasure for men (e.g., the Pulse and Jett from Hot Octopuss, the Manta from Fun Factory, and the

Ion

from Arcwave). Moreover, I can personally attest that many vibrators designed for vulvas provide wonderful stimulation to penises as well.
This important book harbors a certain amount of repetitiveness that might have been eliminated with more careful editing. While some of this may be intended to hammer home certain key points, much of it uses the same wording over and over. Some examples: we're told many times that porn is like a cartoon version of sex; that 5%-6% of normal, mentally healthy women are highly sexual; that all men watch and masturbate to porn; that Fifty Shades of Grey sold 150 million copies worldwide in fifty languages during its first eight years in print; that men tend to become more sexually aroused than women by visual imagery; and that only 25 percent of women are consistently orgasmic from vaginal intercourse alone.
As it stands, the book ends very abruptly following a 54-page discussion of porn. I would have appreciated a brief chapter that summarized and highlighted the author's main points and brought the reader full circle.
A strength of Sizzling Sex for Life is the author's lively and accessible writing style. He presents sometimes complex information in an easily comprehensible manner, often laced with humor. For example, "Fellatio is as simple as eating a banana—without using your teeth."
He also provides historical tidbits:
The ancient Greeks and Romans preferred small penises. In Aristophanes's play The Clouds (423 BC), an elder admonishes delinquent boys that if they continue to misbehave, as punishment, their penises will grow larger. But if they repudiate wickedness, their organs will remain blessedly small. What the Greeks wanted was a jumbo scrotum. A big nut sack suggested great potency. The Greeks considered penises incidental injection devices for what really counted, big ejaculations. Five centuries later, the Roman novel Satyricon (ca. AD 50) describes bathers at a public bath who ridicule one character's large penis.
Throughout much of the book, Castleman notes the special sexual issues associated with aging for men and women alike. This is welcome information for senior readers age 50 and beyond. He gives special attention to erectile problems for men, vaginal dryness for women, and the delightful joys of slow, gentle outercourse as pleasurable sex for seniors. He also devotes all of Chapter 29 ("No One is Ever Too Old for Sizzling Sex") to older folks, commenting that "Elder sex just might be the best of your life." We agree!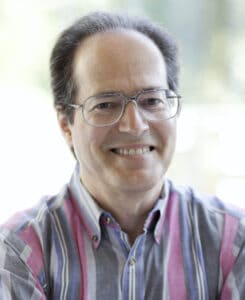 Michael Castleman is a journalist who specializes in health and sexuality. Over the course of his long career, he has worked as a counselor at a family planning clinic, was employed by a company that marketed sex toys, wrote answers for the Playboy Advisor column in Playboy Magazine, and authored two earlier sex books. He currently writes the "All About Sex" blog for Psychology Today and answers sex questions from readers at GreatSexGuidance, In assembling the wide-ranging materials for Sizzling Sex for Life, he has drawn on this varied background and his extensive personal network of sex counselors, coaches, and therapists.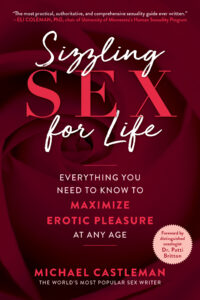 Purchase Sizzling Sex for Life from https://sizzlingsexforlife.com/.
================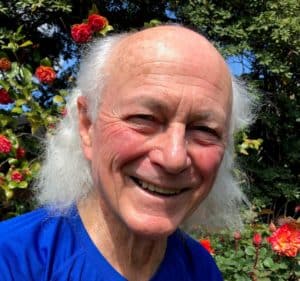 Mac Marshall, PhD is a retired anthropology professor, researcher, and author who is delighted to explore sexuality studies at this time of his life.