What's a webinar, how does it work, and why should you care?
A webinar is an online class. Using a web camera and microphone, I give an information-packed, lively presentation similar to the way I teach when I travel, but you watch online instead of waiting for me to come to your city. You can watch live if it fits your schedule, or watch a video recording of it later, or both. These classes are on topics that you -- my subscribers and readers -- have requested.
Please note: International shoppers should checkout via PayPal unless you have a US credit card.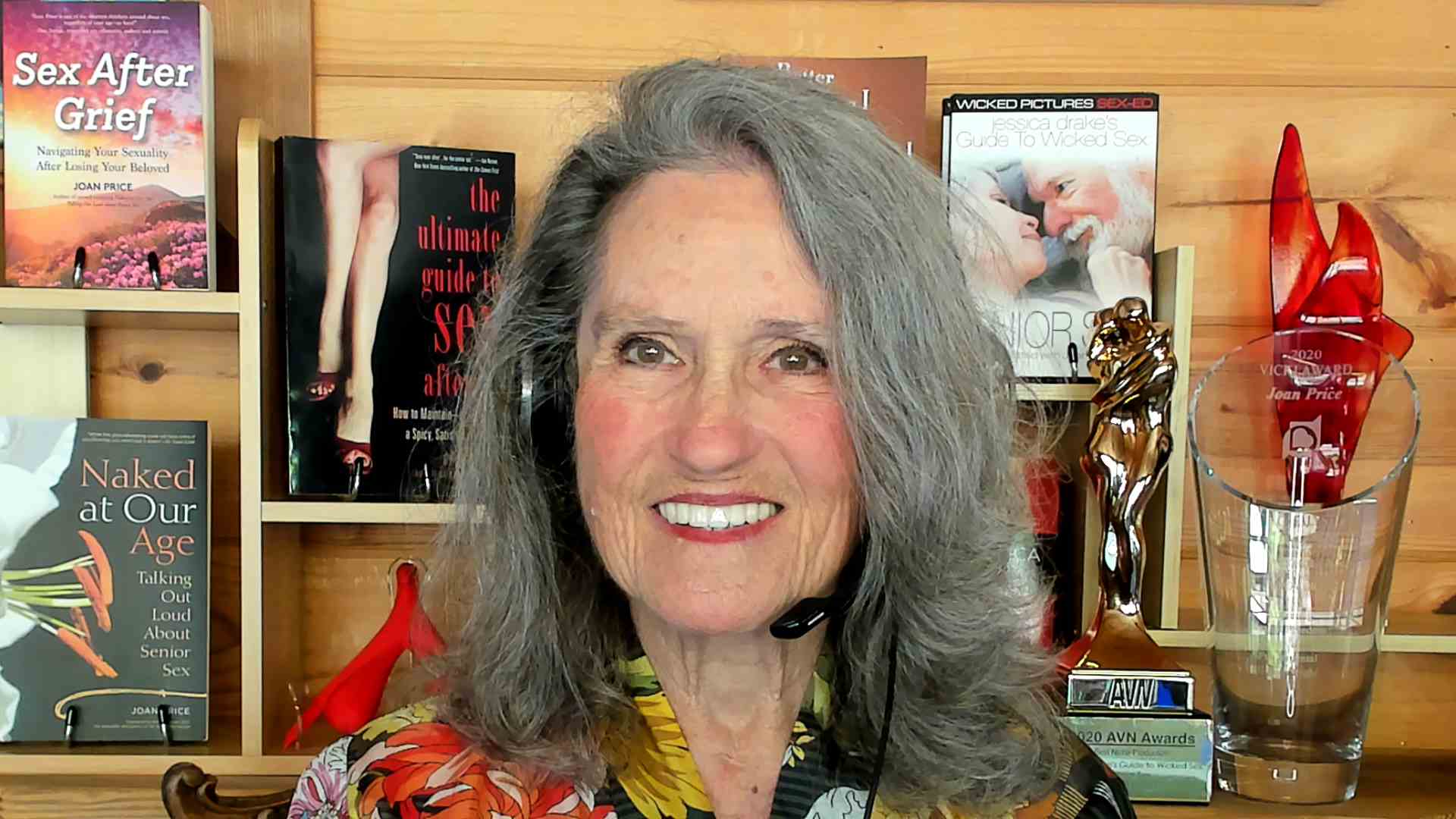 Recent webinars, available for viewing online:
If you're interested in a webinar that has already happened, you can purchase viewing rights for $55 for one; buy two or more and receive 30% off by using coupon code
2+webinars-30%
. (All prices US dollars.) Each 90-minute webinar was recorded in its entirety and you can watch at your convenience -- multiple times if you wish. Once I receive your payment via your shopping cart, I'll send you the link and password. 
Email me 
if you have questions.
Great Sex without Penetration
Let's get one misconception out of the way. Sex without penetration is still sex. Real sex. Hot sex. The idea that only penetrative sex constitutes "real sex" limits our creativity and our satisfaction. There are many reasons that penetrative sex might be off the table, but that leaves us with a smorgasbord of delectable options. Get new ideas for what we can do instead to express ourselves sexually, arouse ourselves and each other, share intimacy, and enjoy orgasms. Learn how to talk to a partner about sexual limitations and possibilities and how to negotiate more satisfying sexual expression. Handout included.
(Recorded June 1, 2017.)
After you order, you'll receive a personal email from Joan with access information for the webinar and instructions.
Praise for Joan's Webinars
"How the Heck Do I Date at This Age: what a great webinar!!  Thank you for it. I can't think of anything that needed covering that you didn't touch upon.  I did know much of the information you imparted through a few years of trial and error dating but it was great to see it put together all in one place. How I wish I had seen the webinar before all that trial and error!  I particularly liked your advice about creating a profile."
"I ordered your recorded webinar on senior sex toys. My husband and I really enjoyed your webinar and learned a lot from all you shared. It was refreshing to hear your clear explanations. Makes life so much easier when we don't have to try and figure all this out on our own. FYI will both be 73 and 74 years old in the next couple of months. Looking forward to reading your  written reviews and making some purchases. Thanks again."
"I just viewed your "How the Heck Do I Date at This Age?" webinar. I found it full of useful information, even though it is a few years old. I especially appreciated the included worksheet. I also enjoyed your presentation style — you are very personable."
"My wife and I watched your "Sex Toys for Seniors" webinar and found it very informative. We especially liked your demeanor — it seemed like you were actually in the room with us, which made the subject fun and not clinical."
"I just viewed your Sex Toys for Seniors seminar – THANK YOU! You provided so much education and some thoughtful insight! I'm new to the sex toy realm but have been feeling like I'm missing something in my otherwise very satisfying relationship. Sex was plentiful & amazing in our younger years but it seems the 60s have become a bit frustrating sexually. Thank you for giving me new hope. I'm enthusiastic about adding a toy or two into our sex life."
"I'm a virgin when it comes to sex toys and I appreciated the frank discussion in Sex Toys for Seniors. You are certainly comfortable with the topic; when combined with your sense of humor, I found the discussion like talking to a girlfriend."
"I have viewed your webinars. You are amazing! I love what you are doing. It is so important to bring this out of the shadows. You have already improved the communication between my spouse and myself about these sensitive topics."
"I just watched your Sex Toys for Seniors webinar for the third time. What an informative and great seminar! I am excited to move on to your next webinars and will be ordering books as well as the DVD. You're terrific — thank you."
"Your Safer Sex video is a very good awakening to misinformed seniors (and individuals of all ages) on the Who, What Where When and Why of safe sex. I watched it twice and was amazed how you packed into that presentation. That video is gold!"
"I found your entire sex toys presentation absorbing and highly informative about the variety and range of sex toys and what they can and cannot do. I delighted in your imitations of the different sounds and speeds of various sex toys. What a kick!"
"I loved how matter of fact you are about using sex toys. I will keep playing around with my vibrators as a way to get to know my own sexual response, and bring that knowledge into partner sex. Thank you for the wonderful work you do and the beautiful acceptance of all that sex for seniors may entail."
"Five stars! I think what you're doing is quite challenging and you did a great job. You kept it light and funny while discussing some things most find quite difficult. You told some nice stories and especially you showed us some of your own vulnerability. Powerful stuff."
"I wrote what I thought to be a compelling profile on OKCupid, but it attracted relatively little interest. Joan Price's webinar ("How the Heck Do I Date at This Age") provided important tips and suggestions for revision, and after I incorporated these insights the activity level on my profile increased markedly and has resulted in numerous inquiries and several fun dates with good matches."
"Your dating webinar was interesting and worthwhile and very helpful in clarifying what I'm looking for and what are deal breakers. You were an engaging and authentic speaker!"
"Your sex toy webinar was an excellent presentation and show & tell. Very informative and, as a toy 'virgin,' I liked your very matter-of-fact, 'this is ok and normal' approach. At one point I LOL'd, because I mentally superimposed you showing varieties of cake mixers or vacuum cleaners. Your approach has caused me to want to get one of these 'appliances' yesterday."
"Loved the sex toy webinar! I didn't realize the different ergonomic options for vibrators and dildos so this will help my greatly in work with seniors helping to refer them to appropriate toys. I will use this information when purchasing my own toys and also with older age clients wanting to discuss sex and sex toy options."
"I think you did a real good job of explaining things. I could see that what we were facing is not uncommon."
"We learned a lot from your webinar. My husband and I have been married 40 years. We are going to take some of the steps you recommended."
"How is it possible for a 69-year-old woman and a 72-year-old man to enjoy 3 continuous hours of non-stop sex and joyful lovemaking, and then fall contentedly to sleep? And pick right up in the morning, seemingly where we left off? Use Joan's "sex without penetration" method, and leave out any and all expectations! Really. I owe you a big time testimonial!"
"This webinar is a fine presentation and an extremely helpful piece of work and I benefited in a host of ways. Even though I've read all three of your books on aging and sexuality, have followed your blog and other online items, I learned some things this afternoon."