Denver Public Library online: Sex and Grief with Joan Price
Friday, January 22, 2021 @ 3:00 pm

-

4:00 pm

Free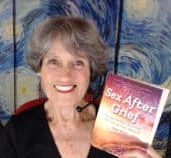 Sex is complicated enough under normal circumstances, but when we're in grief, it's especially mysterious and confusing. How do we nurture ourselves as sexual beings when we're grieving the death of a partner? Why does taking care of ourselves sexually even matter at a time when we'd rather hide under the covers and wail? What do we do with those sexual feelings that arise despite our misery? How do we know when it's time to open ourselves to a new sexual relationship, whether it's a friend with benefits or a new love connection? And how do we do it? Join us as author and sex educator Joan Price helps us answer those questions.
Joan Price, author of Sex after Grief: Navigating Your Sexuality after Losing Your Beloved, shares anecdotes and advice from her own grief journey and from other grievers and experts. This presentation is appropriate for all ages, genders, sexual identities, and orientations.
This event is offered as a webinar to give you privacy if you wish to stay off camera and off mic. There will be opportunities to join in a discussion if you choose to.
January 22, 2021, 3-4 Denver time.
Free to the public, but you must register to attend.
This event is part of an eight-part series on Navigating Grief and Loss. You can attend as many or as few sessions as you would like. Registration is required for each individual session. See the whole series.