Sex Down South Sept 9-11, 2021
Thursday, September 9, 2021

-

Saturday, September 11, 2021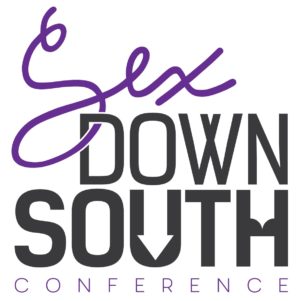 Attend virtually or in person! This year, Sex Down South is going hybrid. You can view all workshops and evening events online with your virtual registration, or you can  attend live at Sheraton Atlanta Hotel (165 Courtland St. NE).
Joan Price will be among this year's presenters, giving these workshops:
"The Porn Star and the Little Old Lady Walk into Sex Down South: jessica drake and Joan Price Share Sex Secrets for Young and Old."

The collaboration of adult star/sex educator jessica drake and author/senior sex educator Joan Price led to the creation of the award-winning film, "jessica drake's Guide to Wicked Sex: Senior Sex." It also led to an intense friendship and many discussions as jessica shared her work speaking to college students, and Joan shared hers speaking to seniors. They discovered that the sexual concerns of young adults and seniors were sometimes drastically different — but sometimes identical. In this lively dialogue, jessica and Joan reveal what young people and old people really think, question, and need. They also discuss porn, porn literacy, sex ed, and much more.

12 Steps to Sexy Aging – Starting Now! 

What are the secrets to staying sexually vibrant through the decades ahead? What can you do now to make sure you keep sex alive as you age? Learn what you can do starting now, whether you're 25 or 55 or any age at all, to invest in your future sexuality. You'll learn practical tips, communication skills, and attitude adjustments to enrich your sex life lifelong — partnered or solo -– despite what the aging process throws your way.
Sex Down South 2021 Theme: A New World
The Sex Down South Conference provides sexuality workshops taught by educated and amazing presenters from around the world.  Enthusiasts join in the fun and learn from the best – all while doing it in an inclusive and loving environment. 
​Last year, our world experienced a great amount of trauma, which included public lynching of Black people, the COVID-19 global pandemic, and an uptick of HIV – an ever-growing global epidemic.  Despite our losses, our communities remain resilient and we know we are on the proper path to healing our communities.  Through sexual liberation, social justice, and love, we will forge new pathways and therefore, create A NEW WORLD for us to survive and to thrive to the best of our abilities.  Come create a new world with us!
If you are attending in person, your virtual con ticket is included.  If you'd like to only participate virtually, you can sign up HERE.