The Smitten Kitten Workshops
Monday, September 23, 2019

-

Wednesday, September 25, 2019

$10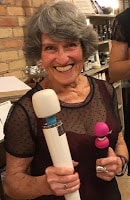 Joan returns to The Smitten Kitten, 3010 Lyndale Ave S., Minneapolis, MN 55408, for three workshops.
Workshop schedule :
Monday September 23, 2019, 8pm – 10pm,  7 Steps to Reclaiming your Sexual Pleasure over 50
Tuesday September 24, 2019, 8pm – 10pm, Sex after Grief
Wednesday September 25, 2019, 8pm – 10pm, Great Sex without Penetration
Learn more about each event here.
***Each workshop will be $10. RSVP by calling 612.721.6088 or register here. Register early, because these events always fill up. Each attendees receives a coupon for $10 off $50, good for thirty days after the event!