Testimonials about Joan Price's Books and Presentations
"I love your energy and clapped several times in my home office as you went through your presentation."
Attendee, "How the Heck Do I Date at This Age?" for Senior Planet & AARP, 2023
"I've had a big interest in sex during my whole life, and I've read countless amounts of books about it and Joan's book "Better Than I Expected – sex after sixty" is the most interesting, gripping and straightforward one I have ever read. It's relevant for everyone over sixty, no matter if you think you already have a great sex life, if you aren't interested in sex or if you think you are too old: this book will change that mindset completely. Start with her blog, it contains tons of good advice as well and is a true gem." / Greta, 64
"It's easy to panic when you realize that you no longer can have sex the way you want because of your body getting older. I got recommended to read "Naked at Our Age" and after I finished it I knew that I wanted to read more of what Jean had to say! So I started following her blog and it's by far one of the best things I've done for myself in the last 20 years. Thanks to her advice and ideas, my husband and I have more passionate and intense sex than we had when we were in our 20's. I could never have imagined that I was capable of having such wonderful sex at this age, but I am very thankful that Joan let me know that I am." / Charlotta, 61
"First of all: if you are in your 60's or older, you must read Joan's books. I can ensure that they will completely change the way you look at intimacy and the way you have sex, and you will probably wish that you would have known about the advice she is giving sooner in your life! Secondly: her blog is so inspirational and should be read by anyone who feels like their aging body stops them from having the sex they want to have, or by everyone that thinks you have your best sex when you're young and the best years of intimacy, love and romance are in the past." / Bengt, 60
"Joan makes what some people find taboo to sound like the most natural thing in the world. For many people, her way of talking about sex will change their whole view on intimacy forever." / Elisabeth, 67
"A person like Joan is just what I need in my life. She writes so straightforwardly and is not afraid of giving her heart out to really help people. Not many have the courage to speak out loud of sex in such a natural way, and I really admire her for that. I've been reading her blog for four years now and have two of her books as well, and the quality of the content she's writing is always world class." / Hans, 73
"Joan is a wise lady with lots of experience which I'm glad she shares with all of us who need a little help with our sex life when age comes knocking on the door. Her blog is a true life saver and I have recommended all of my girlfriends to read her. Some have done, and they have thanked me afterwards. Considering how many of my girlfriends have changed their sex life for the better after they started reading Joan, it seems like she is a natural talent when it comes to teaching about intimacy and sex." / Lisa, 67
Read more at Passionerad Sweden.
Passionerad Sweden readers
"I've been familiar with Joan's popularity among the older adults I serve for so many years. After all, her "Sex at Our Age" column for Senior Planet has been running for nearly a decade! After all this time, it was an absolute pleasure to finally work with her by hosting a webinar for AARP's Virtual Community Center. Her presentation, "How the Heck Do I Date at This Age?" was engaging, informative, and hilarious. I've never seen a Zoom chat so ablaze with conversation!! Even in a virtual room of more than 1,700 people, she is incredibly skilled at making people feel seen and allowing them to open up in ways they may have never before."
Breana Clark, MSW, Director of Virtual Program Experiences, OATS and Senior Planet from AARP
"In our Zoom consultation, Joan was everything I could have hoped for and much more! Joan Price combines total professionalism with vast knowledge and a heart for helping people – I felt instantly at ease with her. I opened up easily to her, and unblinkingly she addressed my concerns with information accented with genuine empathy and concern. At the end of our consultation, I felt elated – that feeling of optimism and hope based upon real knowledge of how to make my wife's and my lives that much better.  Joan had analyzed our situation and provided product guidance and technique suggestions that made total sense. Joan's upbeat attitude and clear communication made the time fly, and all my questions were answered. I have never experienced any better professional consultation in my life – all the more amazing because the subject matter is a little delicate, after all."
"I came to your book Sex After Grief, the long way. I had already begun exploring my sexuality, about eight months after the passing of my husband of 30 years. It was while looking for information on safe sex that I found your webinar about safe sex for seniors. I was so impressed with your straightforward, no nonsense approach to what is an important topic. At some point during the presentation, you mentioned your book, Sex After Grief. My ears shot open and my fingers flew to the keyboard. Not only did your book help me understand why I was feeling the way I was feeling, but it helped me know that it was normal, and that it was OK. In my mind I understood that already, and yet I needed to have somebody tell it to me. Let's face it, it's not really the kind of thing that you bring up over dinner. I am now exploring my sexuality as a 60 year old widow. My husband was my first lover, but not anymore!  I am now reading Better Than I Ever Expected and Naked At Our Age. Both are helping me understand how sex is different not only for me, but for some of the men that I am encountering. Both of these books have been so helpful, and I'm not even done with them yet! I will continue my education and hope that one day, I too will find another great love."
"In your important book you pioneer a topic too long ignored, namely, ways to resume a happy, healthy life of sexual pleasure after one's beloved dies. Kudos for treating this subject with just the right mix of sensitivity and humor."
"Kudos to Joan Price. I recently had a consultation with Joan, and let me start with how amazing this woman is. Not only is she very professional but her knowledge is impeccable and not just on one subject but many different subjects. She was my little angel sent from heaven. The consultation was worth every penny. It was very helpful and beneficial. I highly recommend her services and books."
"I don't write fan letters, but I owe you a note of thanks for all your help. In 2019, I lost the love of my life after 58 years together. After 9 months as a widower, I decided I didn't want to be alone for the rest of my life. I had no idea what not being alone was going to look like, nor who might possibly fill the void. I came across an author unknown to me, who'd written a book which really got my attention: "Sex After Grief: Navigating Your Sexuality After Losing Your Beloved."  I am a recovering alcoholic, and active in Alcoholics Anonymous. When an alcoholic talks to another person about their drinking problem, their personal knowledge lends truth and believability to the conversation. In the exact same manner, your well-written book speaks with the knowledge available only to those who've experienced the loss of a mate. Thank you so much for sharing so honestly and frankly. Your writing spoke to me deeply, honestly, and was greatly helpful. In fact, I'm now with a widow and we're a loving couple."
"My wife and I watched your Wicked Guide to Senior Sex together. We got a lot out of it. The main takeaway for both of us is that you shouldn't go into sex with expectations. I used to think that unless I gave my wife an orgasm, I had failed. Unfortunately, she had very few of them, and I felt like a failure. When we watched the video, we watched the couples (the first one in particular) having fun, relaxed sex without any expectations, and that made quite the impression on us. After the video, we decided to put what we saw into action. We immediately got undressed, and had the best sex we've had in a long time. Your video went a long way in enhancing our sex life, and we intend to continue using the advice you gave us. My wife and I thank you for your excellent video and advice."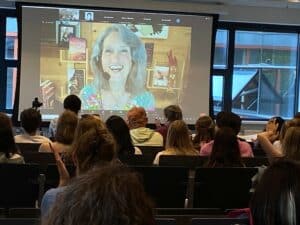 "Thank you so much for 'What I Wish I'd Known about Sex and Relationships When I Was Your Age.' Students were wildly enthusiastic! You really rock it. I enjoyed it very much, and so did the 170 students. They found it an eye-opener to hear someone speak so openly about sex, especially someone of your age, and from the States. They loved your openness – even on very personal experiences – and your willingness to answer their questions. And off course your infectious laugh! They approached me afterwards to thank me for inviting you. They loved it!"
Dr. Maerten H. Prins, Instructor, Radboud Universiteit, Nijmegen, the Netherlands
Joan Price provides a much needed book striking at the heart of grief and sexuality and their intersection… No sexuality stone is left unturned. None. Price mythbusts common misconceptions, discusses masturbation, and normalizes people who want friends-with-benefits arrangements, "pilot-light lovers", and those entering the dating scene seeking love before having sex again…Price wants to normalize grievers jumping into their sexuality at their own pace (quick or slow or maybe-at-some-point-but-not-yet) with their own moral compass so long as the sexuality is legal, ethical, and consensual. Price includes vignettes from real grievers throughout the book on these many topics, most with those who are well past the early stages of grief and can look back with perspective through their healing journey. (Read the full review at https://thecouplessyllabus.com/grief/.)
Jen Schlau, MLIS, TCS Creator and Reviewer
"I'm writing to thank you for the DVD my partner and I purchased and watched about sex for older people. We had also purchased a vibrator and other things to try. We found you after reading the New York Times magazine article. I'm 69 and a prostate cancer survivor (in remission) who totally lost my libido after cyber knife radiation therapy in 2019. I was unable to have an erection. I was fortunate that my treatment worked but ALL of my doctors just shrugged and opined that they hoped my sex drive would return. With lubrication and patience we were actually able to be intimate again last weekend. We're now exploring the toys we purchased. Thanks for your candor and being on the planet."
"I'm not a widower, but have dated a lot of widows. No one lady has the same reactions to dating again after her husband's death. What I enjoyed most about the book was that it covered the wide range of responses I've experienced when dating widows. Any lady will find comforting words from other widows who have sallied forth into the dating world. Same for widowers. The point to me seemed that there's no 'right' way to do it, but each muddles through in their own way – usually receiving great rewards for the effort."
"Joan Price is a magnanimous and generous human being who, as Oprah might say, uses her life to enhance and improve the lives of everyone around her. Her mission, in my opinion, is to be a purveyor of self-love. Her book Sex After Grief is about so much more than sex and grief. It is a tool for healing and moving forward after devastating loss. Twice widowed, once at twenty-three and again at fifty-nine, I wish I had found Joan's work sooner. Her compassion and warmth, infused through all her work, gave me the sense that I had a friend on my side. I hope you will explore her books, blog, and website for a boost to your inner self. I would also encourage everyone to view Joan's video: Safer Sex for Seniors. The title is a misnomer since in these days of renewed free love, the advice offered is invaluable for anyone at any age. The more intrepid may even use it as a sort of foreplay."
"A new friend gave me a copy of your book Sex After Grief. I almost finished the entire book in less than a day. I felt the need to reach out to you personally to tell you what an absolute difference this book made for me. I lost my husband almost three months ago and became a widow at 35 years old. Reading your book was like finding water in the desert. I felt so much shame about my sexual thoughts and feelings so soon after his passing. I was going crazy with the weight of my guilt and at the same time lust was crushing me. Thank you for writing this book, I feel less alone in my struggles."
Joan Price is featured in this article from the New York Times looking at the joys and challenges of sex as we age.
If you're over 50 and looking for some age appropriate titillation, open up Ageless Erotica. This collection serves a wide variety of sexual interests, and you may appreciate some stories more than others, but I highly recommend keeping this at your bedside. Go through the stories, highlight or bookmark your favorites, and share them with a friend, lover or spouse. Or use your particular favorites to jump-start arousal when you're alone too. I'm already looking forward to a sequel!
Ms. Price, a longtime educator and advocate for sex after 60, has assembled 31 short stories of people long assumed to have aged out of their desires, enjoying the fact that they have and can live out their desires. The good news seems to be that the women have full possession of their sexual selves. These women know what they enjoy and how to get it. These ladies have out lived their body issues and their pretenses of being too innocent for that. Their confidence in themselves and knowledge of the choices make all of them that much more desirable.
Ageless Erotica spans a wider horizon of choices than we may have assumed would still be available. All are well written and all provide hope as well as stimulation for the imagination. However some aging parts may have varied in their dependability, the imagination can get richer with age.
Joan Price has almost single handedly torn aside the curtain hiding senior sexual behavior. She solicited erotic stories from those over fifty and compiled the best into this wonderful collection. Price decries the snickering and embarrassment associated with senior sexual activity and presents stories of senior sexual encounters across the sexual spectrum, and her stories are spot on. The coming wave of Boomers will push aside the stereotypes of asexual seniors and embrace the truth that sex is not only universal, but timeless. Seniors should consider this as an interesting addition to their bookshelf, and will be relieved to find that they are not the only retirees harboring desire for a continuing (though different) sex life.
Ageless Erotica is a marvelous anthology, full of surprises! I'm tempted to tell you which story I liked best, but then you'd know too much about me.
"I'm 77 and my husband is 92. I received your book, The Ultimate Guide to Sex After 50. I decided that the best way to make sure my husband of 30 years reads the book and understands it is to read it out loud to him. I can't remember when we last had sex, and when we did, we were both very frustrated and fed up.  So in two days, I am up to page 28 this morning, when we spontaneously decided it was time to go back to bed. First orgasm together since I can't remember when! Proves my theory that just like talking about food makes you hungry, talking about sex makes you sexy. Thank you for a wonderful morning and a terrific book. (I'm glad it's not a short one.)"
"First, I must say that I can't believe I had to turn 65 to read your articles in Senior Planet. It wasn't even intentional. I had to sign up with AARP in order to get the healthcare supplement for my Medicare. You were the premium. Better than a complimentary t-shirt. I have never read articles like yours. They are an honest, bare-naked, plain language treatment of every issue of sexual health. Your articles should be part of high school curriculum.  If they were, we might not all be in the physical and emotional mess we're in.  So, thank you. I will continue to read. I think it will give me a new perspective on the whole mess."
"Joan Price is an amazing educator. She provides a wealth of information, ideas, and lived experience, and delivers it in a way that's relatable and never condescending. Every time I see her speak, I fall in love a little more. Book her for your event!"
"Joan is an absolute pleasure to work with. Her virtual presentation – 7 Steps to Reclaiming Sexual Pleasure after 50 – Partnered or Solo – was a huge hit. We received several requests to bring her back. Joan's ability to make 'taboo' subjects comfortable, educational and fun is amazing. Even through Zoom, her warmth and knowledge shine through. My heartfelt gratitude goes to Joan for making my event an effortless success!"
Michele Mangrum, Manager, CJE SeniorLife, Chicago
"Great talk by Joan Price. I think she was the best speaker at any CJE event I attended."
"She's a hoot. Great presentation. My husband took lots of notes. Uh oh."
"Joan is awesome; knowledgeable, straightforward and humorous in her approach. I'm a fan!"
"Having taught at the university level for many years, I'm aware that people's attention begins to wander after an hour and a half. In this case the speaker was outstanding and my attention remained riveted on what she had to say. Thank you for scheduling this informative and entertaining presentation!"
Attendees, CJE Senior Life, Chicago
"A smashing success! Joan knocked it out of the park with three amazing virtual presentations for the Denver Public Library. All three were seamless and enjoyable for everyone. Joan's vivacity shines through, even in a virtual environment, easing any tension that might exist around such a touchy topic. Joan is easy to work with, reliable in both communication and action, and her presentation style is wry and witty!"
Tara Bannon Williamson, Senior Librarian, Park Hill Branch Library, Denver CO
"Masterful presentation. You are an incredibly effective public speaker. Something in your personal style pulls others into a seemingly close or even intimate space in which you share personal stories effectively by way of making important larger points. Your viewers/listeners are lured in because you've allowed them in on secrets, on personal things, and they come away feeling special and included. It's a power that you have."
"I cannot say enough good things about your keynote. It was definitely the highlight of the day. I always enjoy listening to you. I feel you're always teaching me things. You shine on camera. You absolutely sparkle, you captivate your audience, you are perfectly in your element."
Attendees, Sex Down South virtual conference, Sept. 2020
"Joan is a light! We had the pleasure to have her speak at our Pain and Pleasure panel at the World Sexual Health Day celebration 2020 hosted by Stanford University. Joan is informed, informative and engaging with her presence and message. She has a way to convey critical information in a humorous and accessible way that lands with every single member of the audience. Joan is also savvy in navigating virtual presentations which was a huge bonus for us. We look forward to our future collaborations with her."
Sara Nasserzadeh, PhD, Co-Chair, World Sexual Health Day at Stanford University
"I'm a fan. I've read your book Naked at Our Age and seen you lecture at several sex ed conferences over the years. I love what you've created in the world. Your no-BS honest writing about sex and relationships has been a game-changer for my clients who've read your work in tandem with my coaching. You've busted through the taboo of talking about and having sex as a senior. Thank you so much for your work. You have so much wisdom and expertise to share with women who want to stop struggling in their sex lives from a lack of information or damaging myths and feel truly alive and confident in their bodies."
Eva Blake, Sophisticated Sex Ed and Intimacy Coaching
"Joan Price is so smart. She puts her mind to a subject and gets right to the point. If she weren't so compassionate and loving she might be too to the point, but the overall impression when you get finished is that somebody who knows what she's talking about and has the strength to live an honest life has your back…She gives enough examples of the unique way that each individual manages grief that this reader felt permission to grieve however the hell she wants. Or he — men get equal treatment in her books. She backs up the anecdotal evidence with the observations of psychologists and researchers who have studied grief. No stone is left unturned. For all its heavy subject matter, it is a quick and engrossing read. Lots of honey makes the knowledge go down, and every griever should sit down with it one afternoon. You'll feel much better after reading it."
It's refreshing to see a film that has both accurate sexual information and sexually explicit images of older people.  "Jessica Drakes's Guide to Wicked Sex: Senior Sex featuring Joan Price" has the rare combination of being both soundly educational and very entertaining! It makes a great contribution to senior sexuality education.  Thanks for making it happen.
"My lover and I enjoy reading Ageless Erotica to each other, particularly whilst driving. Makes a trip pass quickly especially on the way to a nudist camp. Great stories."
"Thank you for writing Sex After Grief. Your book is a gem and much needed. I hope to have a life and love again, including having a great sex life. I am joyfully sharing your book with a few girlfriends who lost their loved ones, too. I will reread the book again and again."
"I read your book on Sex After Grief in one sitting. Right now, I have so many family and friends who are recent widows or widowers. I know of death. I know of loss. I know of grief. There are no rules. I want to thank you for writing about sex. I especially want to thank you for writing about sex after grief."
"The principal issues in this journey involve feelings of shame or guilt about the body's or the mind's desires. Some grievers think that physical intimacy with someone new is disloyal, that you need to wait until you are no longer grieving or to wait at least a year before having sex with a new partner, and then to be sure that the new partner is a potential next mate. The reality is that there is no specific moment when grieving is over; caring for oneself is not disloyal, and the physical acts and responses may well be an outlet for powerful needs."
George Szasz, CM, MD, BC Medical Journal
"There are so many things I absolutely loved about this book. Some include:
'A Griever Shares' sections interspersed through all the chapters where real people are quoted to illustrate different topics.
The inclusion of a wide range of sexualities including queer, heterosexual, and polyamorous relationships.
The raw, honest, and vulnerable excerpts from the author's grief and memory journals and her own insights in her struggles and journey working through grief.
A myriad of resources throughout the text—I wrote down four more books about grief I want to read!
"Overall this book covers so many aspects of grief and sexuality while nurturing a shame-free philosophy. The author emphasizes that grief (and sex) is personal and unique to every individual, deserving respect and exploration.
"I am so happy this book exists in the world. I think it is a solid resource written in a way that is inviting and not overwhelming. I hope libraries add it to their collections and grievers can find and be helped by this book."
Leandra Vane, The Unlaced Librarian
"jessica drake's Guide to Wicked Sex: Senior Sex explores the different ways aging can affect sexuality, both with a partner as well as solo. Its steamy scenes feature explicit demonstrations of sexy seniors who aren't afraid of having passionate sex in front of the camera…The titillating scenes, which feature real seniors, will likely prompt many couples over 60 to discover the pleasures of intimacy again, without having to confront themselves with images of younger performers with unattainable bodies."
Sex After Grief is another jewel in Joan Price's crown. Throughout this book Ms. Price combines her personal experience of loss, her wisdom, expertise in matters of senior sexuality, and the experiences of others who have lost a loved one. She also brings in viewpoints of noted experts. It's the back-and-forth storytelling that draws you in and holds you. Despite the subject matter this is a book that is easy to read. When finished I think that you'll find yourself comforted and reassured.  While most who read this may be of an older demographic, this book also touches upon those who've also lost their beloved at a relatively young age. There is so much to learn from this book no matter what your age, situation, sexual orientation, and gender. I was drawn to the previous works of Joan Price because of her extraordinary gift of common sense and sound judgement. Reading this book continued to reinforce these conclusions for me.
Randy Austin-Cardona, M.Ed
"Recently I had a telephone consultation with Joan, and she provided information and ideas that expanded what I had already learned from her books and blogs.  I learned ways to open up the conversation on sex in my relationship. This consultation was very helpful."
Today I teared up in the store when I found Ageless Erotica on the shelf and opened its pages and began to read your introduction. I can't tell you how grateful I am for the fact of this book's existence. Thank you, thank you. I went looking for smut today as I re-engage with my own sexuality after the end (and the betrayals and the hurts) of a long-term relationship. As a result of things that happened in the relationship, plus menopause and a changed body, plus the way women become invisible at a certain age, I have a lot of very complicated feelings about aging and sex. This anthology makes me happy. It's sweet, and it's validating, and I will sleep with it under my pillow.
"This is a terrific road map for the newly widowed/widower. From the first page to the last, I couldn't put this book down. It's like there has been a fly on the wall of my life these last seven years, so much of what Joan has written is what I've been going through. My husband and I had been together for 33 years, before he left this plane of existence.  I know he's on this journey with me as I have explored FWB, solo sex, my (New) First Time, The Pilot Light Lover and more. This book validates everything I've been going though, including my hesitancy of possibly creating a new relationship. I highly recommend reading this book, and reading it more than once. After all it's a map to find your direction ❤️👍❤️"
"In collaboration with Joan Price, and with the joyful participation of two older couples, jessica drake's Guide to Wicked Sex: Senior Sex is a one-of-a-kind video. The film presents an informative and erotic look at sex for those who are generally rendered sexually invisible in the United States. If we are to protect our right to sexual freedom as we age, we desperately need resources like this one."
Elizabeth Anne Wood, PhD, Writer | Sociologist | Coach
"I'm reading your book, Sex After Grief, and it's wonderful. Even though it's been so long since I lost my husband, it still resonates. Congratulations. And thank you for including my thoughts and feelings."
Lynn Brown Rosenberg, author, My Sexual Awakening at 70
"Joan Price was our keynote speaker for our 39th annual Mental Health and Aging Conference. Our focus this year was Intimacy and Sexual Expression in an E-Society. Joan was the absolute perfect fit for our conference! We had other speakers, but Joan's presentation was genuine, grounded, factual and very educational — and a bit funny at times! Her matter-of-fact sharing helped to ease the audience's minds on a topic seldom spoken about in public: sex! We all learned a great deal from her vast experience, and the evaluations raved about her presentation. We are so very happy to have had the privilege of getting to know her — she's one wonderful human being!"
Deborah Roberts, Clinical Training Director, Turning Point Community Programs, Sacramento, CA
"This fit and sassy septuagenarian is a role-model extraordinaire. To the prize-winning author of Naked at Our Age and Sex After Grief, no question about senior sex is off-limits. She is known as as a fierce advocate for ageless sexuality and is about as open as it gets when it comes to talking about sex. Joan is zealous about spreading the word that adults can be passionate and desirable at any age. She is frank, funny, knowledgeable and articulate. Our members are still talking about her presentations. Very well received, indeed!"
Riverdale Senior Services, Bronx, NY
"Joan Price was a high school English teacher for 22 years. She was divorced and never had kids. It wasn't until she was 57–decades after any Hollywood rom-com director would think it possible–that she met the 64-year-old man who would sweep her off her feet…[now] Price is the energetic face offering practical sex advice to seniors who don't lose their libidos just because they've been on this earth a little bit longer than the rest of us."
"Joan Price is one of the nation's most prominent experts on sex and aging."
"Twenty-six letters in the alphabet aren't enough to express my gratitude for what I learned from your '7 Myths About Sex and Aging' talk! Thank you."
Successful Aging Expo attendee, San Diego
"The many voices in this book are smart, well-spoken and insightful…White-knuckle grief, 'skin hunger,' guilt, disloyalty, loneliness and isolation, and even loving memories clog the path forward…Every loss is unique, every person is unique and, therefore, every journey is unique. Price's chapters about myths, grief counselors, dating and "pilot light lovers" (those who ignite dormant passions) are all especially meaningful in that they explore experiences, sexual orientation and concerns."
Please read the rest of this beautiful review here.
"I just finished Sex After Grief last week. I laughed and cried, and enjoyed every page! Thank you for giving me the opportunity to see sexuality through a perspective I haven't experienced ❤️"