2023 Note
My speaking calendar is fuller than it looks here. Most of my presentations are virtual and private to members of the organization that booked me, so they don't appear on this public calendar. I am booking virtual presentations internationally. Please contact me if you are interested in having me talk to your group via Zoom or your preferred meeting platform. I am accepting in-person presentations on a limited basis – ask me.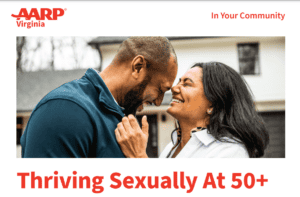 Dating after 50, 60, 70 and beyond can feel awkward and weird. How do you meet people? Do you need to use online dating? What are the mistakes most people make with their online profile and photos? How do you avoid the pitfalls, weirdos, scams and creeps? Whether you're widowed, divorced, polyamorous, or a long-time single, Joan Price's entertaining one-hour webinar will be illuminating and practical – plus you'll find out how others our age meet and mate. You'll enjoy useful tips, shared stories and plenty of laughter!
I'm presenting my lively "How the Heck Do I Date at This Age?" as part of  this series:
Sex at 50+: Thriving Sexually At 50+
AARP Virginia's three-part virtual series will focus on dispelling the misconception that as you get older, you're no longer interested in sex.
October 10: Sexual Health in Older Adults, Marissa Galicia-Castillo, MD, FAAHPM, 6 – 7:30 p.m. Eastern.
October 17″ "How the Heck Do I Date at This Age?" Joan Price, 6 – 7 p.m. Eastern
October 24: Fostering Sexual Wellness for the LGBTQIA Community, Alex Rago, Ed. S., M.Ed., 6 – 7 p.m. Eastern
Learn more and register for  "How the Heck Do I Date at This Age?"
For more information about the series, visit https://events.aarp.org/Sex50.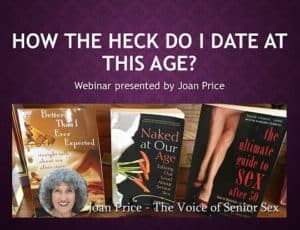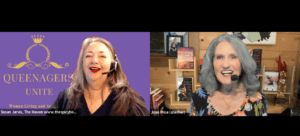 The Spicy Boudoir is proud to bring to you the inaugural Queenagers Unite 'Talking About Ageing, Sex and Life In Between' in Brisbane, November 4, 2023!
I'm thrilled to be a featured speaker at Queenagers Unite! in Brisbane, Australia. This daylong event for senior women, including speakers and entertainment, is hosted by Susan Jarvis, owner of The Spicy Boudoir, in partnership with The Ageing Revolution.
Yes, I'm coming to you, Queenagers — my first in-person speaking event since 2020. I can't wait to meet you and talk about what matters and what doesn't as we age. And of course we'll talk about sex!
Learn more about this event and purchase your ticket in advance for a discount at Queenagers Unite! Talking about Ageing, Sex & Life in Between!
"How the Heck Do I Date at This Age?"
Joan Price offers dating do's and don'ts, red flags and advice for seniors re-entering the dating world, hosted by Senior Planet and AARP Dating after 50, 60, 70 and beyond can feel awkward and weird. How do you meet people? Do you need to use online dating? What are the common mistakes you might make with…