Saying "No" with Class: Rejections I've Liked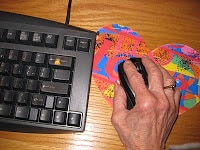 I thank you for the positive response to my Dating Advice for Men Over 50. My dabbling in online dating continues to be interesting, often funny, sometimes frustrating when the dating sites seem to ignore my criteria when announcing with great fanfare that they've found a match for me.
As I've said earlier, I'm going into this to expand my social life and meet good men who might become friends, or provide an hour of interesting conversation, or stimulate me to pursue a deeper relationship — or just remind me why I enjoy my single life. I'm not earnestly seeking a soul mate or looking to get married. This gives me the advantage of being able to take this whole process lightly, and my day is not ruined by a rejection or by the paucity of applause-inducing matches.
Sometimes I read a profile that leaves me saying, "Wow! I'd like to know this person!" and I send an e-note expressing why his profile interested me. Occasionally my interest is returned, but that's rare (I'm not sure why). Usually I'm ignored. I really like it, though, when the recipient of my interest sends me a polite "No, thank you."
To encourage you to do this, here are some of the nice ways I've been turned down:
Thanks for the note and kind comments. My age range is general, like any sensible man would say, but it can be a factor. Equally, if not more, important, is the geographic range. While I know that your city is not on the other side of the moon [comment from Joan: we live about 40 mi. apart], it is too far for me at this point of this odd online dating process. I have tried the long distance relationship a few times, and each time, it proved too much the struggle. So, thanks for reaching out, and I wish you the best.

I am so honored that you would send me an email. You look and sound like a delightful woman, and I enjoyed reading your profile. However, as flattered as I am by your contact, it's my strong hunch that we're really not a match. So, let me send you my best wishes for meeting your match.

Actually, I am looking for a soul-mate. Dating and friendship is fine, but I would like to "go all the way" as it were. About four years ago, I dated a woman who had lost her husband and I thought we were a pretty good fit, but she loved her husband very much and had no room for me. You seem like a smart and interesting person, and I could be making a mistake, but somehow I feel that we aren't a good fit either. You may be right in looking for a widower. Thanks for writing me.
Thank you for the contact and the nice words. I am in a process of transition, learning to listen to myself and find out what I am looking for at this juncture in my life. You seem like a beautiful and interesting person. However at this point I don't feel that we would be a good match for dating. I send my heartfelt wishes to you to find the person and love that you seek and deserve.
Readers: Have you received "no, thank you" notes that made you smile instead of cringe? Have you sent any you'd like to share?
1/30/11 update: Here's a rejection I really didn't like — after a few emails and a phone conversation, an interesting man and I made a walking date — and he didn't show up. Didn't show up, didn't call, didn't respond to my "are you running late?" phone messages. I wasn't even close to home — I was out of town (out of my town; in his town) on a weekend trip, and could have planned something more stimulating than waiting at the designated meeting spot. I didn't know people our age could be that discourteous.
2/2/11 update: I was surprised by a phone call from the no-show described 1/30 — turns out he was injured and in the hospital, and days later felt up to making his way through returning calls and notifying people. So I completely misjudged him, and I apologize.