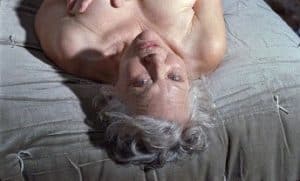 Before I tell you anything more about the topic of this blog post, please watch the video "Ageless" below:
Done?
How did you react to the video during the first 35 seconds, when the message seemed to be simply that we can feel sexy in older bodies?
How did you react when you learned that the women in the video were all living with urinary incontinence?
What were your thoughts and feelings when the video ended?
I'll tell you my response to all three questions: joyful. I love it when senior sexuality is celebrated, especially when the changes and challenges are normalized, accepted, and embraced. I love seeing senior women portrayed as sexy and confident.
Did that change when I realized that these women all had their "trickle of joy" or "sneeze wee" as part of their daily lives? Nope.
TENA, a global brand specializing in bladder incontinence solutions, came to my attention with this advertising campaign for women. Instead of using the video to promote their incontinence products directly, TENA wanted to increase awareness and acceptance of the sexuality of older women — even if they leak urine.
Our intention with this film is to acknowledge that many women do live with incontinence (as many as 1 in 3) and to give women the confidence to talk about it, to seek advice, and to know that they can continue living their lives as they want to. This campaign was inspired by speaking to real women and the stories they had to tell about their sexual experiences while having incontinence.
Not everyone feels so accepting. At the time of this writing, "Ageless/TENA" has 1,705,102  views, 132 "likes," and 208 "dislikes."  Reactions in the 45 comments range from "Great ad! Love it!" to "nauseating" and "cringe worthy." Some of the comment writers are quite upset and express themselves vehemently (and not always grammatically):
Remove this ad! Its DISGUSTING!
I thought the Always ad was one of the worst I had ever seen then I seen this Tena ad. It is not "completely normal" to "Whoosh" nor is there anything sexy about being incontinent so please stop trying to convince women that there is just to sell your products. It's patronising condescending & a lie!
I AM target market but this utterly alienates me. I will now go out of my way not to buy Tena.
Others are filled with positivity:
Makes me want to be stunning and brave too.
What's to dislike about this? Women don't stop being sexual entities just because they get older, and incontinence is no respecter of firm skin or a pretty face. I like this ❤️
I know it's just an advert to sell a product, but I find this refreshing, honest and beautiful.  It saddens me the number of women that feel they are the wrong age, shape or size, I hope this and other adverts like it will change perceptions in time.
This add is so beautiful and so intimate, that I feel privileged to have been "let in". I love how these beautiful women of different ages, shapes, sizes and colours, with imperfect bodies, allow themselves to be vulnerable in public to encourage women out there to love themselves and live fully, even when they don't match those unachievable beauty standards promoted by media. Their beauty radiates so warm and so strong that it makes me happy inside!
When I first viewed this video in March 2020, I commented,

I'd like to expand on that.
Most seniors and elders encounter sexual challenges. Aching joints, dry vagina, unreliable erections, decreased sensation, elusive orgasms, or a combination of these are common. You'll find plenty of information about how to deal with these issues and remain sexy in my books, articles, and webinars. But one common concern that I've never addressed before is urinary incontinence.
Urinary incontinence can affect sexual enjoyment. You may avoid sex out of embarrassment, shame, self-image, anxiety. Feeling self-affirming, and sex-positive can make the difference between enjoying sex and avoiding sex. Let's choose the former.
Worn-out stereotypes simply don't describe how women over 50 are living their lives now. Thanks to thousands of women who shared their stories with us, it's clear they are enjoying enriched, fulfilling experiences including sex. Incontinence doesn't change this.

– From TENA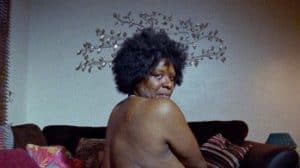 TENA's campaign drew media attention, not always positive. DailyMail.com published an article titled "Women my age should not feel pressure to be sexy" by Sarah Vine, age 52, including these sentiments:
I don't doubt the good intentions. But what if you're not comfortable with your ageing body; what if you don't look at yourself in the mirror and see a glorious goddess but a baggy old bag; what if you don't find sex as pleasing as it once was?

Now your own lack of self-esteem is just something else to feel inadequate about, your lack of desire yet another example of how you're letting the side down by being insufficiently thrilled at the thought of stuffing your crinkly cleavage into some underwiring or hauling your sagging derriere into a pair of fishnet tights.

…In this age of over-sharing, there are some conversations that should remain private. And this is one of them.
I guess Sarah Vine would consider me one of the over-sharers. I think that keeping conversations about sex and aging private — meaning not having these conversations at all! — reinforces our invisibility as sexual beings and stops us from finding solutions and work-arounds.
Society would rather not see us as vibrant sexual creatures, whether because of pee leaks or just because we're old. We all experience sexual setbacks, that's part of getting old(er). But making information easily available will help us overcome those problems, rather than letting the problems limit us. I vote for keeping the conversation open, loud, and frequent!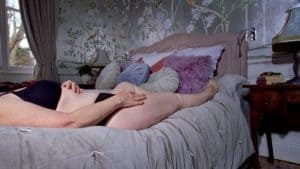 Your opinion? Please post your thoughtful comments. Respect each other, please, even if you disagree with someone's point of view (including mine).
(For more information about urinary incontinence, see https://www.tena.co.uk/women/about-incontinence/.)