Posts Tagged 'Hot Octopuss'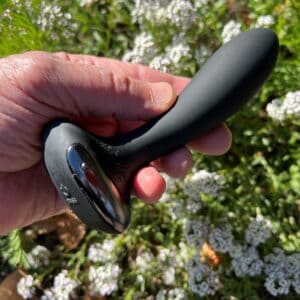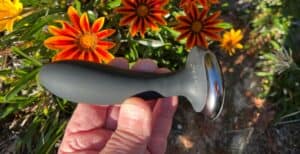 PleX is a "customizable vibrating butt plug," says its creator, Hot Octopuss. I see it more as a vibrating dildo for your rear end, more a pleasure plunger than a plug. The anal area is rich in erogenous nerve endings, whatever your gender.
Prostate owners will find PleX a fine "P spot" massager. The insertable part is 4.5 inches, more than enough to reach your prostate, which lies 3 to 4 inches from the start of the anal canal. But you don't need to have a prostate to enjoy PleX for anal play.
How does it work? Anal toys give you a full feeling by putting pressure on internal erogenous zones. PleX's 1.25-inch diameter (4-inch circumference) girth "full-fills" this via the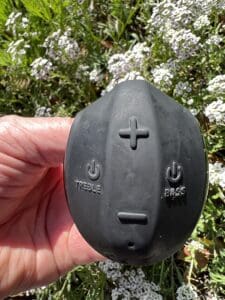 shape of its nicely tapered bulb. Once sufficiently slick with water-based lube, PleX glides in easily. You can then move it in and out or wiggle it all about. By adjusting the five different vibration patterns and varying the strength of the Treble and Bass levels, you'll locate the perfect vibratory buzz and spot you seek.
What's "customizable"?  PleX offers many vibration options via Hot Octopuss's unique Treble-Bass feature. This special technology has two motors that you control separately to produce a host of delightful sensory combinations. Each has five speeds and five vibration modes with adjustable frequency. With this customizable device you can experiment and mix different Treble and Bass levels until you find the one — or more — just right for you.
I first enjoyed this patented Treble and Bass technology in 2019 with the JETT, Hot Octopuss's second wonderful penis toy after the innovative Pulse "guybrator." In 2021, they extended it to the Kurve — a much-lauded toy for vulva owners, which Joan calls "a party in your vagina!"
"Flex"? Hot Octopuss calls their toy "PleX with flex." They promote the benefit of the insertable part bending up to 90 degrees in any direction. While that flexibility allows you to move PleX around at different angles, the bulb doesn't hold or retain the bent position. It returns to its original shape almost immediately. "PleX with flex" may be a cute rhyme, but for me the flex adds nothing to the pleasure of the PleX.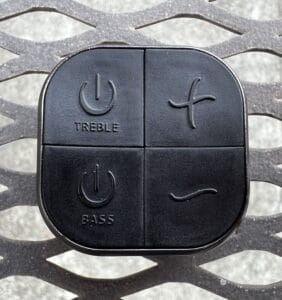 Remote control: PleX comes with a remote control so you or someone else can change vibration levels without needing to touch the toy. The remote lets a partner surprise and stimulate you while you recline in pleasure. However, the remote is small — just 1.5 inches square — and very thin, making it easy to lose. It's difficult to press the buttons on the remote with lubed fingers. (PleX's controls on the toy itself are easy to manipulate, even with lubed fingers.)
Like all Hot Octopuss toys, PleX is made from body safe materials. Its sleek black matte silicone body with just a touch of chrome on the base radiates quality. It is completely waterproof (except for the remote), fully USB rechargeable via the pin cable included, and relatively quiet. It makes a delightful shower toy.
Personally, I find PleX to be much more than an anal toy. It's a feel-good-all-over toy! Its separate patterns and vibration levels delight my penis, my scrotum, my perineum, and my nipples. I like to use PleX externally to excite these different erogenous zones before beginning anal play. Once I'm revved and lubed up, PleX provides a range of lovely sensations after insertion. I especially find it fun to alter the rhythmic variations and the vibration levels to explore different locational sensitivities.
PleX is a fine new fun toy from Hot Octopuss. Its versatility extends beyond the nether region, and it would make a superb gift for yourself or someone special.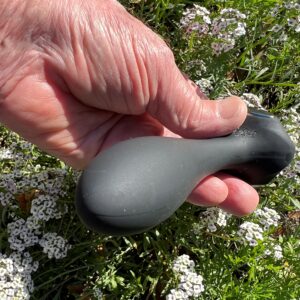 —Shamus MacDuff, age 79, was oblivious to the delights of sex toys until about 5 years ago. He's been making up for lost time! Read his other posts here.