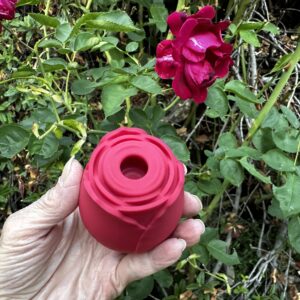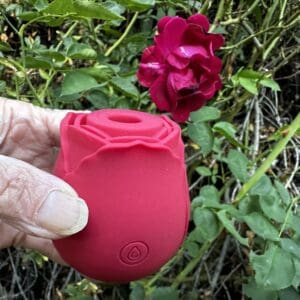 I think I'm in love. The beautiful and arousing Inya the Rose from Good Vibrations has become a dear friend with benefits. Inya the Rose by NS Novelties combines the pleasures of air pulse technology with powerful vibrations in a compact sex toy that looks like an artistic model of a rose. It's small, but the sensations are big!
Air pulse technology, if you haven't experienced it, feels kind of like gentle sucking, nibbling, and pulsing on the clitoris. It's hard to describe, but luscious to experience!  Combine that with vibrations, and you're on your way to orgasm.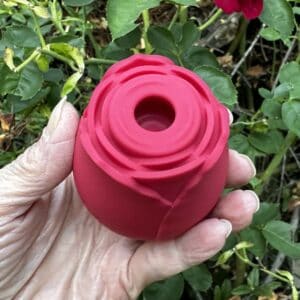 Here's how to use it:
Apply your favorite water-based lubricant on and around your clitoris and inner labia and on the top surface of the Rose.
Turn on the Rose by pressing and holding the "water drop in a circle" button for two seconds.
Press the center hole of the Rose to your clitoris. Wiggle it around until your clitoris says, "Oh, yes!" Get a good seal for the most enjoyable sensations.
Press the button quickly to cycle through intensities 1-3 and, if you want them, 7 different rhythmic patterns.
Hold it still, or circle, or twist for different sensations.
Relax and enjoy!
When you're done, press and hold the button for two seconds to turn it off.
I was astonished by the amount of power in this little thing, and I love that it does not get buzzy when increasing intensity. The small size makes it possible for your or your partner's fingers to assist if you like vaginal penetration along with clitoral stimulation.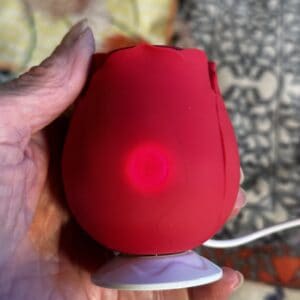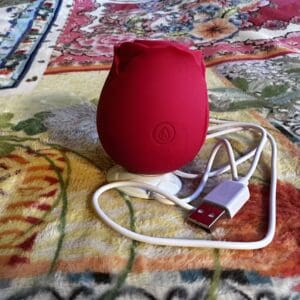 Inya the Rose is made of body-safe silicone. It sits on a magnetic charger for easy USB charging.  The "water drop in a circle" control button lights up during use and while charging. Although designed for the clitoris, Inya the Rose delights sensitive nipples of any gender!
Anything I didn't like? The packaging is plastic inside a cardboard box, no storage pouch. I know that keeps the cost down, but I do appreciate a storage pouch with my vibrator purchases!
I've read an occasional review from a user who complained that her clitoris was too large for this product. Realize that the hole in the center needs to surround only the tip – the rest presses against the surrounding area. However, if you think this might be an issue for you, this product might not be your best choice.
Caveat: There are many rose vibrators on the market – they seem to be a trend now. They're not the same. I tried another Rose of similar (but not identical) appearance, which I found not only not pleasurable, but actually uncomfortable, because of the design and placement of the petals. I won't name it, because we're all different, and it might not feel the same to you. But do your due diligence in reading reviews when you order this or any other sex toy – don't make your selection because an item is cheaper.
Many thanks to the good folks at Good Vibrations for sending me Inya the Rose in return for an honest review.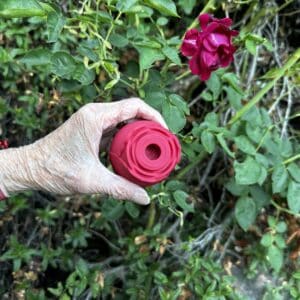 In case you're new to my work, I've been reviewing sex toys from a senior perspective since 2007, when I first reviewed the Eroscillator (still one of my top favorites). I've been using sex toys since buying my first Magic Wand in the "personal care" department at Macys in the 1970s! I tell that lively story to Kate Lister in the "Sex In Old Age: Myths, Toys & Desire" episode of her marvelous UK podcast, "Betwixt the Sheets: The History of Sex, Scandal & Society." Give it a listen!