Body Kisses by Gender X: review by Shamus MacDuff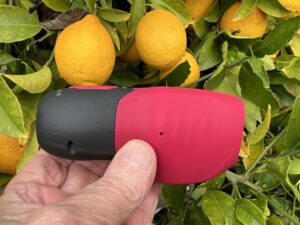 If you're a penis owner, do you enjoy blow jobs? Do you like to lie back and let someone/ something else pleasure you? If so, you need to meet Body Kisses, a new Gender X toy sold by Betty's Toy Box. Gender X describes it as a "vibrating suction stroker and humping toy." It functions nicely as a penis toy! It is a fun and handy toy for senior penis owners, especially, because a hard erection is not required to enjoy it fully.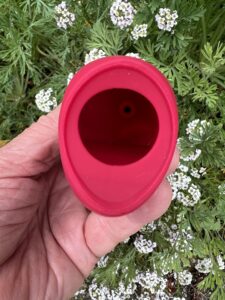 Body Kisses has a "mouth" not quite an inch wide and stretchy that opens into a 2-inch deep chamber. Insert the head of your penis—flaccid or erect—and engage the easy-to-use controls atop the toy. One button turns it on and off and changes the three speeds and four patterns. The other button triggers the suction mechanism so that air is removed and the "mouth" grips your member. By clever design the vibrating function and the sucking function can operate together or separately.
Start flaccid. Usually, I begin using Body Kisses by inserting my flaccid penis head. That's because I find that once I'm completely erect, it takes lube and quite a bit of pushing to get my penis inside the toy's chamber. The same is true for the Fun Factory Rainbow Amor dildo with a 1.5 inch diameter. Lube is essential for girthier insertions.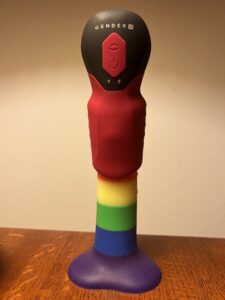 While we're playing with dildos, the slender Fun Factory Limba Flex S (1.1 inch diameter) and the gorgeous Subana Sweetheart Glass Dildo (1.26 inch diameter) from England had an easy time sliding into the Body Kisses.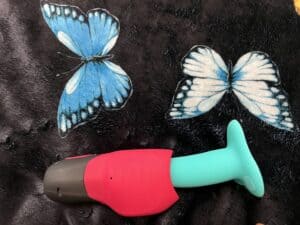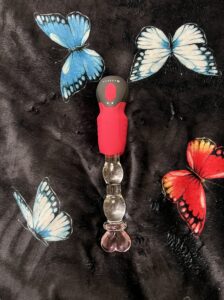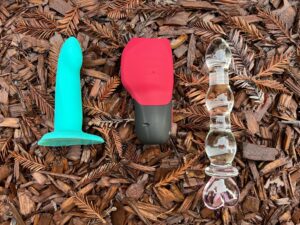 Back to me and my pleasure. My favorite way to play solo with Body Kisses is first to trigger the suction mode so that the slightly-under-half-a-pound toy clings to and hangs down from my penis. Then, while it's just sucking, I increase the speed and alternate the patterns. As my erection rises I add the vibrating function to the sucking function so that both are at work. Finally, with the fully activated toy dangling between my legs, the external humping area buzzes my testicles while the sucking and vibrating "mouth" brings me to a climax.
Body Kisses is made of silicone and is splash proof but not immersible. It's relatively quiet, and it is easy to hold and manipulate. Body Kisses is rechargeable with a magnetic USB cable provided. A minimal instruction sheet is included along with a 5-year warranty card. The packaging is spartan—a thin cardboard box containing a flimsy plastic holder for the toy and cable. I wished that it came with a cloth carrying bag.
This was odd. I was puzzled to discover that after cleaning and (I thought) drying the toy, water and toy cleaner bubbled out of the small hole on the side the next time I used it. I learned to avoid this by operating the vibrating function during the cleaning process until all fluids were emptied from the toy's cavity. Gender X should have explained this issue on the instruction sheet.
What is Gender X? In November 2021, Evolved Novelties launched Gender X, a new line of sex toys that moves away from traditional gender-specific marketing. Under the motto "universal imagination," Gender X wants us to discover our own pleasures from any specific toy. Their idea is for the possibilities of gender-neutral sex toys to be user-driven and open-ended.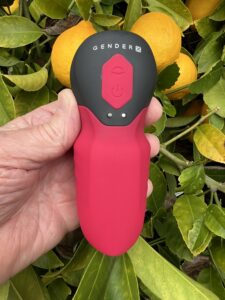 I was curious about the name they'd chosen for the toy, so in the spirit of user-driven universal imagination, I first applied it to various sensitive body parts that like to be kissed. But it didn't "kiss" my nipples, scrotum, or inner thigh, even when I applied lube around the rim of its suction hole to see if that created a seal. My cis-female partner did not find either the suction or the "hump" particularly stimulating on any of her erogenous body parts. Fortunately, using Body Kisses on my penis proved an excellent choice!
Many thanks to Betty's Toy Box for sending Body Kisses for an honest review it. My pleasure!
Betty's Toy Box offers 10% off  all products to Joan's blog readers with coupon code JOAN10 – check out Betty's many fine products.
—Shamus MacDuff, age 79, was oblivious to the delights of sex toys for penises until about 5 years ago. He's been making up for lost time! Read his other posts here at https://joanprice.com/tag/shamus-macduff