Posts Tagged 'blog award'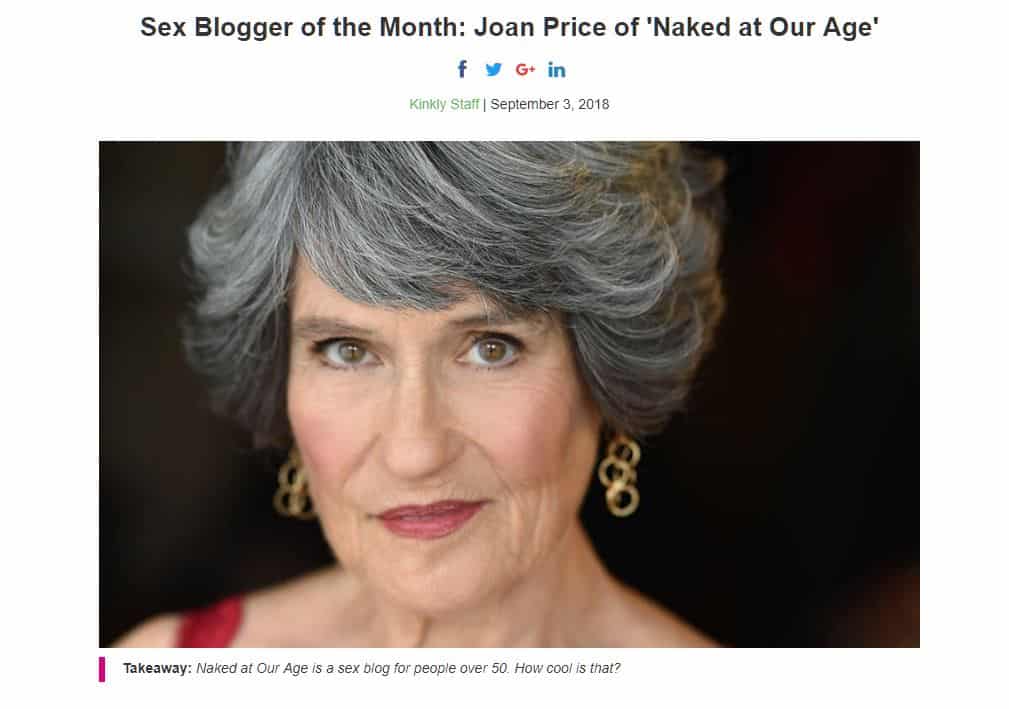 "Naked at Our Age is THE blog to read when it comes to sex for people over 50 – and beyond. It's fun, sexy and – if you're aspiring to a long and healthy sex life – inspiring." These words are from Kinkly, a website about sex whose mission is "to start that conversation, answer your questions and help you discover new and exciting things about sex, love and your body." I'm honored and delighted to be chosen the Kinkly Sex Blogger of the Month for September 2018!
This brings me joy. I love knowing that my work is appreciated! More important, it shows that we're getting closer to the time when older-age sexuality is seen as normal and fabulous.
It starts with us, my generation, celebrating the joys and sharing how we address the challenges of having sex in aging bodies.
Then it spreads to the bigger sex-positive community like Kinkly, CatalystCon, Woodhull, and all the sex educators and media that give me a platform to share this information.
Next step: eradicate the "ick factor" that surrounds sex and aging. Okay, I'm dreaming big, but I was dreaming big when I started this blog in 2005 and wrote my first book about senior sex, and look what happened!
If you're new to this blog, check out the categories and roam, reading whatever interests you. For more about sex and aging, I invite you to subscribe to my occasional (once or twice a month) newsletter, and "like" my Naked at Our Age Facebook page.
Welcome, and thank you for being part of my world!