Posts Tagged 'toy storage'
What a lovely gift is the ToiBocks! This reddish brown wooden box is 11″ long by 7″ wide by 6.25″ tall and is lined with dark red fabric. It looks like a jewelry box and sits tastefully on the dresser. But it's more than a jewelry box — it's a sex toy storage box!
The ToiBocks has a shallow, top level where you can store small toys and a deep, lower compartment that stores medium-size toys. My goodness, how many toys it can store, as you see!
Important note: I piled a bunch of toys together to show you how much room there was and to let you have fun identifying the toys, if you're so inclined. However, never store silicone toys touching each other — they can degrade, melt, get tacky, and otherwise interfere with the long life of quality toys. So if you want to stuff a bunch of toys in the ToiBocks — and that's the point, after all — keep each toy in its own little storage pouch. That's what I did after I was done taking photos.
The cool thing is that the bottom compartment is — ssshhhh — secret because it's locked. No prying eyes or fingers will figure out how to get into it. In fact, we who own the ToiBocks are sworn to secrecy. All I can tell you is that there's a magnetic "key" that lets you access it if you know how, and you won't know how until you read the instructions.
This is very cool if you need to hide your toys. At my age, though, with no need to lock anything except my door, the automatic locking system is more a hassle than an attribute. That's because even knowing the secret system, it took me a dozen tries the first time and five tries the second time to get the lovely wooden box open. As far as I know, there's no way not to lock it. I'm sure that Eden Fantasys, the fine folks who sent me the ToiBocks for review, will let me know if there's a secret way to keep it unlocked, or maybe I'll just get more proficient at opening it.
(Next day update: Yep, I can unlock it on the first or second try now. I had to develop a safe cracker's ear to know when the magnet was ready for action.)
(Two days later update: Thank you, ToiBocksDawn for telling me how to keep it unlocked, see comments.)
I'm often asked by men which toys to buy their women partners, and I always tell them that choosing a sex toy is so individual that women would rather choose for themselves. (Am I right?) But you can't go wrong buying her a lovely wooden "jewelry" box to show how sex-toy-positive you are. Please, though, stick around and learn together how to unlock it, okay?
Thank you, Eden Fantasys, for sending me the ToiBocks for review!
(I see that the ToiBocks is out of stock at the moment — Eden Fantasys assures me they'll be back in stock 3/14/11.)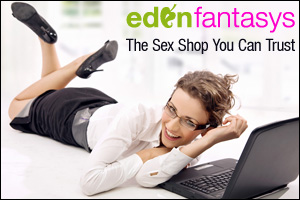 Thank you,
Tunti Toy Store
for sending me a
Tunti Illuminating Boudoir Toybox
! Why do we grownups need a toybox in the boudoir? To store our toys in, of course.
I've seen other cases for sex toys, but this one is unique because it lights up

when you open it, so that you can choose your pleasure in the dark. The case is well cushioned, with removable dividers to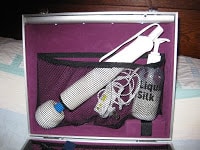 accommodate different size toys, and a large, mesh pocket in the top section for over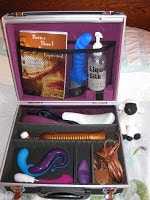 sized toys (e.g. the Magic Wand).
Although the case itself doesn't seem large — 12″×10″x5″ — look how much fits inside! And yes, it still closes.
There's a plexiglass cover for the lower section which I didn't photograph so that you could see the toys more easily, and plenty of nooks and crannies for anything you could want to keep handy. A clever and useful toybox!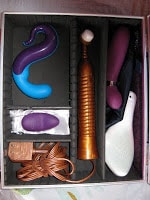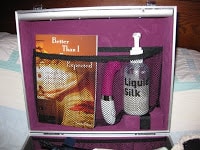 (For reviews of the toys you see here and more, click here.)