Kerri Fivecoat-Campbell interviews Joan Price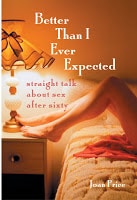 I was interviewed by Kerri Fivecoat-Campbell about the motivation and process of writing Better Than I Ever Expected: Straight Talk about Sex After Sixty. Here are a few excerpts from Kerri's interview with me:
This Author Talks Straight about Sex
Today, I interviewed Joan Price, author of "Better Than I Ever Expected: Straight Talk About Sex After Sixty." She talks about writing a ground-breaking book on an undercovered subject, building her platform on the web and how she sold a book targeting women over 60 when the market place seems almost to ignore anyone over 40!

Tell us a bit about yourself.
I'm a lively woman of 63, enthusiastically in love with my husband. I'm the author of six books and hundreds of magazine articles, a fitness professional, public speaker, and contemporary line-dance instructor. Since my book, Better Than I Ever Expected: Straight Talk about Sex After Sixty, came out and got widespread attention, I've become a spokesperson for senior sex, or, as I call myself, an advocate for ageless sexuality. (I've also been called a "wrinkly sex kitten" by one newspaper – I have to say I love that!)

Tell us about your book.
Better Than I Ever Expected: Straight Talk about Sex After Sixty is mainly my intensely up-front-and-personal story of hot sex with my 68-year old lover (who is now my 70-year-old husband), along with snippets of interviews with other sexually seasoned women about their experiences, and a hefty dose of tips from the experts. It's warm, sexy, candid, often funny, and very informative!

How did you come up with the topic/why did you feel there was a need for it?
At age 59, when I first envisioned the book, I was in a relationship with this amazing man of 66, and it was hot, really hot. We were like a couple of teenagers, yet with the wisdom of decades of relationship experience. Despite the sexual exhilaration, we were making love in older bodies, with new challenges. For example, I didn't lubricate enough for sexual comfort, and my arousal time took much longer. I went looking for books on the subject – and I didn't find any that reflected what I wanted: sexy, fun to read, and informative. They were either academic, or doom-and-gloom, or too young. See, there were tons of books for and about Boomers, but they addressed readers as if they just turned fifty—when actually, for many of us, fifty was a decade ago! There are books about sex after forty, after menopause, after fifty—but after sixty? It's as if "sixty" is the new dirty word.

What is one of the challenges for women who want to be sexually active after 60?
Just one challenge? Can I give you a list instead?
· Seeing our bodies as sexy despite wrinkles and sags and a youth-centered society
· Slower arousal
· More difficulty lubricating
· More difficulty reaching orgasm
· If single, attracting a partner
· If in long-term relationship, keeping sex spicy
· Health challenges: ours and our partners'
Kerri Fivecoat-Campbell's "K.C.'s Write For You" is a blog about the freelance writing life from the perspective of a stay at home "mom" of 3 dogs, 2 cats and a husband.