I apologize profusely to any readers who were subjected to the dozens of nasty and profane comments that were posted to my blog the morning of Dec. 5. I deleted them and easily traced the trashing of my blog to an organized attack led by the fan message board of a shock-jock radio show.
The listeners apparently found the idea of joyful senior sex icky and set out to trash "the old lady sex blog," as they called it, by posting more than 40 obscene, racist, sexist, ageist, offensive messages.
Wow, this really surprised me, and continues to.
Too many people with too much time on their hands, too much meanness in their hearts, and too little capacity for intimacy, perhaps. I wonder how they treat their grandparents. We might discuss their fears of aging and sexuality, and their need to keep us as the "other" — easy, even enjoyable, to stereotype and demean.
If you've tried to post a comment and it hasn't been accepted, I'm being particularly careful here because they've tried to continue the assault with comments that pretend to be sympathetic.
Chris Smith wrote a nice paragraph about me in his column in the Press Democrat Dec. 5, and I had many new visitors that morning. I hope they realize that I was sabotaged, and they don't stay away because of what they read before I got to it. I've changed my settings so that now I'll moderate all comments before they appear. Sorry it was necessary.
— Joan
12/7 update: I was able to listen to the radio show that set off this assault by reading aloud from this blog for many minutes. I sent this note to the producer, who invited me to appear on the show:
I heard [the hosts] discuss my topic, book, blog, and the personal stories of those who opened their lives to me. I choose to preserve a level of dignity about older people enjoying sex and intimacy that is at odds with the show's glee at ridiculing them.

Therefore, I decline your invitation.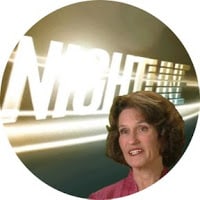 On Friday, Dec. 1, ABC Nightline aired the segment on senior dating and sex, including an interview with me and a bit of my love story with Robert.
I had no idea how Nightline's hours of interview time would translate to a couple of minutes of air time. I knew the emphasis of the show would be on seniors' risky sexual behavior, and I hoped there would also be room for the joy and intimacy of senior sexuality.
ABC did a great job putting this show together and — yes — conveying not only the cautions that our age group needs to be aware of, but also the joy and exuberance — as well as the challenges — of being fully alive in aging bodies.
I was thrilled when I saw it. Having watched it five times now, though, it's a little embarrassing that so much focus was on how creaky our aging bodies become! I liked that the creaky talk was juxtaposed with the energetic and not-the-least-bit-creaky line dance visuals – that was cool. (And it's amusing that I'm receiving emails from people recommending specific mattresses and arthritis remedies to combat the creakiness!)
One thing I didn't mention in my background story in the post below: We had some laughs before the taping, when I asked what language was acceptable and what wasn't. I knew I'd be reading aloud from reader comments on my blog, and I'm used to speaking frankly. Respectfully, but frankly.
We all laughed together as we went over words: "erection" was OK, "hard" wasn't. When they told me that "clitoris" was okay, I reduced the crew to hysterics when I proclaimed, "Great! I've always wanted to say 'clitoris' on national TV!" But …it turns out I didn't!
Did you see the show? What did you think?