G-Swirl: If you can get it open!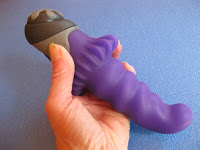 [
This vibrator is no longer available, but I thought you'd still enjoy reading about my trials and tribulations trying to use it.
]
I'm no vibrator novice, and I've opened many a toy to insert batteries. I have never had the trouble I did with the G-Swirl.
I do understand how this is supposed to work. I read the directions. You squeeze the indentations, you hear a click from each side, and the top pops off. I reviewed a similar toy — the G-Twist — and had no problem popping its cap with one hand.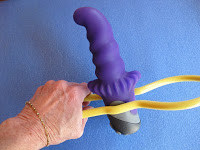 But I couldn't open my purple G-Swirl with one hand, two hands, or even a jar opener. There were no clicks, nothing loosened.
Thank goodness, the good folks at
Good Vibrations
agreed that my product must be defective. They quickly replaced it with a new G-Swirl — this one bubblegum pink.
Hurray, this one opened. But it still took both hands squeezing the indentations (I couldn't photograph that endeavor because I had no hand left to work the camera). Even with both hands, it took several tries.
For that reason alone, I hesitate to recommend the G-Swirl to women my age who may have arthritic or weak wrists. I type all day and lift weights, so you'd think I'd have found this task easier. If you're young — maybe you wring diapers on a regular basis or build houses– and have the hand strength, maybe it won't be an issue.
Good Vibrations
, to their credit, sprang into action. They wrote me, "We put up a video on Youtube about changing the batteries of the G-Swirl here — while filming it we definitely saw how tricky it can be for a first time user." (That's okay, I'm not bristling at the "first time user reference.) You'll notice that even in the demo (
no longer available, sorry
), she has to use both hands.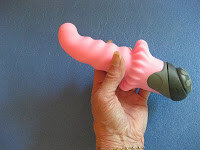 I apologize for taking this long to get past my tale of trying to open the cap to arrive at my actual review of the G-Swirl in operation. I'm happy to tell you that this internal vibrator is designed very well. The silicone is velvety smooth and just soft enough to give a little. The shape conforms to the vagina, with the curved bulb at the end just right for g-spotting.
The size starts small at the tip and increases with each new ridge, so you can decide how deep and full you want it. Holding the G-Swirl is comfortable, and the flared ridge is a good place to rest your hand. I read another review call it "hands-free," but I didn't find that to be true for me.
The vibrations are controlled by a daisy-shaped dial — you dial until you find the intensity (light to medium-strong) you want. I didn't love that if you dial past the highest intensity, it decreases again, but I got used to making sure I didn't do that.
Thank you, Good Vibrations, for sending me the G-Swirl.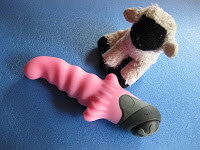 Read all my vibrator reviews
here
. There are many, so click "older posts when you've scrolled to the bottom.